Brave Wallet and MetaMask are crypto wallets. You can use both to buy, store, and swap crypto currencies, tokens, and other assets; manage an asset portfolio; and connect Web3 DApps.
But there's a fundamental difference between the two: Brave Wallet is built right into the Brave Browser, while MetaMask is an extension (or add-on) you have to install. And this has far-reaching implications for security, trust, and performance.
In this short article, we'll discuss the pros and cons of Brave Wallet and MetaMask, and empower you to decide which is right for you.
What's a browser, and what's an extension?
First, let's define the core terms.
A browser is your window to the web. It's the piece of software on your computer, phone, or tablet you use to visit websites, either by typing in addresses or by first searching for a web address. Common web browsers include Brave, Chrome, Safari, and Firefox.
A browser extension, meanwhile, is just what the name implies: A small app or software module that customizes—or extends—your web browser. Common extensions include ad and cookie blockers, UI modifiers (things that change the look, feel, or performance of your browser) and, as you'll soon see, crypto wallets.
Readers note: Web browsers are not the same as search engines. Whether you search in a browser or a widget, the results will open in a browser. Common search engines include Brave Search, Google, Bing, and DuckDuckGo.
What's wrong with extensions?
There's nothing inherently wrong with browser extensions. There are thousands available, many that help customize a browser to the exact liking of an individual user, or create easy-access shortcuts to the tools or sites you use most often.
MetaMask is just such an extension. By installing it, you can access your crypto wallet—and most of its functionality—via an icon beside the address bar of your browser. In one click, a small panel opens showing your portfolio, pricing data, and more. And it works with most major browsers.
However, extensions have some major side effects, including:
They're easily spoofed, exposing you to phishing scams. If you install a fake copy of the original and enter personal info, your data (and assets!) are at risk of theft.

They're often used in non-private browsers like Google Chrome, opening you to data leaks of browsing behavior.

They require extra processes to run on your computer, phone, or tablet. This means high CPU and local device memory usage, and overall slow-down of device performance.

They're dependent on the browser. For example, if Google decided to remove a wallet extension from the Chrome Web Store, you'd have a hard time accessing your funds.
What's the alternative to extensions?
The alternative to extensions is something called "browser-native." This term means the functionality is built directly into your browser, rather than being installed as an add-on.
Again, extensions aren't inherently bad or unsafe. It's rather about degrees of risk. Some extensions—for example, those that offer custom image backgrounds, dark mode, or quick access to a dictionary—are mostly benign. Others—especially those that require a login and have access to sensitive personal or financial data—introduce much more potential risk. In these cases, browser-native can be a better option.
A browser-native wallet like Brave Wallet is built directly into the browser, just like other built-in features like offline playlists or custom daily news feeds. This native functionality directly addresses the three main risks of extensions:
Native functionality is much harder to spoof, which means less risk of phishing and theft.

They require no extra process to run, which means less CPU and memory use on your device, and overall better performance.

When coupled with a privacy-first browser, there's much less risk of leaks of browsing data, as this data is often not collected in the first place.
What's the best crypto wallet?
Whether you're new to crypto or a seasoned pro (what crypto insiders call a "whale"), both Brave Wallet and MetaMask are great options. Both let you easily buy, store, and swap crypto assets, and manage your whole portfolio. And both let you connect other Web3 DApps.
But for the reasons outlined above—the added security and easing of load on your device—we recommend a browser-native wallet like Brave Wallet.
And—bonus—Brave Wallet doesn't mean any concessions in functionality, design, or ease-of-use. With Brave Wallet, you can:
Buy, store, and swap assets

Buy with fiat, via Wyre

Get NFT and multi-chain support 

Connect other Web3 DApps

Import self-custody or hardware wallets like Trezor and Ledger (no LedgerLive required)

See live market data (via the CoinGecko integration)

Get EVM compatible network support (e.g. Polygon, Binance Smart Chain, xDai, Avalanche, and more)

Use a wallet that operates on a truly open license
How do I import from MetaMask to Brave Wallet?
If you'd like to import data from your MetaMask wallet into your Brave Wallet, open the Brave Browser and visit brave://wallet. Select the Import from MetaMask option on the wallet creation screen.
Enter your MetaMask password (you can use the same password as your MetaMask wallet for your Brave Wallet account, or you may set a unique password for your Brave Wallet). Once a password is chosen, your MetaMask data will be imported and you will be taken to your Brave Wallet main page Portfolio.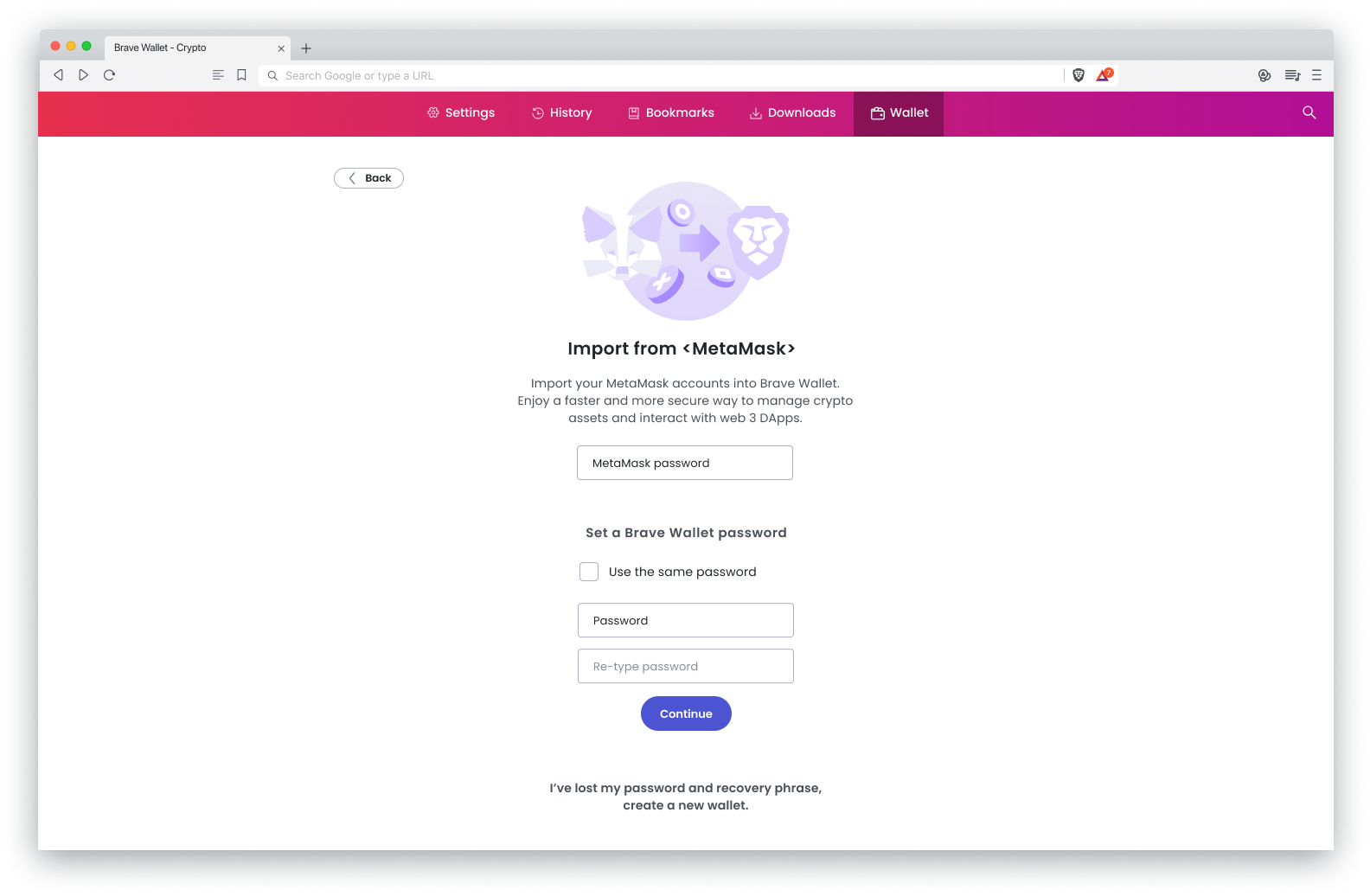 Learn more about using the Brave Wallet and importing from other wallets.
More about Brave and MetaMask
Brave (or Brave Software Inc) is most known for its privacy-first web browser, based on the Chromium browser core. It was founded in 2015, and now has more than 50 million users worldwide. The Brave browser blocks trackers & ads by default, which keeps you safer online and brings a faster, cleaner view of the web. It has custom features like Playlist, News, and Talk which give you more browser-native, privacy-first functionality than other browsers. And, now with Brave Search, a private, truly independent search engine to compete with Google and Bing.
Metamask is a software cryptocurrency wallet, built to interact with the Ethereum blockchain. It was created by ConsenSys Software, Inc—a blockchain software company—in 2016, and now has more than 10 million users worldwide. MetaMask Swaps, a built-in DEX aggregation service, launched in October 2020.