Preview available for testing and feedback in Brave Developer Channel
Today, the Brave Ads Developer Channel Preview advances from phase one to phase two. Phase one provided the first public opportunity for brands, marketers, developers, and the community to test the Brave Ads experience from our Developer channel. Advertisers from our Early Access Program (including BuySellAds, TAP Network, AirSwap, Fluidity, and Uphold) entered an important public test and learn phase, providing key examples of early use cases. Users began engaging with a new, inclusive private ad experience for the first time. We received valuable feedback, bug reports and encouragement in the process.
Phase two provides token rewards to users for their attention, and introduces Brave's anonymous-but-accountable campaign reporting for brands. Public documentation about the ad confirmations protocol can be found here. All the code necessary to support both ads and confirmations in the browser is open source and can be found here.
With today's Developer Channel update (version 0.63.4), testers on OS X, Linux and Windows x64 (with 32-bit/x86 to follow shortly) will start to see the ads they are viewing being counted ("ad notifications received") on the Brave Rewards Settings Page (accessible through brave://rewards)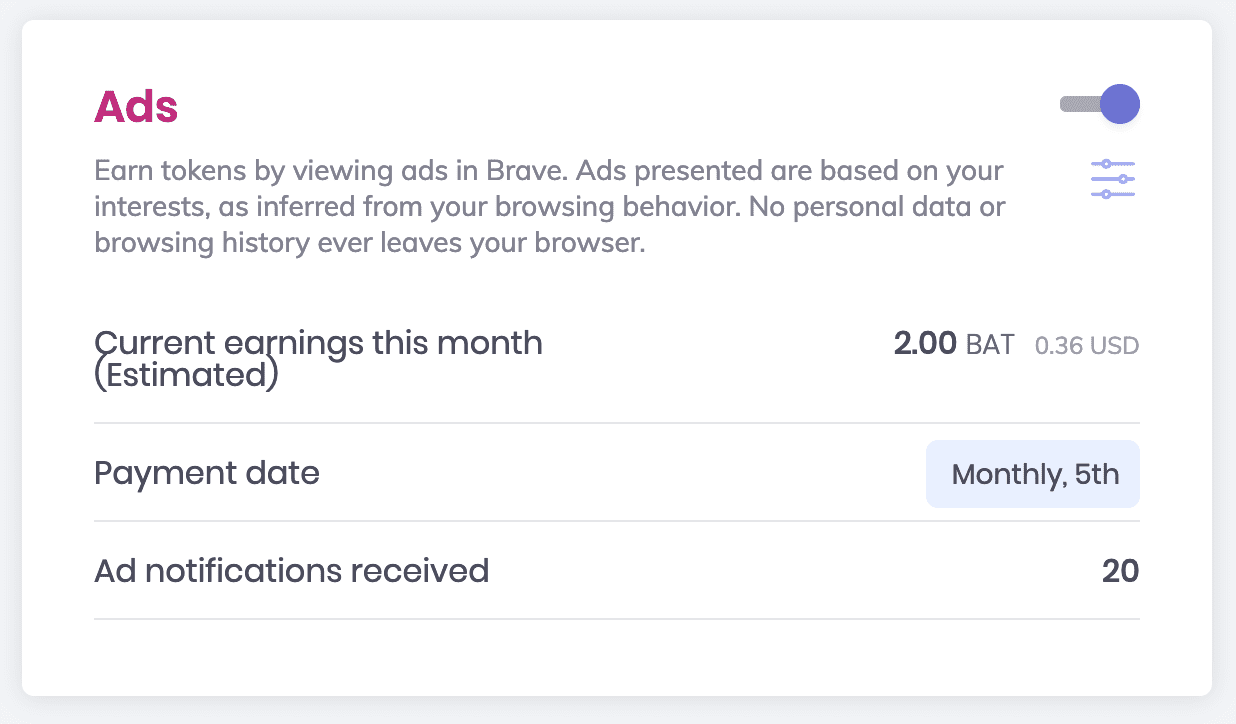 At the close of the Brave Rewards monthly cycle, testers will see a new option to claim tokens they have accumulated for having viewed ads: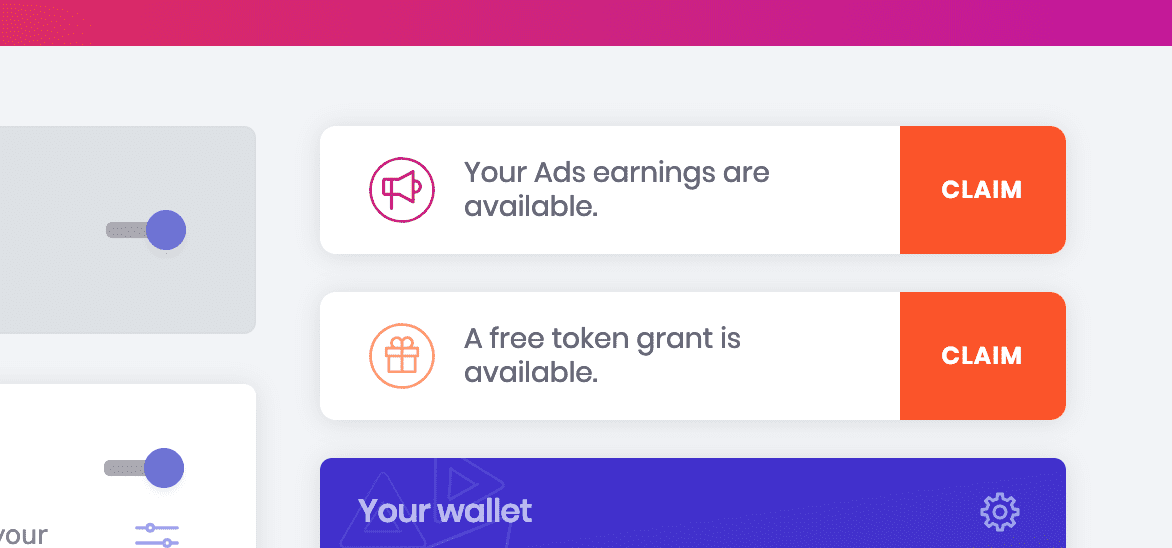 Highlights from phase one (Jan 15, 2019 – Mar 6, 2019)
Ads
By the end of phase one, over 450 ads had been trafficked, and are currently included in the ad catalog available from the Brave Ads server.
Campaigns
A total of 53 campaign commitments were made during phase one, with 1 campaign completing from start to finish, 25 campaigns active in rotation, 23 campaigns pending assets to serve, 2 campaigns paused in the ad server, and 2 campaigns currently undergoing review in our preflight process.
Brave Ads API Testing
BuySellAds became the first ad partner to leverage our Brave Ads API, providing ads and early revenue from Slack, PaperTrail and other well-known technology brands.
Direct Brand Campaigns
A few examples of phase one campaigns:
Co-Brand: The TAP Network ran a co-brand campaign with their HOOCH app, Warner Music Group and Brave for a chance to participate and win a trip to the Warner Music Group Grammy party. The co-brand campaign was the first Brave Ads campaign to run completely from start to finish.
Direct-to-Consumer: HomeChef is testing with Brave Ads as a new channel to advertise their meal kit subscription service directly to Brave users.
Causes: Non-profit organizations such as The Giving Block are testing different use cases to leverage Brave Ads to increase awareness about privacy and global causes, and messaging to encourage tipping options through Brave Rewards.
Research: Brave is also providing users with the opportunity to provide feedback through user experience surveys that we're delivering as Brave Ads.
We're excited to advance through the next public preview phase, and encourage people interested in helping us to test and engineer a new path forward toward a better Internet where people can browse the web, earn rewards, and support content creation while preserving their privacy.
Please note: The Brave Developer channel is an experimental channel with less stability than our Beta and Release channels. Testers are likely to encounter bugs when running Brave Developer channel releases. We encourage users to share feedback directly with the team here.