Brave passes 75 DApps in its Wallet Partner program with 15 new participating DApps in November
Brave's native crypto wallet now features integrations from 1inch, Allbridge, AutoFarm, Based, Cardinal, Coral Cube, DARA, EYWA, Guild, Hyperspace, Matrica, Morpho, Tectonic, Plaid, and Quest3.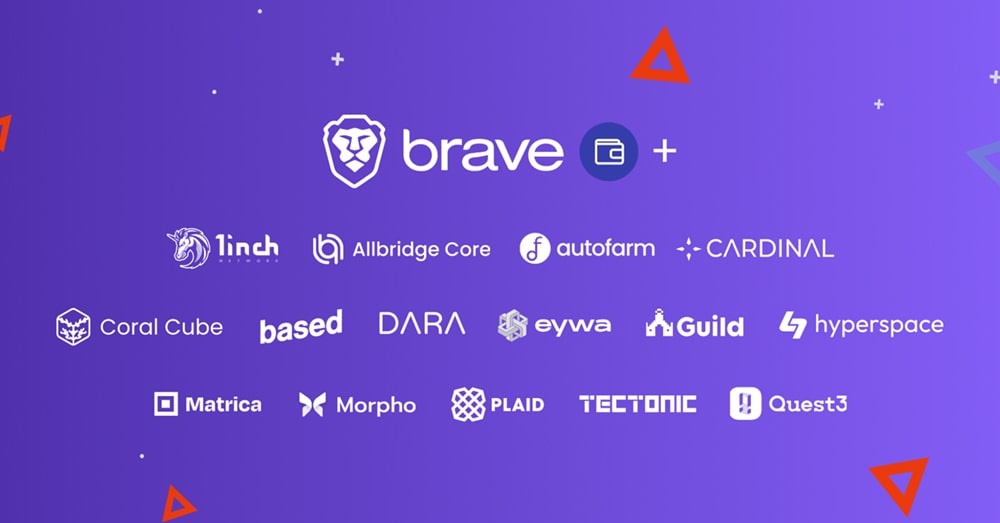 Brave continues to expand its Wallet Partner program with the addition of 15 new DApps in November. Since June, over 75 projects have integrated Brave Wallet in their Web3-enabled applications. While we encourage outreach and partnership with the growing ecosystem of DApp builders, developers looking to add Brave Wallet to their DApps independently can use our Brave Wallet documentation for DIY integration in just a few steps.
To learn more about our previous Wallet partners, read our past announcements from June, July, August, September, and October. Here are the partners that joined in November:
1inch
The 1inch Network is a collection of DeFi products made for safe, lucrative, and fast operations in DeFi. Their lead product is a DEX aggregator that finds the best rate on swaps across 300 liquidity sources on multiple blockchains. The 1inch DEX aggregator has reached more than 3.7 million unique wallets, and $254 billion in overall transaction volume to date. Alongside the aggregation protocol, the 1inch core contributors' team keeps developing their own liquidity protocol, limit order protocol, and a multichain mobile wallet.
"We are thrilled to be integrated with Brave Wallet," says Sergej Kunz, the 1inch Network co-founder. "This is an important step towards growing out of the DeFi space and bringing new users to Web3 products."
Allbridge
Allbridge Core enables the transfer of value between blockchains by offering cross-chain swaps of native stablecoins. Being messaging protocol agnostic, Allbridge Core connects a variety of EVM and non-EVM networks.
"We are incredibly excited to join Brave's Wallet Partner program. This enables us to provide cross-chain services to the widespread Brave community. Integrating Brave Wallet with Allbridge Core paves the way to more accessible stable swaps in the DeFi space," said Andriy Velykyy, co-founder and CEO of Allbridge.
Autofarm
Autofarm is a multichain yield optimizer that enables users to get returns from yield farming pools by simply staking in Autofarm vaults. Vaults auto-compound yields at optimal intervals, while pooling gas costs through battle-tested smart contract code and best-in-class yield optimization strategies. AutoSwap also acts as a DEX aggregator which splits trades across multiple DEXs to ensure the best prices and lowest slippage possible, with no extra fees at all.
"As a leading yield optimizer in the DeFi scene, we are happy to partner with Brave. By implementing support for Brave Wallet, we have opened access to our safe and user-friendly DeFi experience for millions of Brave browser users," said Luuk, Business Development at AutoFarm.
Based
Based is a social messaging platform built around NFTs. They seek to enable individuals to create and experience more meaningful interactions around their NFT networks and content, with less effort, on one native platform.
Cardinal
Cardinal is a Solana protocol that enables the conditional ownership of NFTs. It's powering the future of NFT utility through rentals, subscriptions, staking, tickets, royalty enforcement, and more.
"Innovating with the Brave team was exciting on many levels. We had a chance to work with a group who were passionate about making a difference in the NFT landscape and tackle the challenge of enforcing royalties. From a custom minting experience using BAT token, to delivering world class art, the Brave launch was exactly what the space needed," said Manny Lora, Head of Partnerships at Cardinal.
Coral Cube
Coral Cube is a best in class NFT aggregator, marketplace, and launchpad. Since inception in early 2022, the team has been dedicated to serving creators and collectors across NFT use cases, known for its ability to address customer needs throughout the value chain.
"It's a tremendous honor to partner with a Web3 mainstay like Brave. At Coral Cube, we've admired Brave's innovative practices and sustainable business model, a pioneer for delivering user value. We're excited to deepen our partnership, help bootstrap Brave's NFT initiatives and support their growing team," said Meisam Vosoughpour, CEO at Coral Cube.
EYWA
EYWA is a decentralized cross-chain interoperability protocol that allows cheap transfers between asset types within any connected chain. EYWA helps projects become cross-chain and offers ultimate transaction simplicity for users. The EYWA ecosystem includes cross-chain products such as Token Bridge, Data Protocol, DEX, Assets, Liquidity Aggregator, and Liquidity Protocol.
"Our main idea is decentralization. We believe that partnering with Brave will accelerate the mass adoption of cryptocurrencies in the global community. Brave is one of today's best Web3 projects with a huge audience who has access to cryptocurrency benefits through their wallet and browser. We will help bring in additional features such as gasless transactions, and fast and convenient cross-chain exchanges. We believe that society is ready for decentralized and reliable finance," said Boris Povar, CEO at EYWA.
Guild
Guild.xyz is the infrastructure for platformless access management. It exists to help you manage communities, and create portable memberships and social structures around on- and off-chain requirements—and to build unique user journeys across applications.
"When users connect their wallets to guild.xyz, Brave is the default wallet Guild offers at login if they are not using other extensions. This makes the user experience much smoother, familiar, and personalized for our members," said Raz, Founder at guild.xyz.
Hyperspace
Hyperspace.xyz is the most liquid NFT marketplace and aggregator on Solana helping NFT traders save money buying and selling NFTs across over 20 different sources. Hyperspace also provides infrastructure to empower creators and developers to build native web3 experiences via NFT APIs. Their mission is to enable the future of NFT trading and commerce.
"We are proud to partner with Brave wallet to enable users to use a secure wallet experience. With so many users using the Brave browser and BAT, we are excited to integrate more deeply into the Brave ecosystem," said Kamil, Co-founder at Hyperspace.
Matrica
Matrica Labs focuses on providing critical infrastructure within the blockchain ecosystem. As the premier gating and identity-provider in Web3, Matrica powers nearly 2,000 communities with over 300,000 users. Serving as an all-in-one intuitive experience with a powerful and extensive suite of services, Matrica provides a platform that empowers individuals, communities, businesses, marketplaces, and more.
"As a daily Brave browser user, utilizing Brave Wallet was a no-brainer. The experience has been seamless and it's great knowing you're receiving the same emphasis on security and privacy that Brave is all about," said Joseph, COO at Matrica Labs.
Morpho
The Morpho protocol is a lending pool optimizer on the Ethereum blockchain. It's a peer-to-peer layer on top of lending pools like Compound and Aave. Rates are seamlessly improved for suppliers and borrowers while preserving the same liquidity and risk parameters. The core use cases are lending and borrowing assets and earning interest. Currently, the protocol deals with ~$300 million in total liquidity.
"Thanks to Blocknative, the integration of Brave Wallet in our DApp was almost seamless," said Tom, DevRel at Morpho Labs.
Tectonic
Tectonic is the leading decentralized lending and borrowing protocol and money market on Cronos, the first EVM-compatible chain built on Cosmos in partnership with Crypto.com. With Tectonic, users can lend or borrow top cryptocurrencies and stablecoins at attractive rates and browse easy-to-understand dashboards to make informed investment decisions. Soon, they'll also be able to set-up time-critical notifications to monitor their positions.
Plaid
Plaid is a financial technology company that develops a range of financial products, namely Plaid Link—a way for consumers to quickly connect their bank account to apps for a variety of use cases. Recently, Plaid released Wallet Onboard, a safe and easy way for developers to onboard their consumers through a seamless wallet-linking experience. This product supports more than 300 self-custody wallets through one single integration, making it a one-stop solution for developers who want to be able to support as many wallets as possible with minimal technical development needed.
"We viewed fully integrating Brave Wallet into Plaid Wallet Onboard as an important priority for crypto consumers and our developers. It is one of the top wallets on desktop and mobile, and we want to make sure these consumers can quickly find and connect Brave whenever they are connecting," said Clay Allsopp, Head of Crypto at Plaid.
Project DARA
Project DARA is building an immutable publishing platform and social network, starting with a browser extension that snapshots websites and archives files using a unique IPFS and blockchain hybrid solution. DARA (derived from the Irish word for "oak tree") is a freemium product where core features are free but premium users unlock more advanced features. This open-source, community-driven project created the world's first dictionary-on-a-blockchain, and is building the Immutable Project Gutenberg Collection.
"By using a freemium model and removing barriers to entry, we hope to introduce millions of people to powerful censorship-resistant technologies, and provide them with compelling products that can make a truly positive impact on their lives," said Dorian Sherman, founder of Project DARA.
Quest3
Quest3 is a marketing tool collection for sustainable Web3 project growth incubated by Hogwarts Labs. There are more than 40 quest and event templates, both on-chain and off-chain, that are completely free and open for everyone to use. Quest3 is aiming to be the Web3-native advertising platform, on which ads will be delivered in a fun and gamified way. Existing customers are operating in the fields of public chains, DeFi, NFT, GameFi, DAO, protocols, and KOLs.
"Quest3 is dedicated to providing service to Web3 projects for effective and organic user growth. Offering a complete set of all-in-one growth tool products (which is extremely user-friendly, fully permissionless, and autonomous), Quest3 enables all kinds of projects to build their own growth engines to acquire users in a more efficient and low-cost way," said Chess, co-founder of Quest3, CEO at Hogwarts Labs.
About Brave Wallet
Brave Wallet enables Brave users to store, manage, grow, and swap their crypto portfolio across multiple blockchains from a single wallet. Unlike most crypto wallets, Brave Wallet is browser-native, meaning it doesn't require any additional downloads or extensions, helping reduce security risks and reliance on extra CPU and memory. Users can transact with thousands of crypto assets with superior safety and performance, as well as connect with other wallets and Web3 DApps. If you're a developer interested in integrating Brave Wallet into your DApp, take a look at our developer documentation.
If you're curious about Web3, check out our Web3 Information Hub, which features simple guides and overviews to answer all your questions.
Want a faster, more secure, and private browser? Download Brave today and take back control of your online footprint one blocked tracker at a time.
Related articles
Today we're announcing the release of Solana DApp support on iOS and Android versions of Brave.
Read this article →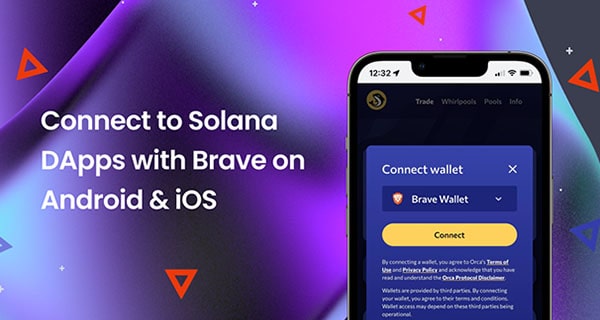 Brave's native crypto wallet now features integrations from Blocksmith Labs, Planet IX, Trisolaris, and X2YX.
Read this article →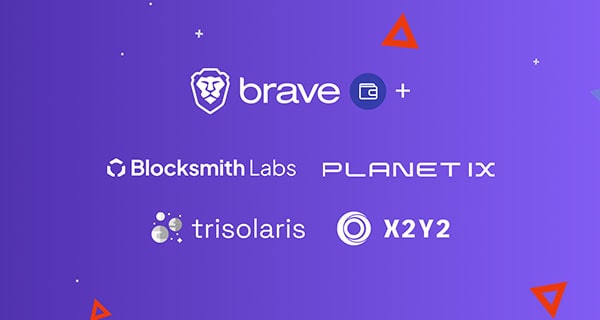 Brave's native crypto wallet now features integrations from Civic, DeFi Land, Degen Ape Academy, EDGE, Froggy Friends, Hubble, Kamino, and more.
Read this article →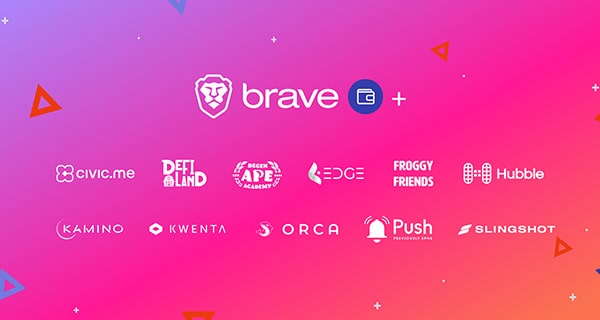 Ready to Brave the new internet?
Brave is built by a team of privacy focused, performance oriented pioneers of the web. Help us fix browsing together.
Download Brave