With 70% revenue share to users, Brave Ads deliver effective advertising
while giving users privacy and control
Starting today, users of Brave's latest release of the desktop browser for macOS, Windows, and Linux can choose to view privacy-preserving Brave Ads by opting into Brave Rewards. These users will receive 70% of the ad revenue share as a reward for their attention, which they can auto-contribute to publishers under default settings. Brave's platform is a new path toward a better Internet, where users can browse the web, earn rewards, and support their favorite content creators while preserving their privacy.
Brave Ads also provides brands with direct opportunities to highlight offers and engage with users as they browse the web. Since Brave Ads are opt-in, brands know with certainty that when their campaigns run with Brave, their ads are viewed by people who welcome advertising. Brave's anonymous-but-accountable campaigns ensure that advertisers are connecting with the users they are seeking, removing the excessive costs, privacy, security, and fraud risks currently associated with middlemen in digital advertising.
Brave is working with several ad networks and brands for the Brave Ads catalog inventory. The catalogs are one per region and pushed to the user's device, and there is never any tracking from Brave. Vice, Home Chef, Ternio BlockCard, MyCrypto, and eToro are now supplying ads, in addition to BuySellAds, TAP Network, AirSwap, Fluidity, and Uphold, which were part of the early access program for developer and beta users that started on January 15, 2019.
In addition, The Giving Block is working with Brave to provide ad inventory and test use cases for their partner charities and non-profits. The Human Rights Foundation is featured as part of the launch, and users will be presented with messaging to encourage tipping the organization through Brave Rewards.
Brave Ads can also be used to promote content. One example at launch is a campaign for the new Twitch exclusive science-fiction series "Artificial," from Emmy-Award winning director Bernie Su.
"With Brave Ads, we are launching a digital ad platform that is the first to protect users' data rights and to reward them for their attention," said Brendan Eich, CEO and co-founder of Brave Software. "Brave Ads also aim to improve the economics and conversion of the online advertising industry, so that publishers and advertisers can thrive without the intermediaries that collect huge fees and that contribute to web-wide surveillance. Privacy by design and no tracking are integral to our mission to fix the Web and its funding model."
"Brave is doing something we began to think was impossible: digital advertising that makes the people decision-makers, not products," said Patrick Duffy, Founding Partner at The Giving Block.
"We're always looking for new ways for audiences to connect with and influence our series. Brave's platform provides an inspiring method for our current and future series to blend into a unique experience," added Bernie Su, Emmy Award-winning director and creator of "Artificial."
"We're excited for the launch of the Brave Ads platform and look forward to introducing top brands and agencies to the Brave ecosystem," said Lin Dai, CEO of TAP Network, which powers Brave Rewards redemption with over 250,000 partner merchants and brands. "Brave is changing the paradigm of digital advertising where consumers are fairly rewarded for their attention. We are thrilled to be part of the new Web 3.0 movement with such an incredible partner."
Brave Ad notification for Ternio BlockCard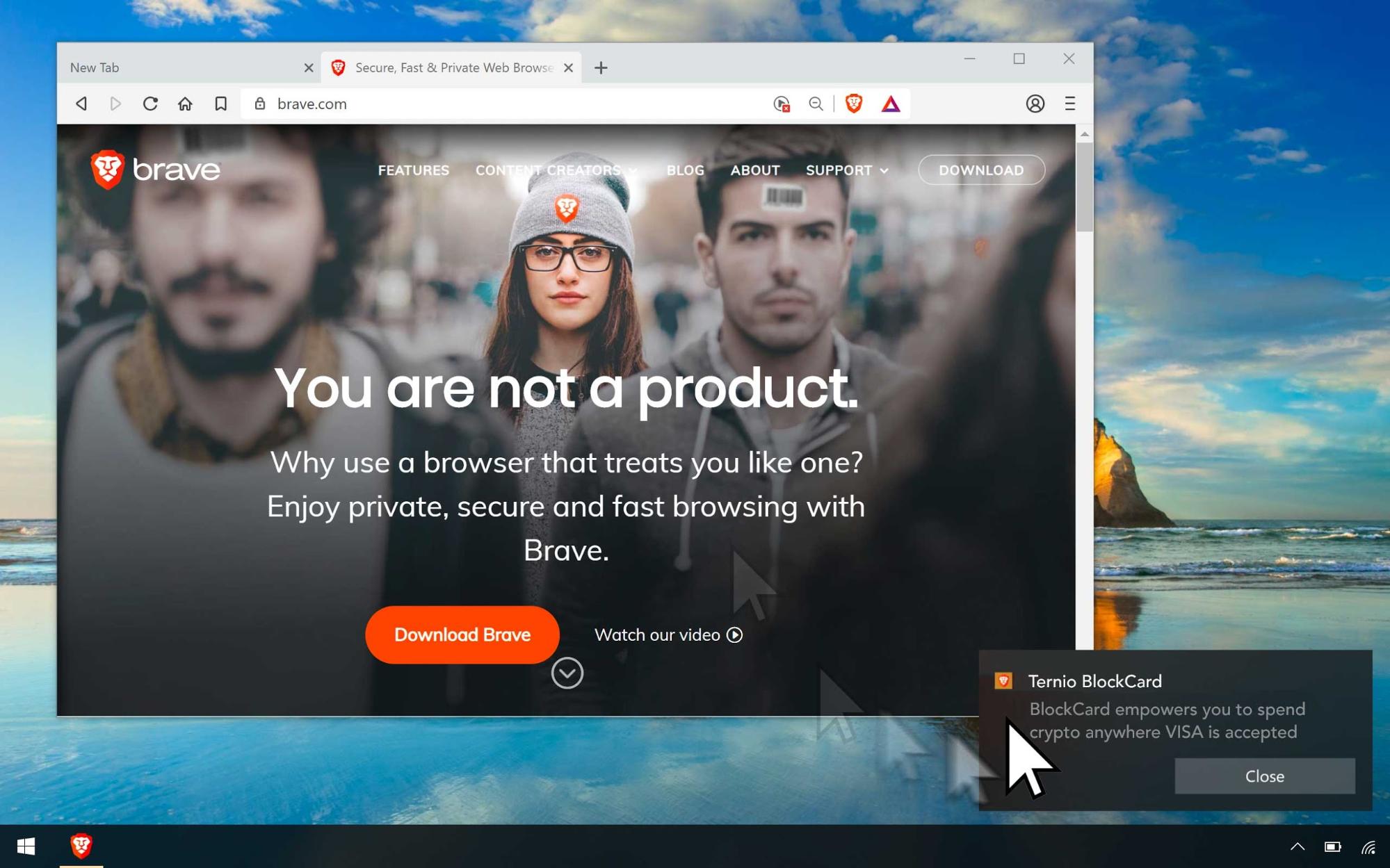 Brave Ad in new ad tab for Ternio BlockCard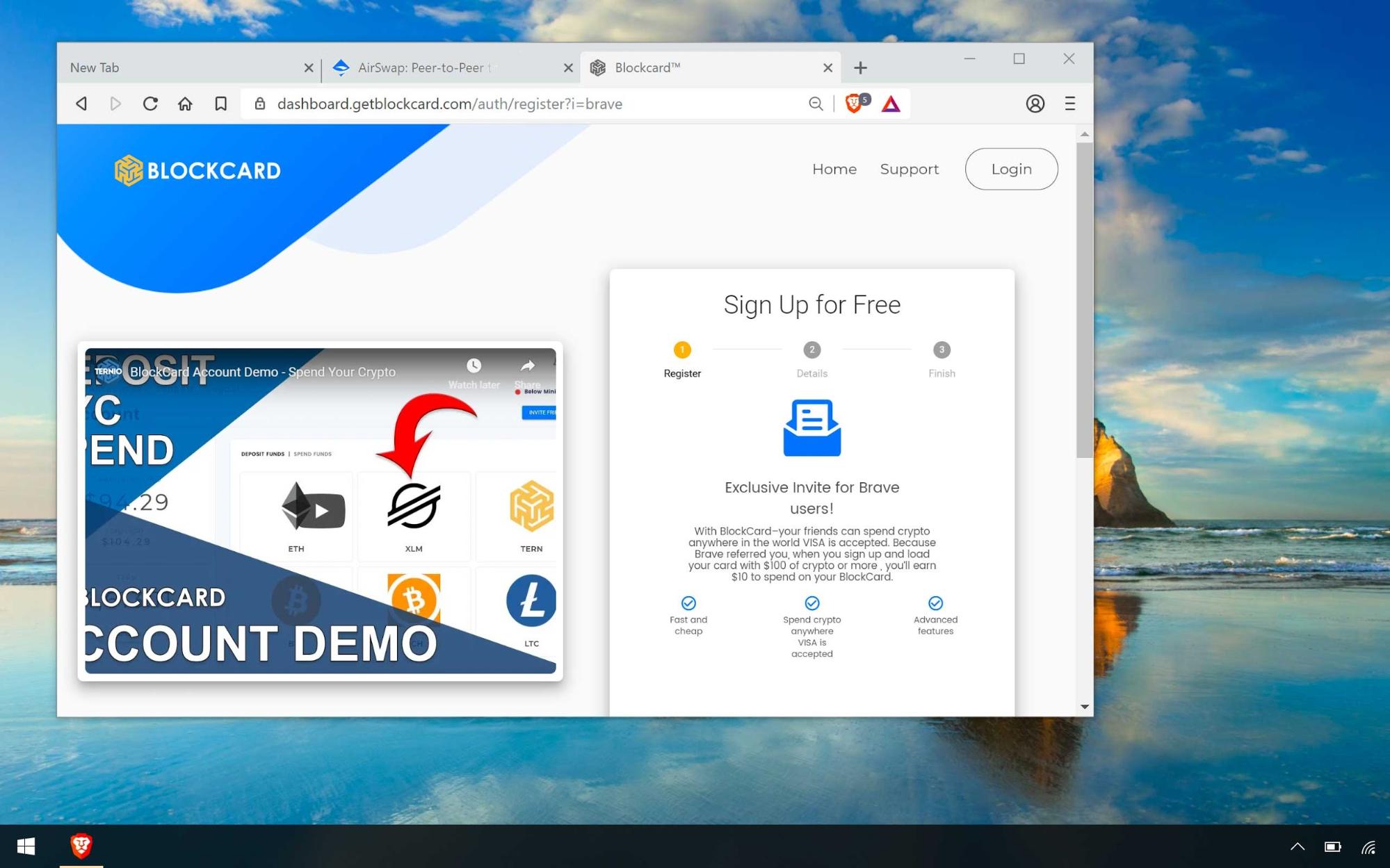 Brave Ads at-a-glance
Brave Ads do not replace current Web page ads. They are separate and supplemental. Brave blocks – by default – cross-site web trackers and the ads which come with them. In order to view Brave Ads, new Brave users will need to enable Brave Rewards. Existing Brave Rewards users will receive a notification screen, or can go to the Brave Rewards "settings" page (brave://rewards/) and turn on Ads in the Ads section.
Opt-in: Users who choose to see Brave Ads are presented with offers in the form of notifications as they browse the web, at a time that the browser finds appropriate and not disruptive. When users click to engage with these notifications, they're presented with a full page ad in a new ad tab. Users can also customize how many ads they would like to see.
Privacy by design: Brave Ads put the user in control with privacy by design, and do not leak the user's personal data from their device. Unlike conventional digital ads, ad matching happens directly on the user's device, so a user's data is never sent to anyone, including Brave. Accessing user attention no longer entails large scale user data collection.
70% revenue share to users: Users receive 70% of the gross ad revenue, while Brave receives the remaining 30%. Users are rewarded with Basic Attention Tokens (BAT) via the integrated Brave Rewards in their browser. At the close of the Brave Rewards monthly cycle, users can claim the tokens they have accumulated for having viewed ads. The BAT can be automatically donated on a monthly basis to the user's most visited sites, or used to tip favorite content creators. Soon, users will be able to use BAT for premium content, as well as redeem it for real-world rewards such as hotel stays, restaurant vouchers, and gift cards via TAP Network's 250,000 brand partners. Brave is also working on an option to let users withdraw BAT from their wallets for personal use, converting their BAT to a local fiat currency through exchange partners.
Relevance: Brave pushes ad catalogs (one per region and natural language) to available devices on a recurring basis. As the user browses, Brave learns about their interests based on the content of sites they visit. Based on these interests, Brave locally picks the best available ad from the catalog to display that ad at the appropriate time. Because it's local to the device, ad delivery becomes relevant to the entire browsing experience. Users see rewarding ads, without web-wide mass surveillance. We have implemented user modeling to integrate specific usage of the browser and have refined our system's machine learning to deliver ads at the right time based on behavior in the browser.
Later this year, Brave will introduce Publisher-integrated Ads to complement today's private, opt-in user ads. We will work in partnership with content providers to provide opportunities for our 55,000 Verified publishers and creators to feature private ads within their website or channels. Publisher-integrated Ads will provide 70% of the revenue share to participating Verified publishers and content creators; 15% of the revenue share will go to users that view and engage with the Publisher-integrated Ads, and the remaining 15% of the revenue share will go to Brave.
Brave's mission is to fix the Web by reforming online advertising, which has become invasive and inefficient. We aim to recreate a system where ads are once again enjoyable. Brave Ads help fund the web with privacy-preserving ads that reward users for their attention, and reconnect users with publishers and brands. By removing intermediaries that exploit user data and thrive on surveillance, Brave Ads offer a consent-based system in line with GDPR standards that finally puts the user in control and rewards them for their attention.
Brave Ads are launching today in the U.S., Canada, France, Germany, and the U.K. More geographies will be available soon. Brave Ads will be integrated in Brave's Android and iOS apps in the coming months. Public documentation about the ad confirmations protocol can be found here. The open source code that support ads and confirmations in the browser can be found here. Advertisers interested in running campaigns with Brave should contact us here.