The best privacy online
Browse privately. Search privately. And ditch Big Tech.
3x faster than Chrome. Better protection from Google and Big Tech.
Download Brave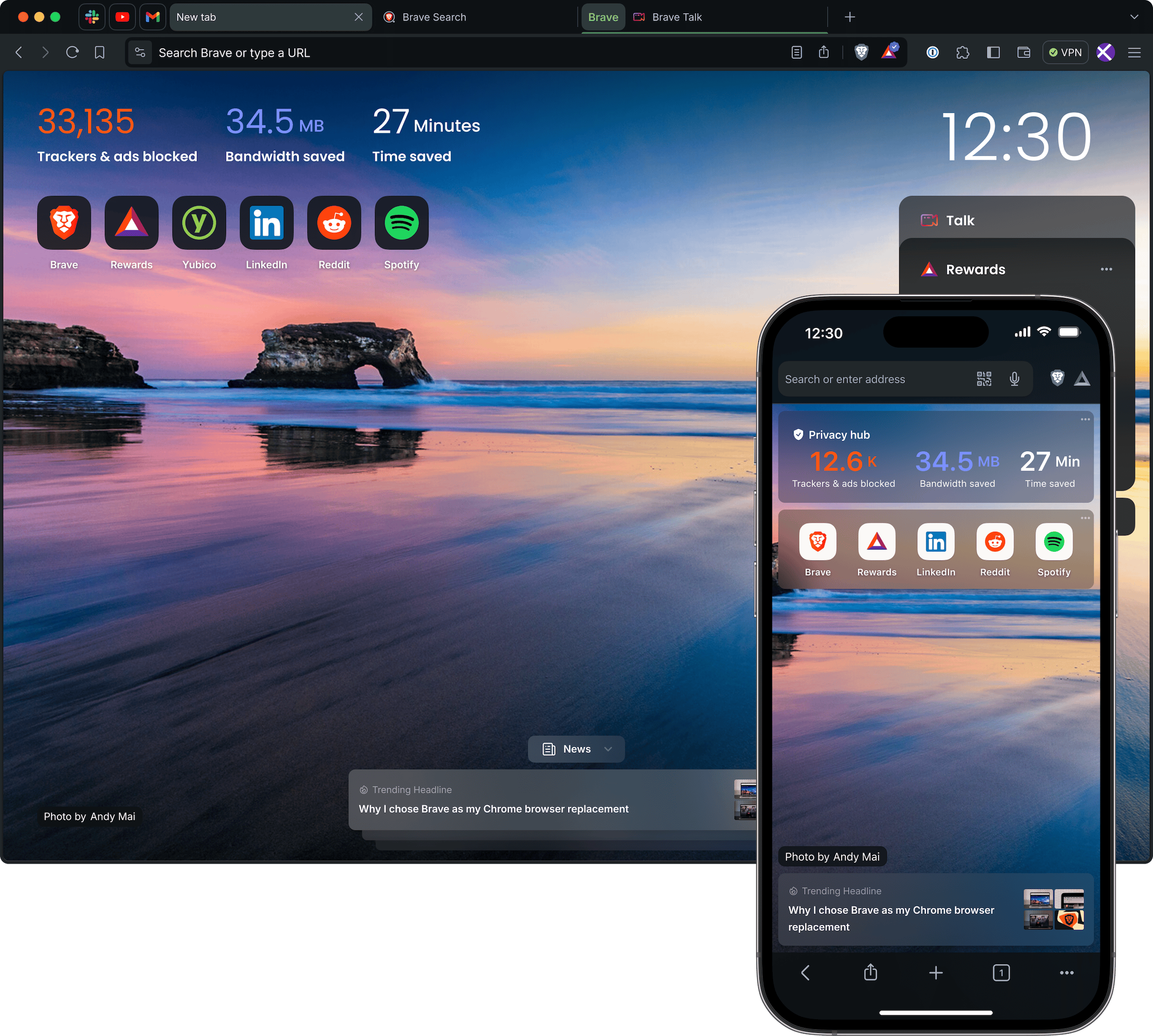 Stay safer online
By default, Brave blocks trackers & ads on the websites you visit, keeping you more private online.
Online privacy made simple
All the good of ad-blocking, incognito windows, private search, even VPN. All in a single download.
Switch in 60 seconds
Quickly import bookmarks, extensions, even saved passwords. It's the best of your old browser, only safer. And it only takes a minute to switch.
Privacy you can see
Blocking ads & trackers means less stuff (visible or hidden) on the sites you visit. And that means faster page load, better battery life, even mobile data savings.
Online privacy by default: Brave vs. other browsers
Strong protection

No protection

Limited protection
Built-in features
Brave
Chrome
DDG
Edge
Firefox
Safari
Cross-site trackers blocked
Third-party cookie tracking blocked
Fingerprinting blocked (cookie-less trackers)
Malware & phishing protection*
Protections against bounce tracking
Anonymized network routing (Tor mode)
Assert opt-out privacy rights (GPC)
* Google safe browsing + malware & phishing protection from crowd-sourced lists. Table describes default desktop browser configurations.
Advanced features
Only here for the privacy? We got you. Just download and enjoy…
Want a more bespoke experience? Brave's got great customizations, too:
Join the more than 50 million people (and counting) who trust Brave for a faster, safer Web
Import bookmarks and extensions from your old browser in one click.
Download Brave
Brave is one of the safest browsers on the market today. It blocks privacy-invasive ads & trackers. It blocks third-party data storage. It protects from browser fingerprinting. It upgrades every webpage possible to secure https connections. And it does all this by default.

It's also built off the open-source Chromium Web core, which powers browsers used by billions of people worldwide. This source code is arguably vetted by more security researchers than any other browser. In short, not only is Brave safe to use, it's much safer than almost any other browser. Learn more.

Brave is available on nearly all desktop computers (Windows, macOS, Linux) and nearly every mobile device (Android and iOS). To get started, simply download the Brave browser

for desktop

,

for Android

, or

for iOS

.

Yes!

Brave Firewall + VPN

protects everything you do online, on your entire device,

even outside the Brave Browser

. One subscription covers up to 5 devices, across Android, iOS, and desktop.

The Brave Browser is available in nearly 160 languages in all, including four different dialects of Chinese. Brave Search is currently available in English, French, German, Japanese, and Spanish, with support for many more languages coming soon.

The Brave Browser, Brave Search, and all their various features are made by Brave Software Inc, an independent, privately-held company. Brave is not beholden to any other tech company, and works every single day to fight Big Tech's terrible privacy abuses. Brave exists to help real people, not some faceless tech company.

Yes. The Brave Browser is built on the open-source Chromium Web core and our own client code is released under the

Mozilla Public License 2.0

.

Simply put, the

Brave Browser is 3x faster than Google Chrome

. By blocking privacy-invading ads & trackers by default, there's less stuff to load on every single webpage you visit. That means pages load much faster, saving you time, money, and battery life. It also means you're much safer online.

Learn more

.

BAT is short for Basic Attention Token. BAT is a crypto asset, and a key (but totally optional) part of the Brave Rewards ecosystem. Here's how it works:

Brave Rewards gives you the option to view first-party, privacy-protecting ads while you browse (these ads are from the Brave Private Ads network). If you choose to view them, you earn BAT, via the Brave Rewards program.

You can keep BAT like any other crypto asset, or use it to tip the content publishers you love. Brave even gives you a secure way to store BAT (and any other crypto asset), with Brave Wallet. And, again, Brave Rewards is a totally optional program.

Other tech companies steal your data to sell ads—to them, you are the product. Brave is different. We think your attention is valuable (and private!), and that you should get a fair share of the revenue for any advertising you choose to view. That fair share is rewarded in BAT.