Brave Search now at 2.3 billion annualized queries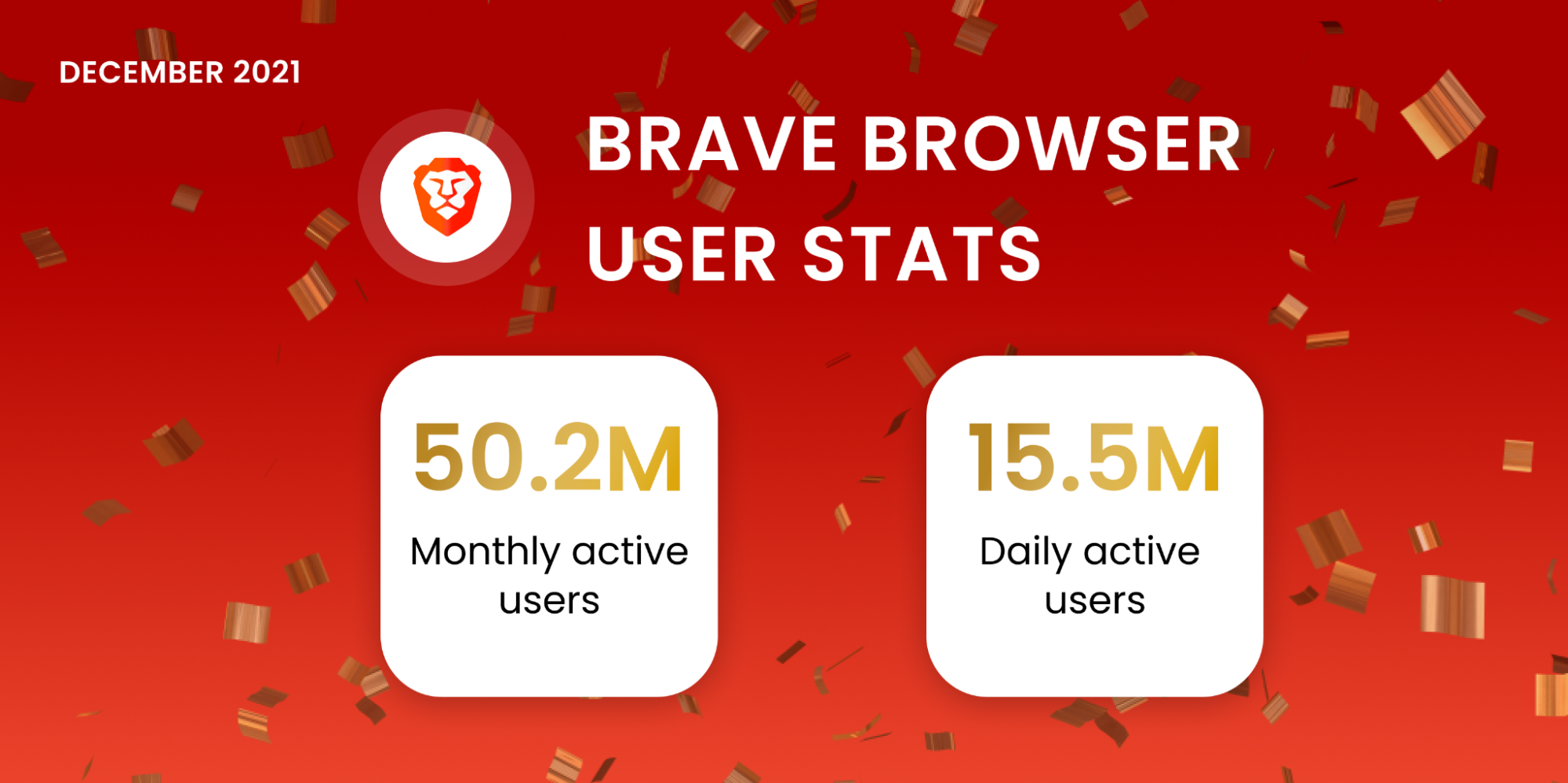 Key new products from Brave this year included Brave Search, Brave Wallet, Brave Talk, and, for iOS, Brave Playlist.

Brave's partnerships included new features or projects with Solana, Gemini, Binance Smart Chain, IPFS, Unstoppable Domains, bitFlyer, Epic Games, Gala Games, and Splinterlands.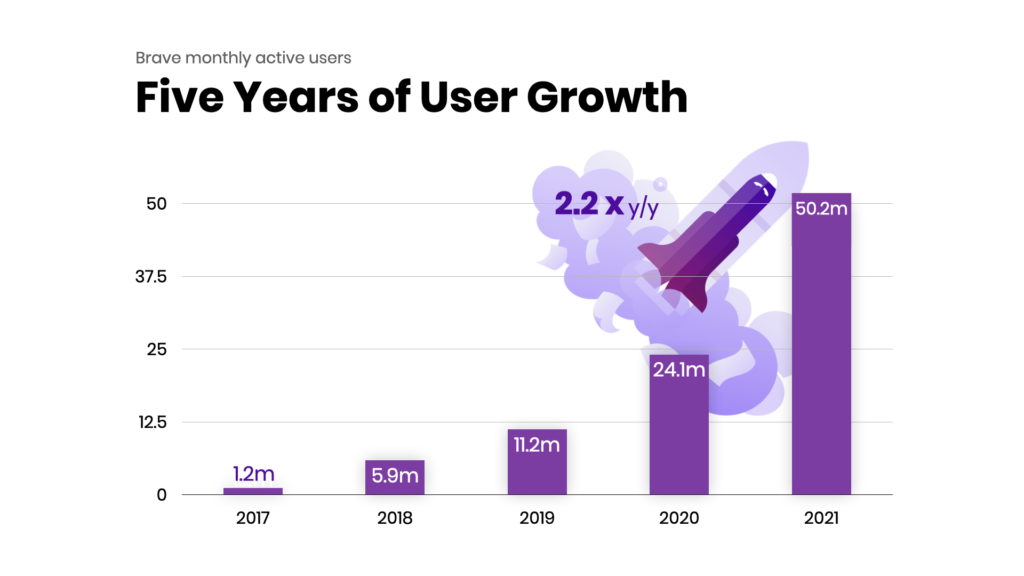 For the fifth year in a row, we've doubled the number of our monthly active users, going from 24 million MAU on December 31st, 2020, to over 50 million by the end of 2021. We also ended the year with over 15.5 million daily active users (high water mark). Users all over the world are looking for a private, safe, and faster browsing experience, along with tools that give them independence from Big Tech. This long term and sustainable growth reflects that user desire.
The Brave ecosystem of course is not defined solely by our MAU count. Other key metrics include:
Search queries

: 2.3 billion queries annualized (went from 0 to 190 million queries a month in less than 6 months, from public access in late June to December 2021).

1.3 million

Verified Creators

, up 30% this year across YouTube, Twitter, Twitch, and more.

Brave's ad platform

, where users earn BAT by opting in to view privacy-preserving Brave Ads (70% of ad revenue share), has greatly expanded as revenue has grown 4x over the past 12 months.

Over 8 million

users earning BAT via Brave Rewards.

Most

mobile

growth

of any browser in 2021 with over 10M downloads.

Brave Ads campaigns

were supported in nearly 200 countries with over 7.5 billion ad confirmation events to date. There have been over 5,000 campaigns since the inception, from nearly 900 advertisers, from mainstream brands such as Ford, PayPal, Toyota, Mastercard, Intel, Crocs, BMW, Keurig, American Express, Budweiser, Walmart, Amazon, and The Home Depot, as well as from crypto giants like Binance, Coinbase, Crypto.com, eToro, Gemini, and Solana.

The average click-through rate

(CTR) for a Brave Ads campaign is 8%, well above the industry average of just 2%, with many brands observing even higher engagement.

The Brave Marketer Podcast

is heading into its 4th season and has tripled its subscribers since its launch in March 2021. With over 55K unique listeners, the podcast has consistently ranked in the top 5-10% of all podcasts, and 91% of listeners convert into subscribers. Season 4 will focus on crypto marketing with guests from Crypto.com, Solana, NEAR Protocol and more.
"Passing 50 million users is a tremendous milestone for our company. It is also a powerful confirmation of the global movement underway led by users seeking alternatives to the surveillance economy," said Brendan Eich, CEO and co-founder of Brave. "We've spent a successful year expanding our product range and our ecosystem, engaging with partners who share our vision for a Web free from Big Tech's shackles. We have seen an incredible response among our users, creators, and community. We aim to double this growth again in 2022 and engage with even more users who seek a privacy-conscious way to browse the Web that rewards them instead of punishes them with tracking, and helps them directly support creators."
Behind this momentum has been a busy year in which we've expanded the capabilities, products, and partnerships aimed at supporting the Brave community.
Q1
In January we integrated IPFS, the peer-to-peer hypermedia protocol designed to make the Web faster, safer, and more open, into the Brave desktop browser, enabling users to seamlessly browse the decentralized web.
In February we also shared the BAT Roadmap 2.0, which laid out our direction and goals for the token for the next 12-18 months. This roadmap focused us on the Brave Wallet, the Brave DEX Aggregator, our Themis research and community outreach. As part of our Themis initiative, BAT joined the Binance Smart Chain ecosystem in March, meaning BAT holders can use multiple bridges that connect Ethereum and Binance Smart Chain ecosystems to participate in the DeFi ecosystem on BSC.
In March Brave acquired Tailcat, an open search engine that eventually became the foundation of Brave Search. Brave now offers the first private alternative to Google Search and Chrome, on both mobile and desktop.
Q2
In Q2, Brave joined a number of privacy advocates in taking a stand against FLoC, Google's proposed cookie-less ad tracking solution. FLoC would allow your browsing behavior and interests to be shared with every site you visit, and every advertiser you come into contact with—and it would do this by default. We articulated why we disable FLoC, and why FLoC is a step in the wrong direction for privacy.
Brave browser became available on the Epic Games store for Windows desktop, making it seamless for gamers and streamers to use Brave. We also announced a collaboration with Unstoppable Domains, enabling native browser support for the crypto domain name company's 30,000 decentralized websites and 700,000 blockchain domain names.
Brave Search, already live for months in a closed beta, became the default search engine in the Brave browser, giving online users a new, independent search option, and unmatched privacy. Brave Search uses its own index and brings you private, anonymous search. It's also transparent in how search results are ranked.
Q3
In the third quarter of this year we launched Brave Talk, a new privacy-focused video conferencing feature built directly into the Brave browser that enables unlimited video calls without sacrificing privacy. Video calling is now an important tool for work, school, and social activities, and Brave Talk allows users to collaborate and connect online in a private-by-design environment. Brave Talk uses a Premium payment platform which establishes unlinkability in the way we take payment for the use of digital products.
We also introduced Private Display Ads in Brave News in Q3.
We also established a partnership with Gemini to provide an integrated custodial crypto wallet for BAT users who opt into Brave Rewards.
Q4
In the final three months of the year, Brave announced a partnership with Solana. On stage at the blockchain company's Breakpoint event in Lisbon, Brave CEO Brendan Eich and Solana CEO Anatoly Yakovenko detailed how the companies will work together, bringing best-in-class wallet features for the Solana blockchain into Brave's Web3 desktop and mobile browsers.
We also launched the Brave Wallet, a browser-native crypto wallet built into the Brave desktop and mobile browsers, giving our users a way to store, manage, grow, and swap their crypto portfolio from a single wallet. Unlike most crypto wallets, the Brave Wallet does not require extensions, which reduces security risks and reliance on extra CPU and memory.
Last but not least, our commitment to privacy and to putting the user first saw constant feature developments and research contributions throughout 2021. Key privacy features included:
All of these features are significant practical improvements for our users, and ensure that when users browse with Brave, they are choosing the best privacy browser.
We thank each and every one of our users for helping us achieve this milestone, and cannot wait to see what's in store for the New Year!