SAN FRANCISCO and GREENWICH, CT, May 3rd, 2018 — Brave, which is combining an innovative privacy browser with a blockchain-based digital advertising platform, and Townsquare Media, Inc., which owns and operates a large portfolio of digital brands focused on music and entertainment, announced today that they are partnering to enable Townsquare to re-engage ad-blocking users. The companies will also test blockchain-based digital advertising solutions with the Basic Attention Token (BAT) platform.
According to PageFair, over 600 million devices are currently using ad-blocking software, posing an obstacle to publishers. To date, there have been limited tools available to publishers to confront this problem. The Brave technology platform was designed to address fundamental problems confronting publishers, advertisers, and media consumers, including fraud and user privacy. The Brave and Townsquare approach to ad-blocking reconnects publishers with ad-blocking users and rewards them both.
As part of the partnership, visitors to Townsquare websites who utilize ad-blockers will receive an offer to switch to the Brave browser. The Brave browser provides an ad-free experience as well as a variety of new revenue streams to publishers. Further, those users downloading Brave via this offer will be gifted BAT in the coming weeks. In turn, users can use these tokens to reward Townsquare via the integrated Brave Payments system. Brave recently allocated $1 million worth of promotional BAT to over 50,000 website publishers and YouTube creators via similar grants.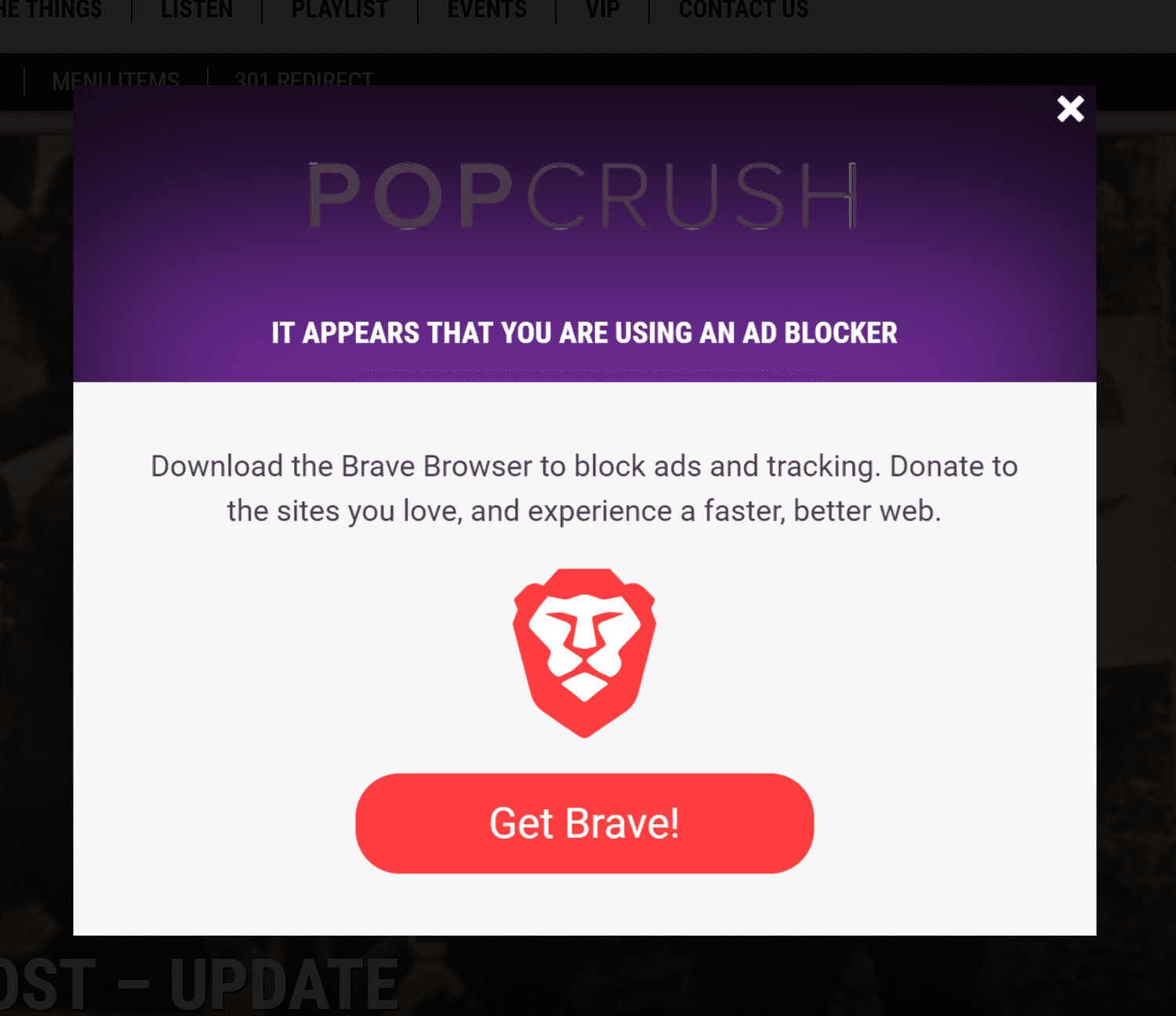 Example of the overlay that ad blocking users will view on PopCrush.com
This campaign will be active for at least 30 days on four of Townsquare's leading websites:
These four Townsquare websites are now verified publishers on the BAT platform. This enables any Brave desktop user to seamlessly contribute to these properties with BAT via the integrated Brave Payments system in the browser, either through user grants or with BAT they purchase for their integrated wallets.
In the coming months, Brave and Townsquare will work closely to test elements of the blockchain-based digital advertising and services BAT platform. Tests will include ad pilots, where users consent to view ads while maintaining their privacy in exchange for earning a share of the revenue along with the publishers. This will fulfill Brave's promise to pay users to browse. Brave and Townsquare will also test premium uses of the BAT platform. Concepts include allowing the use of the tokens to gain access to special content from publishers, playing games, or receiving gift cards. In this sense, the tokens are similar to other loyalty points or airline miles programs.
"The partnership with Townsquare is an exciting milestone for Brave, as we connect users with publishers while testing advertising solutions that only blockchain-based technology can deliver," said Brendan Eich, CEO and co-founder of Brave. "Brave and Townsquare share an innovative approach to digital advertising and we look forward to this collaboration."
About Brave Software
Brave Software's (brave.com) fast, privacy-oriented browser combined with its blockchain-based digital advertising platform is resetting the web for users, publishers and advertisers. Users get a better, less cluttered and speedier web experience, publishers will increase their revenue share, and advertisers will receive better reporting. Brave's micropayments and forthcoming opt-in anonymous ads provide a new way forward for publishers. The Brave solution is a win-win for everyone who has a stake in the open Web and who is weary of giving up privacy and revenue to the ad-tech intermediaries. Brave Software was co-founded by Brendan Eich, co-founder of Mozilla and creator of JavaScript, and Brian Bondy, formerly of Khan Academy and Mozilla.
About Townsquare Media Inc.
Townsquare is a radio, digital media, entertainment and digital marketing solutions company principally focused on being the premier local advertising and marketing solutions platform in small and mid-sized markets across the U.S. Our assets include 317 radio stations and more than 325 local websites in 67 U.S. markets, a digital marketing solutions company (Townsquare Interactive) serving approximately 12,400 small to medium sized businesses, a proprietary digital programmatic advertising platform (Townsquare Ignite), and approximately 350 live events with nearly 18 million attendees each year in the U.S. and Canada. Our brands include local media assets such as WYRK, KLAQ, K2 and NJ101.5; music festivals such as Mountain Jam, WE Fest and the Taste of Country Music Festival; touring lifestyle and entertainment events such as the America on Tap craft beer festival series and North American Midway Entertainment, North America's largest mobile amusement company; and leading tastemaker music and entertainment websites such as XXLmag.com, TasteofCountry.com, and Loudwire.com. For more information, please visit www.townsquaremedia.com, www.townsquareinteractive.com, and www.townsquareignite.com.