Tip Your Favorite Twitter Creators with Brave
Great content keeps us coming back to the same sources, whether it's reading Web sites, engaging with our favorite influencers on social media, or watching our go-to channels. Compelling and original content leads to engaged viewers, and more and more people are looking for ways to reward their favorite creators, especially if content is not plagued by ads that track you.
Today we're announcing that Brave users can tip individual content creators on Twitter with Basic Attention Token (BAT). When users visit Twitter with the Brave desktop browser, and have enabled Brave Rewards, they will see a new "Tip" button on each tweet. Clicking on this button will allow the users to send BAT directly to the author of the tweet for an amount of their choosing. Brave users who have enabled Brave Rewards earn BAT by viewing privacy-preserving Brave Ads, or can purchase BAT and load them into their Brave Rewards wallet. To kick off this new feature, Brave will be allocating 100,000 BAT grants (each grant is the BAT equivalent of approximately $1) to our desktop users in regions not currently receiving Brave Ads. Grants can be received by clicking on the "accept" button in Brave Rewards.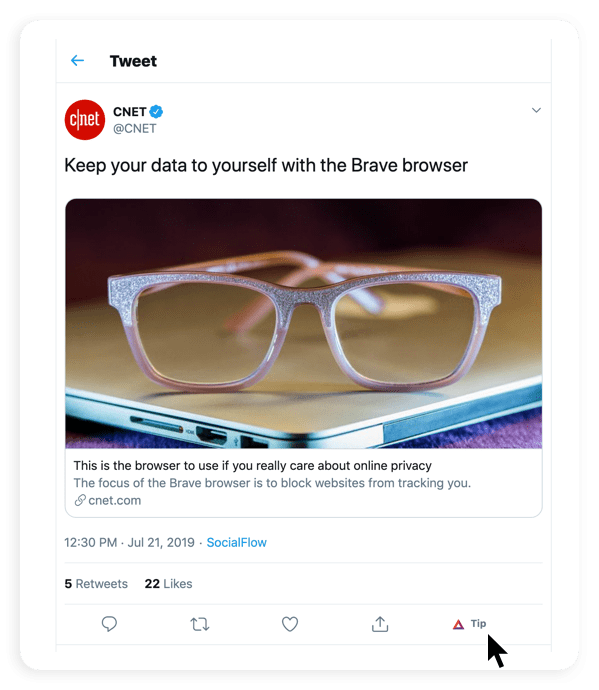 Users can also send recurring tips to that creator by selecting the option to make the initial tip a monthly occurrence. For content creators who have already verified through Brave's Creator program, tips are sent immediately and are visible in their Brave Rewards account within minutes, with payment occurring the first week of each month.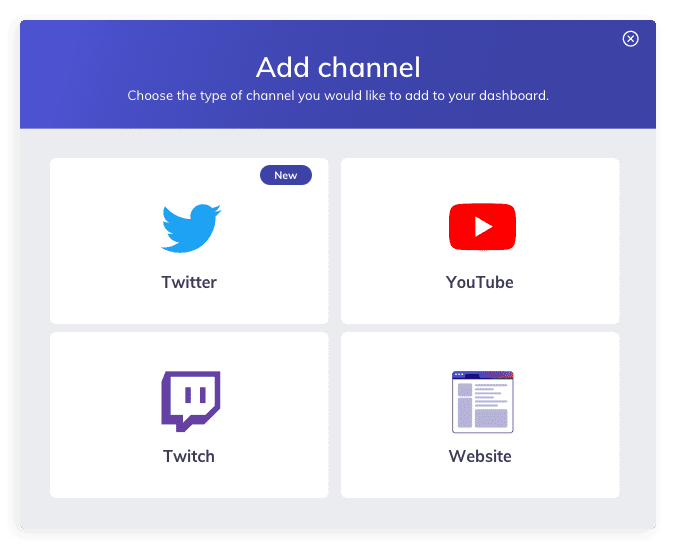 Users can also share a tweet with the creator to let them know about the tip once they've tipped them ("Tell others about your tip"), as well as how to sign up to collect the tip. The
link
to sign up as a Creator is included in the pre-canned tweet.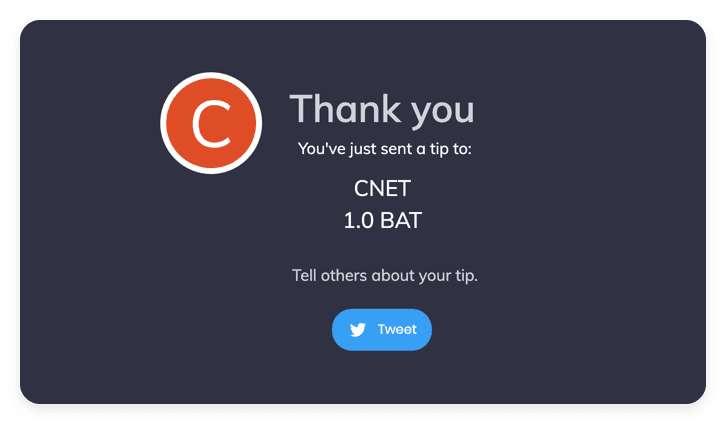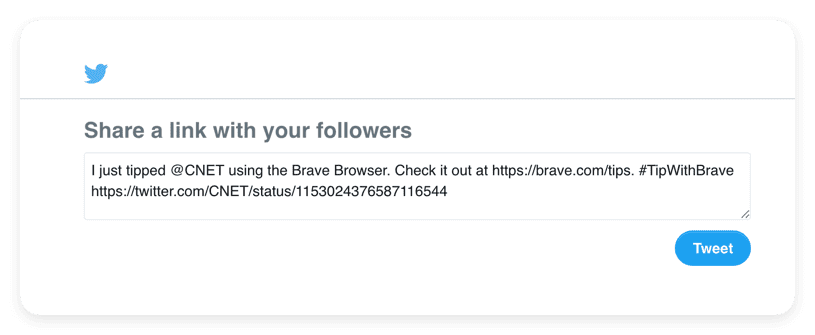 If the creator hasn't yet verified, the tip will be held locally in the browser until that creator verifies with Brave's Creator program. If they verify within 90 days, the tip will be sent. If not, then it remains in the user's Brave Rewards wallet.
This feature is an expansion of Brave Rewards, which already includes the ability to support Web sites, YouTube creators, and Twitch Streamers. There are nearly 60,000 verified creators in Brave Rewards. Soon, Brave users will also have the option to support more content platforms, including Reddit, GitHub, and Vimeo. Brave Rewards is part of our new path toward a better Internet, where users can browse the web, earn rewards, and support content creators while preserving their privacy.