Introduction
2022 was a foundational year for Brave, BAT and Community. Progress with the multichain Brave Wallet and +80 DApps joining the Brave Wallet Partner Program provided additional opportunities to bring pilots to market from our 2022 goals, which we aim to build upon further for 2023. We are also planning on new feature additions and enhancements to the Rewards ecosystem involving BAT and Web3 that we're excited to bring to market in the year ahead. 
While the crypto industry has gone through turbulence in 2022, Brave and BAT continue to build and expand utility to millions of users and Creators. 2023 will be a transformative year for BAT, as updates and upgrades to existing programs will best position Brave's resources to bring more utility on-chain for users, Creators and Advertisers. 
Following previous State of the BAT posts from 2021 and 2022, the 2023 State of the BAT provides a snapshot of BAT stats, key accomplishments from 2022 and a look ahead at our goals for BAT in 2023. 
BAT Stats
Circulating Supply
As of the time of writing, 1,497,353,045 BAT (99.82%) of the total supply of 1,500,000,000 BAT are in circulation.
BAT distribution on Ethereum
BAT on-chain holders growing across networks
The introduction of the multichain Brave Wallet in 2022, and support for Brave Wallet on some of the leading DApps on those networks has resulted in 489,340 on-chain wallets holding BAT across Ethereum, Polygon, BNB Chain, Avalanche and Solana. We expect to see greater adoption of BAT on these networks and others into 2023.

BAT Distribution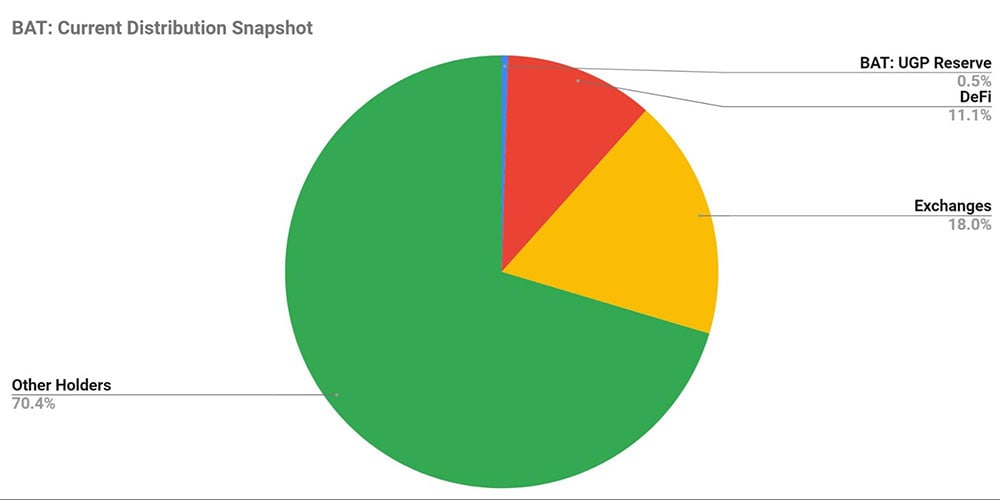 BAT on Exchanges
Of the top 500 BAT holder wallets, over 270.78M BAT (18.05% of total supply) are held by publicly tagged exchange wallets.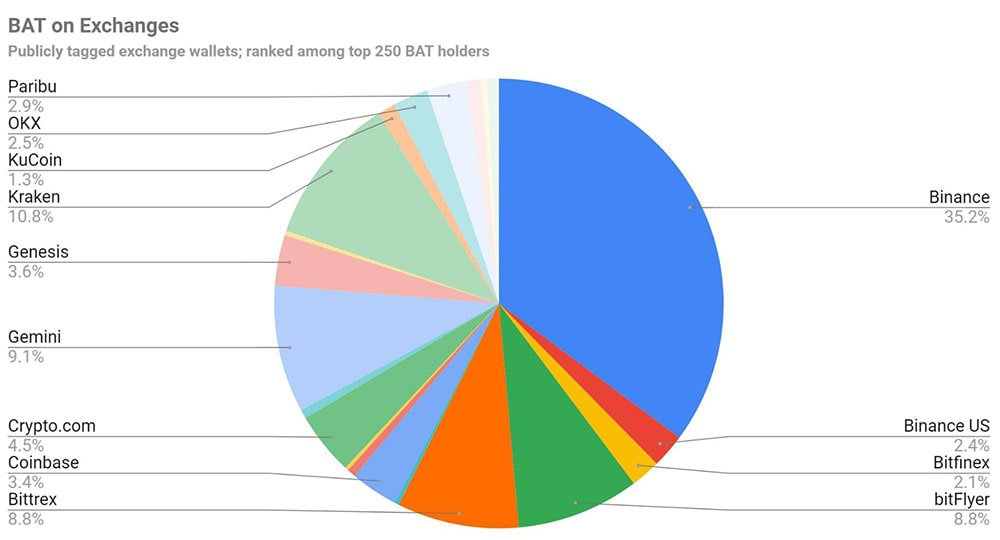 BAT in DeFi
BAT utility has continued to grow in DeFi over 2022, with over 167.4M BAT (11.16% of total supply) actively being utilized in on-chain defi protocols.

The top 3 defi protocols utilizing BAT in 2023 are Compound, Aave and Uniswap.
Brave-initiated BAT Purchases
Throughout 2022, Brave made a total of 76 BAT purchases for the 70% user revenue share for advertising campaigns paid by advertisers in USD, for a total of 27,169,302 BAT. 

Note that fluctuations in the notional USD equivalent value of BAT, Brave Ads monthly campaign sales, and the percentage of advertisers paying in crypto vs. USD result in differences in the quantity and frequency of BAT purchases throughout the calendar year.
Brave Ads
Brave Ads campaigns were supported in nearly 200 countries with over 7.5 billion ad confirmation events to date.
There have been over 6,600 campaigns since the inception, from over 900 advertisers, from mainstream brands such as Ford, PayPal, Toyota, Mastercard, Intel, Chipotle, Crocs, BMW, Keurig, American Express, Budweiser, Walmart, Amazon, and The Home Depot, as well as from crypto giants like Binance, Coinbase, eToro, Ledger, Near, and Solana.
The average click-through rate (CTR) for a Brave Ads campaign is 8%, well above the industry average of just 2%, with many brands observing even higher engagement.
Brave Creators
A total of 1,742,574 Creators have verified with Brave to accept BAT from Brave Rewards users, an increase of over 30% from 2022.
2022 Progress
Brave Ads
Brave News Ads launched for Android in March 2022. 
Brave Search Ads Beta launched in December 2022.
Brave Rewards
Brave Rewards users have contributed more than 36 million BAT to their favorite registered content creators to date.
Work on engineering and implementation of important updates and changes to Brave Rewards (see our Important Changes to Rewards post for more details):

An important step toward helping us combat abuse, so that we can better deliver on our promises to legitimate users and creators.
The changes allow Brave to focus efforts on building a more decentralized future by eliminating our current centralized "virtual BAT" system.

Updates to the Brave Rewards interface on Android
Brave Wallet
Multichain support introduced for Filecoin, Solana and support for Solana DApps on desktop. 
Support for popular EVMs with Brave Swap.
NFT Gallery support for Ethereum and Solana networks.
Mobile Ethereum and EVM DApp support on Brave Android and iOS.
Brave Wallet Partner Program
Created in June 2022, the Wallet Partner Program aimed to bring the largest DApps across different networks to support the Brave Wallet, including joint promotion, PR and Twitter Spaces. 
By the end of 2022, the program grew to over 80 of the largest DApps in the space, including 1inch, DappRadar, Compound, X2Y2, LooksRare, Lido and more, opening the door for additional business development opportunities and utility additions for BAT. 
BAT in DeFi
BAT expanded DeFi utility in 2022, including DEX/AMM liquidity on ApeSwap and BiSwap on BNBChain, and Orca and Jupiter on Solana. 
In addition to Wyre, BAT liquidity has been added to on-ramp vendors integrated into Brave Wallet, including Ramp.Network, Sardine and Transak.
Additional options via on-ramp vendors to purchase wrapped BAT assets on Solana, Polygon and BNBChain were introduced in 2022.
BAT in NFTs
On November 10th, 2022, Brave launched the first collaborative BAT NFT mint on Solana with the BAT x Adam Ape for Brave collection, with the BAT and Adam Ape Communities collaborating to successfully mint the 2500 NFTs in the collection within 3 hours.
The collaboration introduced the whitelist option to mint NFTs with wrapped BAT in addition to SOL on the Solana network, with secondary royalty enforcement in collaboration with Cardinal Labs. 
NFTs from the collection are available on Hyperspace and CoralCube secondary markets on Solana.
BAT Community
Hosted over 40 weekly BAT Community Twitter Spaces featuring panelists from the Brave team and guest projects, including NEAR Protocol, POAP, Solana Spaces, Drift Protocol, and others. 
Welcomed the BAT Community and general public to 51 weekly BAT Community Calls each week on Brave Talk; all are welcome to join every Tuesday at 2pm Pacific / 5pm Eastern.
Grew BAT Brigade Discord membership to over 15K members, doubling our projection for the year. The Brigade is now a flourishing center for BAT daily discussions and weekly live engagement.
Continued growing the BAT Ambassadors and Student BAT Ambassadors Programs, laying the groundwork for increased BAT/Brave adoption and community growth in key regions, including LatAm and Africa.  
Focus for 2023
BAT NFT Creator Collaborations
With the success of the BAT x Adam Ape for Brave NFT mint, we observed how bringing the BAT and creator NFT communities together can lead to success (even with extremely turbulent market conditions).
Following the upcoming Sage mint for the BAT x Adam Ape for Brave collection, we plan to continue bringing the leading NFT Creators and communities across different blockchains together with the BAT Community and Brave to offer more mints through a formal program.
Each collaborative NFT mint will bring BAT utility as a mint option, with the aim of fully denominating NFT mints in BAT this year in NFT marketplaces on Solana, Ethereum and other networks. 
We're working closely with the Community on utility opportunities for NFT collectors in the program, where collectors can benefit from utility within the Brave ecosystem for all of the collaborative collections, and additional utility for the projects we collaborate with. We aim to incrementally add these utility offerings throughout the year, providing continuous benefits and enjoyment for the Community. 
Additionally, we're working with Wallet Partner Program partners on extending additional utility benefits for BAT and Brave NFT collaborations, with Based MKRS already providing their NFT passes to our BAT Community to create token-gated communities within their chat app.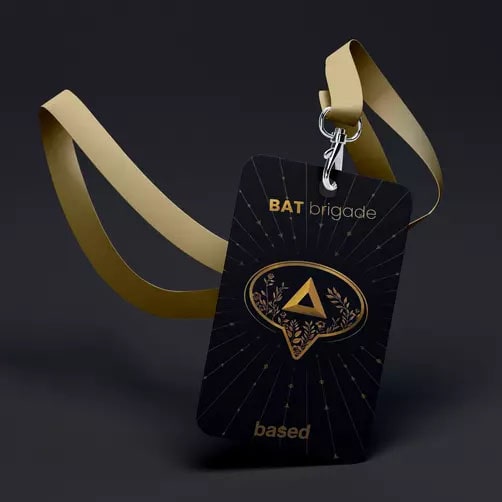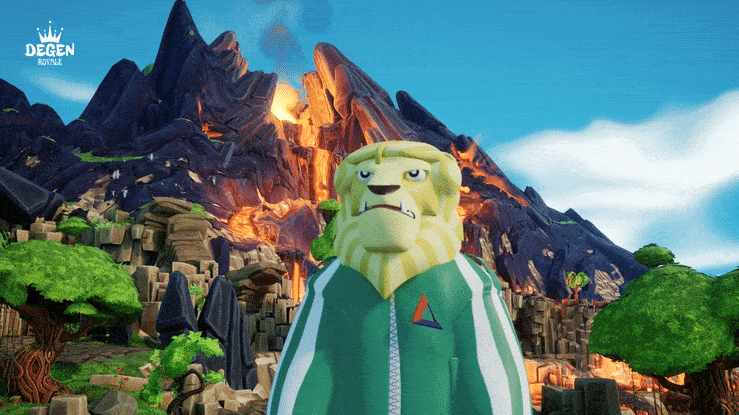 More information on this program will be released in the weeks ahead.
Brave Ads
Following the full rollout of the changes to Brave Rewards announced in January, we plan to introduce support for Brave Search Ads to Brave Rewards users, providing another opportunity for Brave Rewards users to earn BAT.
We are aiming to hold a public invitation for the Brave Ads Self-Serve Beta Program to advertisers over the next several weeks, with the goal of transitioning from the Self-Serve Beta Program to the fully accessible public-facing Self-Serve Brave Ads product for advertisers by the end of 2023. 
With Brave Wallet featuring NFT Gallery support, we're beginning to work more closely with Brave Advertisers as technology partners to explore additional NFT utility tie-ins for BAT Collaboration NFT holders, along with POAPs and other NFT utility use cases. Brave and BAT are well positioned to provide additional real world value for brands with this innovative technology, and we're excited for the opportunity to bring more brands into Web3.
Brave Rewards & Creators
On-chain, Web3 wallet contributions to Creators

New shareable Creator channel pages/URLs

New custodial account options for Brave Rewards 
Unifying Brave Rewards and Brave Wallet
Brave Creators redesign for the Creators dashboard and Creators website
Pay with BAT
We plan to introduce Pay with BAT options for on-chain payment support with BAT in 2023, with initial support integrated into Brave Premium Products and Services. 
Gaming/eSports
We're excited to announce that Brave and BAT have entered into a 12 month partnership with XBorg, to sponsor and integrate Brave Wallet and BAT into their eSports gaming and tournament events throughout 2023. The partnership includes exploring and experimenting with additional BAT utility for potential cases including tournaments, prize pools, gaming quests involving Brave Wallet and BAT, NFT mints, and a broad array of content generation involving and promoting Brave and BAT throughout the year.
Brave and BAT are collaborating on a four month sponsorship and promotional partnership with ev.io, currently the most popular game on Solana by daily active users. As part of the partnership, we aim to focus on sponsorships and activations including Brave Wallet and BAT, and exploration of additional gaming utility cases for BAT.
The Brave and BAT teams are also working with gaming titles and studios on offering additional opportunities for BAT and BAT NFT holders that we plan to announce in 2023.
BAT Community
More cross-chain BAT NFT collaborations with NFT projects and Web3 influencers, and their communities.
Optimize crypto and Web3 education through the BAT Ambassadors & Campus Ambassadors programs, regional BAT Ambassador-led Community Calls in various languages, and other localized content.
More consistent live engagement with the BAT Community online (BAT Community calls, Twitter Spaces, BAT/Brave team AMAs, etc.) and in-person via meetups, events and more. 
As always, we welcome and encourage the community to continue providing feedback and participating with the team in the year ahead.
Related articles
Today we are excited to announce our partnership with ZebPay, one of India's leading crypto exchanges.
Read this article →
As a followup to our February blog post regarding the changes to Brave Rewards, today we are announcing the expected vBAT sunset deadline: October 31, 2023.
Read this article →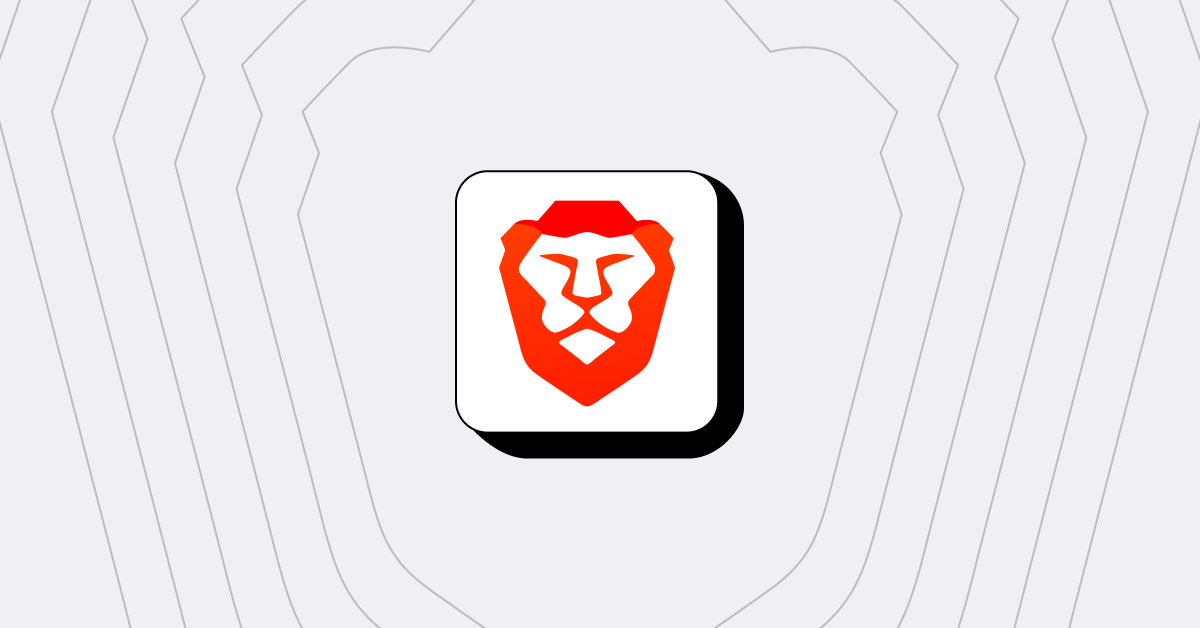 Today we are detailing changes to Brave Rewards that will land in Brave version 1.48.x, which is scheduled to be released early February 2023.
Read this article →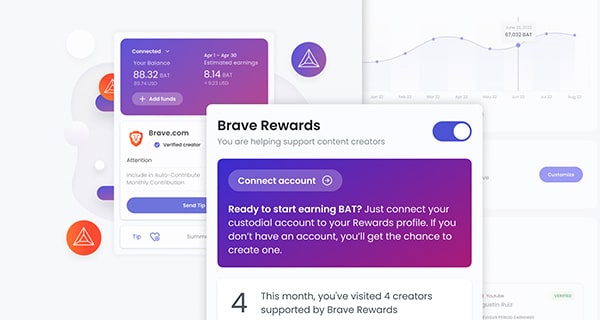 Ready for a better Internet?
Brave's easy-to-use browser blocks ads by default, making the Web cleaner, faster, and safer for people all over the world.
Download Brave