Launch partner BlockFi featured in current campaign
Brave users will notice that their new tab page features a Sponsored Image, which is shown in every fourth new tab and alternates with Brave's regular background images for new tabs. Sponsored Images reward Brave users with 70% of the ad revenue when they opt into Brave Rewards. Sponsored Images give select advertisers the ability to place a branded image and logo in the tab page, reaching the full 100% of Brave's audience of over 11 million monthly active users. We're thrilled to announce that our launch partner BlockFi is the advertiser for this current campaign, which will run for ten days.
BlockFi is a financial services company focused on products and services designed specifically for cryptocurrencies, such as an interest account allowing users to earn compound interest on their bitcoin and other crypto assets. The BlockFi campaign will be seen by Brave users in the USA, Canada, Australia, New Zealand, and the United Kingdom.
Brave users can get more information about BlockFi by simply clicking on BlockFi's logo on the Sponsored Image, and they will be taken to BlockFi's home page. Users will see three brand images from BlockFi in the new tab page image rotation throughout the duration of this campaign.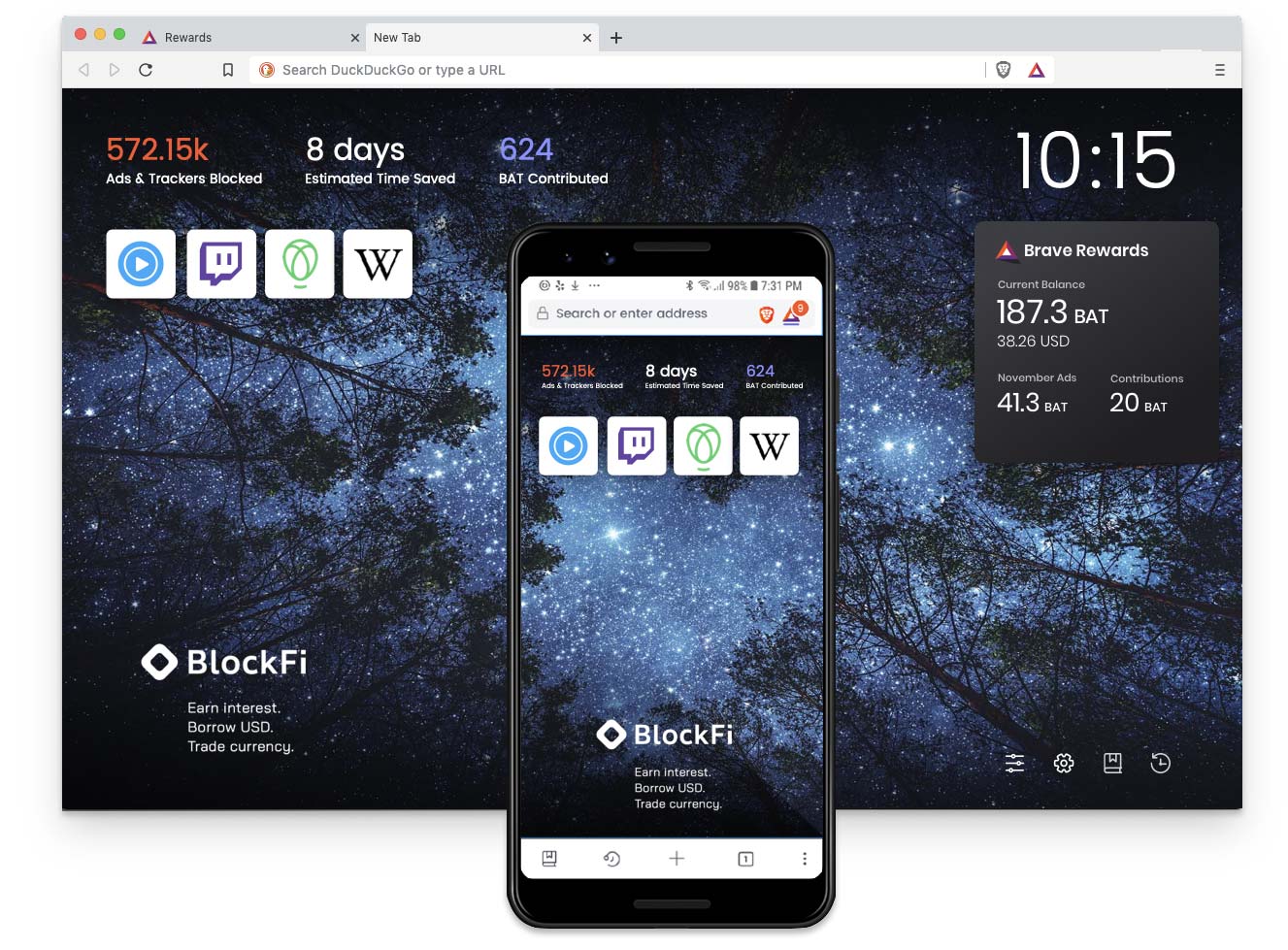 Users will be given an opportunity to switch on Brave Rewards when the first Sponsored Image appears, and users who opt in will receive 70% of the ad revenue as compensation for their attention. Users who opt into Brave Rewards will see earnings from Sponsored Images included in their ad statements at the end of each month. Earnings from Sponsored Images are not included in Brave Rewards daily estimated ad earnings yet. Users can also earn more Brave Rewards from our notification-based Brave Ads. If they would prefer to not see Sponsored Images, they can turn them off in their dashboard settings or from the new tab page.
Sponsored Images will help support the entire Brave ecosystem, and we're excited to pioneer a format that directly connects users and advertisers while preserving privacy - and rewarding users for their attention. The format is a large image and a small logo overlaid at the lower left, and each image is approved individually by Brave to maintain a pleasant experience for the user. As always with Brave, Sponsored Images are private and there is no user tracking.
We look forward to getting user feedback, and advertisers interested in more details about Sponsored Images can contact our team at AdSales@brave.com.