New data shows publisher revenue impact of cutting 3rd party trackers
SEE UPDATED DATA IN MORE RECENT POST 
This note shares new data on publisher revenue impact from switching off 3rd party ad tracking.
In January, the Dutch national broadcaster, NPO, switched off 3rd party tracking ad targeting. NPO has an online video audience of 7.1 million per month, and display reach of 5.8 million per month.[1]
Revenue impact
I have examined Ster's revenue figures, and have their permission to share the results of their change.
In January 2020, when NPO switched from tracking-based targeting to contextual targeting, revenue increased 61% more than January 2019. In February, revenue increased 76% over the previous year. In the following month the Netherlands experienced an economic shock from the Covid-19 pandemic, and Dutch economists predicted a recession.[6] Even so, despite revenue increased 18% in March over the previous year, 8% in April, and 19% in May.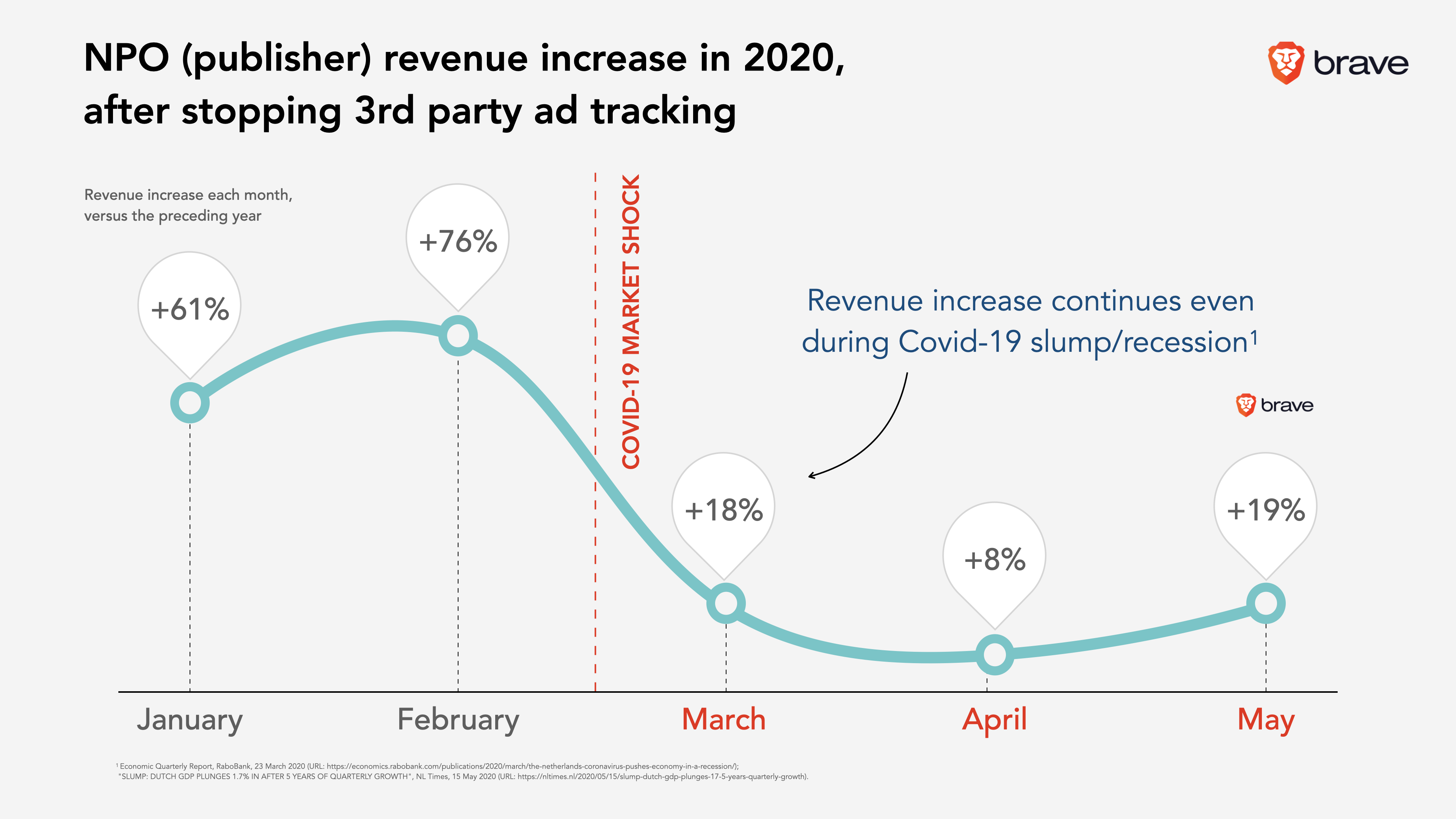 In other words, there was a 68% monthly average revenue increase in the normal market, and a 15% monthly average increase in the Covid-19 slump[7] market. It is likely that this increase comes from the reduced adtech tax,[8] and prevention of commodification and arbitrage of NPO's audience. These are well-rehearsed problems that I summarized in testimony at the International Grand Committee on Disinformation previously.)
Reasons for the change, and impact on advertisers
I have discussed regulatory issues with NPO since 2015, and understand that there were several factors in NPO's decision.
First, it was subject to enforcement pressure. As the Netherland's national broadcaster, NPO was subject to particular scrutiny by the Dutch data protection authority.[2]
Second, when NPO implemented a new approach to consent that allowed people to reject 3rd party tracking, 90% of their visitors did so.[3]
Third, NPO and its sales house Ster tested the effectiveness of contextual and tracking based ad targeting with several brands, and concluded that "non-personalized is just as effective".[4] Indeed, more so, on occasion: for example, a travel brand's click through rate increased by 70% when using context as opposed to tracking.[5]
In the context of the ePrivacy discussion in Europe, and the likely passing of the California Privacy Rights Act, this NPO and Ster's trailblazing example is enormously important for publishers.
Notes
[1] "Online advertising", Ster presentation at CPDP 2020, p. 3. Also, 3.3 million viewers of websites, and 4.5 million viewers of online video services. Stichting Kijk Onderzoek / Nationaal Luister Onderzoek / Nederlands Online Bereik Onderzoek figures provided by Ster.
[2] For example, see "NPO beëindigt overtredingen na onderzoek CBP", Autoriteit Persoonsgegevens, 11 June 2015 (URL: https://autoriteitpersoonsgegevens.nl/nl/nieuws/npo-beëindigt-overtredingen-na-onderzoek-cbp).
[3] "Online advertising", Ster presentation at CPDP 2020, p. 8. I had predicted 79% would say "no" in "Research: only 3% will consent to web-wide 3rd party tracking for advertising", PageFair Insider, 13 September 2017 (https://www.linkedin.com/pulse/research-only-3-consent-web-wide-3rd-party-tracking-advertising-ryan/).
[4] "Een toekomst zonder advertentiecookies?", Ster, 2020 (URL: https://www.ster.nl/onderzoek/een-toekomst-zonder-advertentiecookies-het-kan/), p. 12; See results at "Een toekomst zonder advertentiecookies?", Ster, 2020 (URL: https://www.ster.nl/onderzoek/een-toekomst-zonder-advertentiecookies-het-kan/), pp. 8-19.
[5] "Online advertising", Ster presentation at CPDP 2020, p. 19.
[6] 1 Economic Quarterly Report, RaboBank, 23 March 2020 (URL: https://economics.rabobank.com/publications/2020/march/the-netherlands-coronavirus-pushes-economy-in-a-recession/).
[7] SLUMP: DUTCH GDP PLUNGES 1.7% IN AFTER 5 YEARS OF QUARTERLY GROWTH", NL Times, 15 May 2020 (URL: https://nltimes.nl/2020/05/15/slump-dutch-gdp-plunges-17-5-years-quarterly-growth).
[8] See "The Programmatic Supply Chain: Deconstructing the Anatomy of a Programmatic CPM", IAB, March 2016 (URL: https://www.iab.com/
wp-content/uploads/2016/03/Programmatic-Value-Layers-March-2016-FINALv2.pdf); "Where did the money go? Guardian buys its own ad inventory", Mediatel Newsline, 4 October 2016 (URL: https://mediatel.co.uk/newsline/2016/10/04/where-did-the-money-go-guardian-buysits-own-ad-
inventory/); and see also ISBA/PwC supply chain transparency study, 2020.
This note analyses additional granular data from Dutch publisher NPO, and presents lessons for the publishing industry about privacy and revenue based on six months of data from a publishing group that removed 3rd party tracking. 
Following a court decision on Friday, it is now highly likely that California will introduce legislation that curtails adtech tracking.
Procter & Gamble invited Dr Johnny Ryan of Brave to give a (remote) keynote about how advertisers should adapt to the privacy-first future.