Get Rewarded For Paying Attention
Brave is the only browser that rewards you for your attention. Like Google Chrome, Brave is free to download. But with Brave, it pays to stay.
When you download a web browser for free, you expect it to stay that way. And for good reason. Instead, advertisers and other data harvesters are being granted access to your personal identity and online habits so that they can make billions in annual profits.1 By stealing, trading, and stockpiling your data, tech giants are manipulating your online experience to maintain a monopoly on your attention.2 What's more, the ads and trackers used to monopolize your attention drain your computer's resources, resulting in a browsing experience that's not only less private, but considerably slower.
Brave is fighting to keep the Internet free and accessible to everyone, forever. By reimagining the broken surveillance economy, we've built a model that incentivizes high-quality content over profit. Brave rewards you to browse while also offering up a noticeably faster, safer, and more enjoyable experience than Google Chrome. Because you shouldn't have to sacrifice your privacy to surf the web.
The future of browsing is one in which everyone's attention is valued equally. In this new model, users, advertisers, and content creators all come out ahead.3
Earn Rewards, Reclaim Your Privacy
With Google Chrome, ads track your browsing habits to better sell you products. Not only are these ads invading your privacy, you're literally paying them to do it.4 Consider this: ads and trackers eat up to 50% of the average user's mobile phone data.5 That means the average person browsing the Internet on their phone is being charged to wait longer for pages to load… in order to see content they didn't even ask to see.6
ads and trackers eat up to 50% of the average user's mobile phone data.
Brave turns this broken model on its head. Brave Ads is an opt-in advertising platform that rewards you to view non-invasive ads without compromising your privacy. In exchange for paying attention, you earn 70% of the ad revenue that Brave receives. That revenue comes in the form of Basic Attention Tokens (BAT),7 which are tokens that can be spent online.8 At the end of each month, you can either withdraw your BAT in the form of cash or pay it forward by tipping your favorite websites and content creators.9 Just open the Brave Rewards panel and hit "Send a tip" to instantly share your BAT earnings with the content creators you love.10
Control the Ads You See
Getting paid isn't the only perk of opting into Brave Ads — it allows you to engage with advertisements and brands in a more thoughtful way. Brave gives you control over the ads you see and how often you see them. No more having to sit through ads on YouTube,11 and definitely no more searching through all of your open tabs to find out where that annoyingly loud video ad is playing. With Brave, ads play on your terms.
Every ad that Brave serves is discreet and easy to ignore, appearing as a push notification directly on your device or a background image of a new tab page.12 If a push notification or New tab takeover piques your interest, just click on it to learn more. And if you're served up an ad that's totally unrelated to your interests, just dismiss it to make it go away. Simple as that.
Support the Publishers You Love
Brave's ad model doesn't just benefit users like you — it supports everyone on the Internet, publishers included. Google not only dominates the search market, but holds a tight grip on the digital advertising market too. Together with Facebook, they sweep up a majority of all ad revenue by charging publishers fees to host ads while charging advertisers fees to place them.13 14 15
Brave undermines these tech giants' strongholds by letting users directly support the sites they visit. From the YouTube creators who make you laugh to the news organizations that you rely on to stay informed, use your BAT earnings to tip any Brave-verified creator on the web. At the end of each month, publishers can trade in those tips for cash to help fund their work. Brave Ads also actively encourages you to tip charities and nonprofits.16 Direct tipping supports publishers around the world to continue doing what they do best, while undermining the surveillance economy that cheats them of their livelihood.17
Advertisers also get a fair cut when you browse with Brave. Because users engage with ads on their own terms, advertisers can know for certain what messages are winning audiences over. If an ad succeeds in catching your attention, you get paid in BAT and the advertiser gets the chance to make a sale. It's a win-win.
You deserve a browser that values your attention over the profits of advertisers and tech giants. Brave Ads encourages you to support publishers worldwide and help fix the unfair, digital surveillance economy. Download Brave to share in an Internet where everyone is valued.
Related articles
3x faster. 1 hour more of battery life. 33% less memory usage. Speed past Chrome today.
Read this article →
You are not a product. Your browser should not spy on your online behavior. Read how Brave respects your privacy and helps shield you from data collection.
Read this article →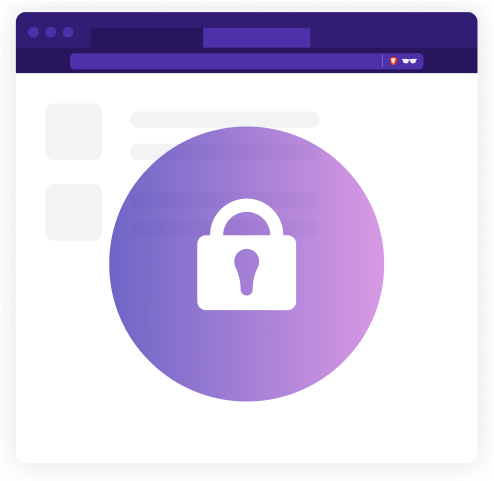 Check out the Brave blog: the front page for news on ad blocking, features, performance, privacy, and Basic Attention Token related announcements.
Read more articles →
Ready for a better Internet?
Brave's easy-to-use browser blocks ads by default, making the Web cleaner, faster, and safer for people all over the world.
Download Brave