Brave Passes 3 Million Monthly Active Users and Makes Top 10 List in the Play Store in 21 Countries
Brave now has over 3 million monthly active users (over 3.1 million as of July 1st) and is currently growing at a pace to pass the 5 million mark before the end of 2018.
Brave has also reached the Top 10 category in "free communication apps" for its Android browser in the Google Play Store in the United States as well 20 countries across Europe, Asia, and the Americas. This includes #8 in the U.S., #7 in Canada,  #8 in France, #4 in Portugal, #6 in Spain, #5 in Ireland, as well as #3 in Indonesia, #7 in Singapore, #10 in South Korea, and #5 in Argentina.
Last week we issued BAT grants to Brave users as part of our monthly $500,000 BAT giveaway, so be sure to claim yours to then support your favorite sites, YouTube channels, and Twitch streamers. Monthly grants to users give approximately 5 USD in promotional BAT, and Brave users can claim them via the in-browser notification or by checking the status of the integrated Payments settings in the latest Brave desktop browser.
There are currently over 18,000 Brave verified publishers (over 4,500 websites and 13,500 YouTube and Twitch streamers), and last week they received their monthly BAT payments as well.
The Brave Creator Referral Program is ongoing, with over 11,700 creators currently participating. If you have a website, YouTube channel, or Twitch stream, simply click here to join. Refer your audience to Brave and earn $5 per referral to further support your content. If you have 100,000 followers and 1% of them switch to Brave, that could mean $5,000 in your account!
To help ensure we maintain consistent communication with our users, we recently switched our email newsletter service provider from MailChimp to SendGrid given MailChimp's recent limitations prohibiting the use of their service for marketing and content related to cryptocurrency, virtual currency, and digital assets. Using SendGrid will also provide our users and creators with better privacy protection.
We're looking forward to soon launching our opt-in private ads that will pay users, so if you're interested in joining our testers and providing feedback, please contact our Early Access group via community.brave.com.
And be sure to visit our Brave Store if you're looking for the latest gear, it now includes ladies' styles per popular request.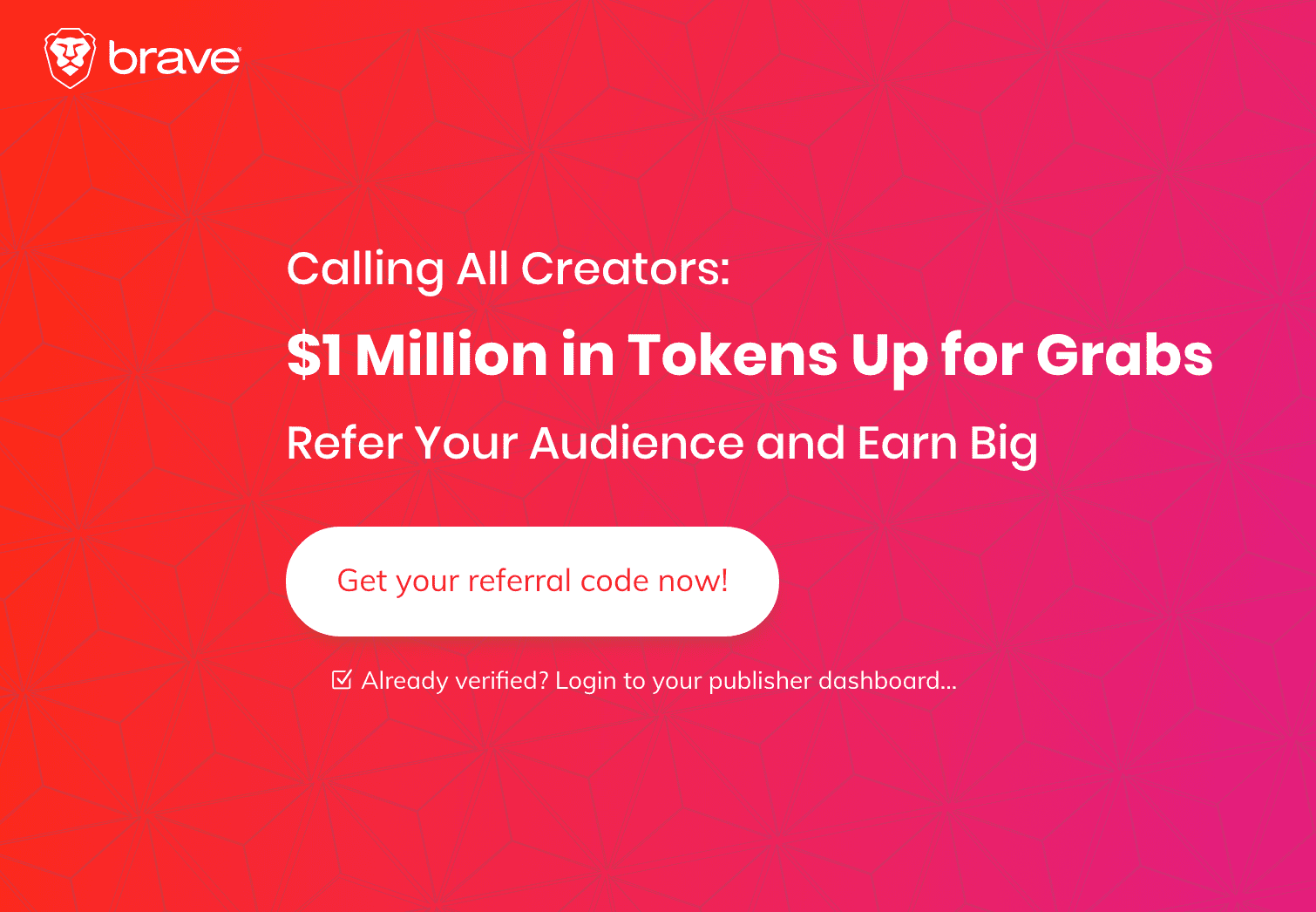 Related Articles
Continue reading for news on ad blocking, features, performance, privacy and Basic Attention Token related announcements.
The ICO has today announced that it will be taking no substantive action to fix "RTB", the largest data breach ever recorded in the UK. Regulatory ambivalence cannot continue. We are considering all options to put an end to the systemic breach, including direct challenges to the controllers and judicial oversight of the ICO. 
Today we'd like to introduce "Sponsored Images", the latest addition to Brave's private advertising platform. These branded images will appear in the form of large, beautiful background images within our new tab page. Sponsored Images will bring additional revenue to support Brave's mission, and give users a new reason to turn on Brave Rewards so they can get compensated for their attention. These images will begin to appear across our mobile and desktop browsers over the next few months. As always with Brave, Sponsored Images are private.
San Francisco – December 9, 2019 – Brave Software, makers of the innovative Brave browser which combines privacy with a blockchain-based digital advertising platform, today announced that the Brave browser was selected as the official browser for the 2019 E-1...