Today we're releasing the first beta version of our upcoming Brave 1.0 browser for testing on our new Brave Beta Channel. This beta is a work in progress for developers and users who would like to see our latest advances. On September 6th, we released the first developer version (0.55) of Brave 1.0 on the Brave Developer Channel, and we've integrated the feedback that many of you have provided for Brave Dev into this first beta.
We'd like to encourage users to test this beta and share their impressions as we gear up for the general availability of this new browser. For developers who would like to file issues, please post them here: https://github.com/brave/brave-browser/issues.
We'd also love to hear from users in our Community forum to discuss your feedback about Brave Beta features and performance, so please reach out.
This beta version offers new features that have been implemented in the past 3 weeks, and we'd like to highlight the following:
Private Browsing with Tor support (This is an early implementation still undergoing leakproofing, so users should not rely on it for serious use yet).

Widevine support on Windows and on macOS (Linux is on the way).

New design elements and UI differentiations from Chromium (

Brave Shields menu inside the URL bar on the right; bookmark bar on the left; URL bar centered and smaller; differences in tab shapes and colors; different light theme, plus dark theme can also be set).
As a reminder, the following features were available in the Brave Dev version already, and some have been polished:
Extensions are installable by default (As always, users should only install trusted extensions.

We currently maintain 3 levels of support: "Allowed and vetted," "Allowed and unvetted" (for which we give an extra warning), and "blocked." The blocked list is empty but we plan to add unsafe extensions there in the future).

Ad blocking is more efficient, as it's done on the network thread.

Regional ad blocking is enhanced with auto-selection of the region.

The highly-requested dark theme is supported. Both light and dark themes are built into Settings.

Users can import browsing history, bookmarks (or favorites), saved passwords, and cookies from the current version of Brave, as well as Chrome and other browsers. Brave Stats can also be imported from the current version of Brave.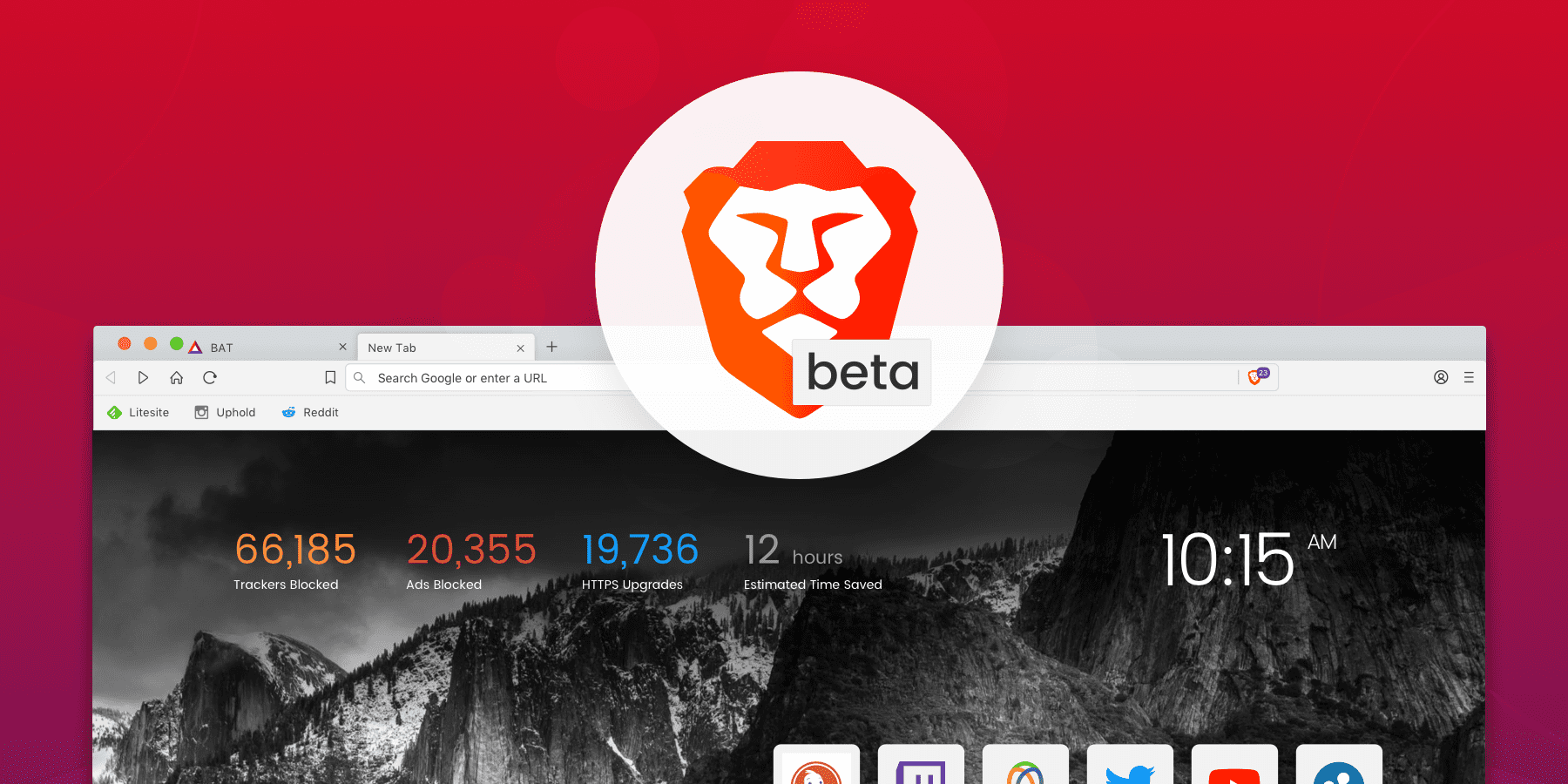 Other notable features include WebTorrent support, a sneak-peak at Brave Rewards (which will replace Brave Payments) on all platforms, improved localization, and restoring the last session by default.
And of course, you will find most of the great privacy and security features you know and expect from Brave: tracking protection, HTTPS Everywhere, cookie blocking, fingerprinting protection support, referrer blocking, Flash disabled by default, distinct privacy-protecting search engine selection for a private new tab page, "block this element" support by right-clicking on anything in any page, proxied safe browsing to be more private, and permission-based autoplay support.
This Brave beta is Chromium-based, but there are several foundational differences with Chrome. Apart from the differentiated UI and many of the privacy features listed above, the following are key:
The disabling of Google Accounts and Sync code.

The removal of Chrome-specific telemetry and data reporting.

The use of PDF.js by default instead of PDFium, which has frequent security problems in Chrome.

The sending of search terms to Google-suggest is off by default, with Alexa top sites used as the data source instead.
We know many of you are expecting sync between desktop and mobile, and though it is not included in this first beta version, we are putting the finishing touches on it and it will soon be available for testing in the Developer Channel.
The Developer Channel today features the updated Brave Dev version (0.56), available for download by developers and users who enjoy testing new features and the latest code. In October, a new Release channel will also be launched and will feature the second beta version that all users will be able to download for daily use and submit feedback about, in the final run-up to what will become Brave 1.0 several weeks after that.
We'd like to thank all the developers and users who are providing our team with invaluable feedback and contributions; our open source process relies on our community's participation. We're looking forward to delivering our 1.0 version that will put users in charge of their data, as well as contribute to an improved Web ecosystem that reconnects users and creators.
Information about the release schedule is here: https://github.com/brave/brave-browser/wiki/Brave-Release-Schedule
A detailed rundown of the roadmap is available here: https://github.com/brave/brave-browser/wiki/Roadmap