Never Stop Marketing Research and Brave Software Collaborate to Help Enterprise Marketers Harness Blockchain Potential Rapidly
New York and San Francisco, February 13, 2019 —- Never Stop Marketing Research, the leading research firm on the intersection of blockchain and marketing, and Brave Software, an innovative privacy browser combined with a blockchain-based digital advertising platform, today announced the release of a new tool to showcase the growth of blockchain solutions for marketers via theBlockchain MarTech Landscape.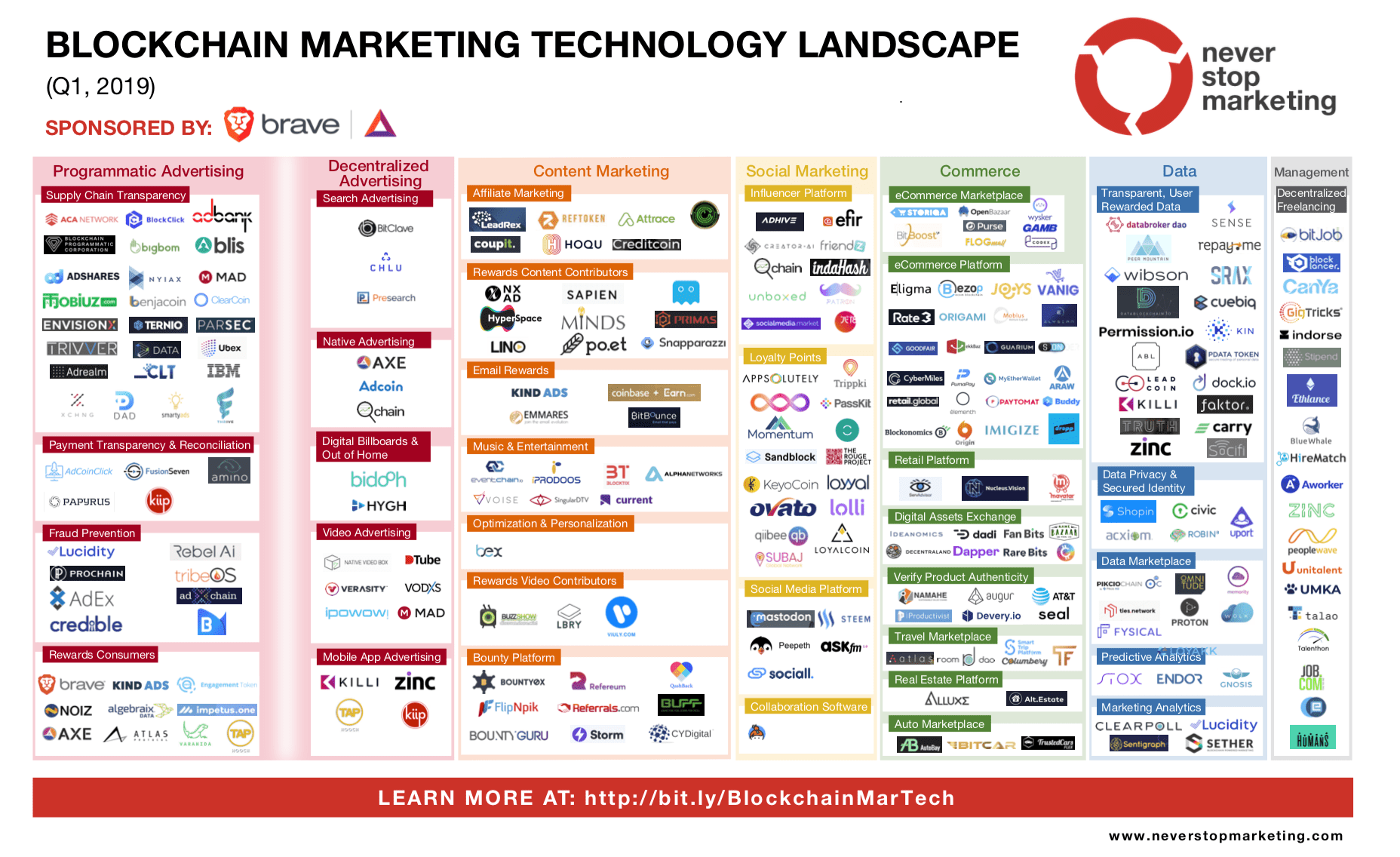 The number of marketing startups building blockchain-based solutions has grown explosively over the last 18 months, from only 22 in Q3 2017, to 88 in February 2018, to 290 today. Many of these companies have developed solutions and are now entering a testing phase.
Brave's Basic Attention Token was launched on May 31st, 2017 to improve the efficiency of digital advertising by creating a new token that can be exchanged between publishers, advertisers, and users. NSM Research and Brave are collaborating to assist marketers in assessing their level of engagement with key blockchain solution and concepts.
The Blockchain Martech Landscape tracks the type of startups using blockchain and distributed ledger technologies for marketing use cases. The Landscape's first column focuses on the Programmatic Advertising category and the solution the blockchain-based startups provide. These include Supply Chain Transparency, Payment Transparency & Reconciliation, Fraud Prevention, and Rewarding Consumers for their attention.
This 3rd version of the landscape adds new categories that would not exist without blockchain such as rewarding content contributors, video contributors, email readers, and consumers for sharing their data.
Below is the growth of martech companies harnessing blockchain, from February 2018 to February 2019:

Advertising & Promotion – From 24 to 55 companies, 200% growth

Content Marketing – From 6 to 38 companies, 533% growth

Social Marketing – From 26 to 31 companies, 19% growth

Commerce – From 10 to 59 companies, 490% growth

Data – From 11 to 38 companies, 245% growth

Management – 3 to 19 companies, 533% growth
The space is developing quickly. Many of the startups being tracked in the Landscape have moved onward from initial development and are in the process of running tests.
"Just like the Internet, mobile, and social, blockchain technology will dramatically impact the roles, responsibilities, and accountabilities for marketers at large enterprises. The explosive growth in offerings is proof that multiple sectors are ripe for disruption, regardless of where crypto asset prices are," said Jeremy Epstein, CEO of Never Stop Marketing. "Brave has emerged as one of the early leaders and we are honored to work with them to help inform the marketplace."
"The current digital advertising ecosystem is broken, riddled with fraud and designed to benefit a select few platform operators and ad tech intermediaries at the expense of the user," said Brendan Eich, CEO and co-founder of Brave. "This incredible rise of blockchain solutions for marketers is representative of the demand for more balance and greater transparency in the industry."
Brave has pioneered a new blockchain-based advertising model that reforms the current system with 70% revenue share to users and privacy by design. Following the October 2017 integration of the BAT into the Brave browser, Brave began a series of user trials in June 2018. In January 2019, Brave announced the Brave Ads Developer Channel preview, providing the first experience for the public and brands to test and learn in preparation for the general release. Brave Ads will become available to all with the upcoming Brave 1.0 browser release, and early ad network and brand partners include BuySellAds, TAP Network, AirSwap, Fluidity, and Uphold.
Blockchain Pilots
In July 2018, a series of pilots focused on providing transparency through the programmatic media supply chain were announced by MetaX, FusionSeven, Kochava/XCHNG and Lucidity. Lucidity has also unveiled significant results from a recent campaign with Toyota. Meanwhile Unilever is testing IBM's blockchain platform to validate agreed spend and clarify discrepancies, and at Advertising Week, Kiip showcased a test with AB Inbev to identify advertising discrepancies using a single ledger to record time-stamped impression level campaign delivery.
All eyes are now looking forward to the results from these early case studies. Over the next few months, these experiments will open a new chapter for marketing – one that may well vindicate early blockchain entrepreneurs and their big bets on this technology.
Additionally, Never Stop Marketing Research is launching a new resource to help marketers and agencies via information, analyses, and reviews of Blockchain MarTech & AdTech solution providers.
—————————
About NSM Research
Never Stop Marketing Research is a comprehensive source for marketers and agencies to find information, analyses, and reviews of Blockchain MarTech & AdTech solution providers. The goal is to help marketers understand Blockchain technology, and how it can help them increase revenue and save money on marketing. Never Stop Marketing is a partner of the BRI, Blockchain Research Institute, has published three books including the Decentralized Marketing Organization, and frequently keynote at MarTech conferences.
Jeremy Epstein, CEO, Never Stop Marketing
Donny Dvorin, GM, Never Stop Marketing Research
About Brave Software
Brave Software's fast, privacy-oriented browser, combined with its blockchain-based digital advertising platform, is resetting the web for users, publishers and advertisers. Users get a better, less cluttered and speedier web experience, publishers increase their revenue share, and advertisers receive better conversion. Brave's micropayments and forthcoming opt-in anonymous ads provide a new way forward for publishers. The Brave solution is a win-win for everyone who has a stake in the open Web and who is weary of giving up privacy and revenue to the ad-tech intermediaries. Brave Software was co-founded by Brendan Eich, creator of JavaScript and co-founder of Mozilla, and Brian Bondy, formerly of Khan Academy and Mozilla.
Catherine Corre, Head of Communications catherine@brave
Luke Mulks, Director, Business Development luke@brave.com