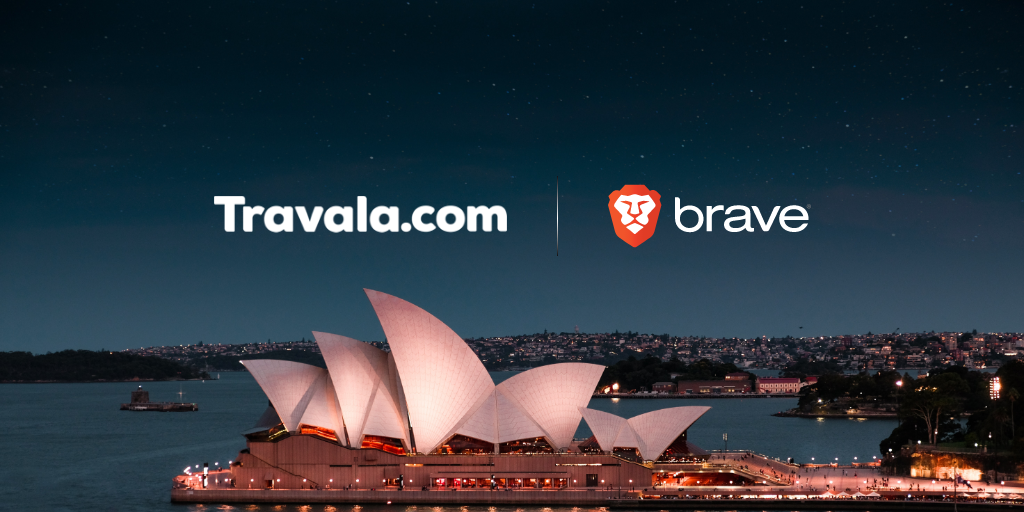 London and San Francisco ––July 13, 2020 — Travala.com, the world's leading cryptocurrency-friendly hotel booking service, and Brave Software, makers of the innovative Brave browser which combines privacy with a blockchain-based digital advertising platform, announced a global ad campaign that promotes Travala.com via privacy-preserving Brave Ads. The Brave browser already has over 15 million monthly active users.
The Travala.com platform currently offers over 2,000,000 properties covering 90,124 destinations in 230 countries. With prices up to 40% cheaper than mainstream travel booking platforms, travellers can save money and use 28 different cryptocurrencies to pay for accommodation bookings on the website.
Brave users who opt into privacy-preserving Brave Ads are rewarded with BAT equal to 70% of the revenue from ads they view while using the browser. They can then use BAT to support their favorite content creators via Brave Rewards, or can transfer earned BAT out of their Brave Rewards wallet after completing a verification process with digital money platform Uphold. On the Brave platform, BAT is used as a unit of account between users, advertisers, and publishers.
Travala.com has strategic partnerships with Booking.com, Priceline and most recently Expedia and integrates all of their accommodation listings to its platform, connecting travellers with one of the world's largest selection of incredible places to stay, including everything from hotels, apartments, villas, vacation rentals, hostels and 5-star luxury resorts.
Juan Otero, CEO and Founder of Travala.com, said, "In our mission to change the future of online travel booking and bring mass cryptocurrency adoption, it's essential that we promote Travala.com via industry-leading players and that's why we chose Brave's global ads platform. I am confident that this presents a great opportunity for Travala.com to reach more users within our target audience."
"Travala.com is leading the way in the travel industry with blockchain solutions, and we're thrilled to see Travala.com join brands such as Amazon and Intel on our Brave Ads platform to reach the right users," said Brendan Eich, CEO and co-founder of Brave. "With over 1,500 privacy-preserving ad campaigns that reward users since our Brave Ads launch last year, and a click-through rate of 12% compared to the 2% industry average, Brave Ads represent a new way to reconnect users and advertisers without tracking and with improved conversion."
###
About Travala.com
Founded in 2017, Travala.com is the leading cryptocurrency-friendly travel booking service with 2,000,000+ properties in 230 countries and 600 airlines globally. Backed by industry-giant Binance, Travala.com is a champion of cryptocurrency adoption, accepting over 28 leading cryptocurrencies in addition to traditional payment methods. The Travala.com value proposition is bolstered by AVA. As the native cryptocurrency of the platform, AVA can be used for payments, receiving loyalty rewards, discounts and bonuses, among several other use cases. For more information, visit: https://www.travala.com/ or follow the business on Twitter @travalacom.
About Brave Software:
Brave Software's fast, privacy-oriented browser, combined with its blockchain-based digital advertising platform, is reinventing the web for users, publishers, and advertisers. Users get a private, speedier web experience with much longer battery life, publishers increase their revenue share, and advertisers achieve better conversion. Users can opt into privacy-respecting ads that reward them with a frequent flyer-like token they can redeem or use to tip or contribute to publishers and other content creators. The Brave solution is a win-win for everyone who has a stake in the open Web and who is weary of giving up privacy and revenue to the ad-tech intermediaries. Brave currently has over 15 million monthly active users and over 750,000 Verified Publishers. Brave Software was co-founded by Brendan Eich, creator of JavaScript and co-founder of Mozilla (Firefox), and Brian Bondy, formerly of Khan Academy and Mozilla.
For more information, visit brave.com or follow the company on Twitter @brave.