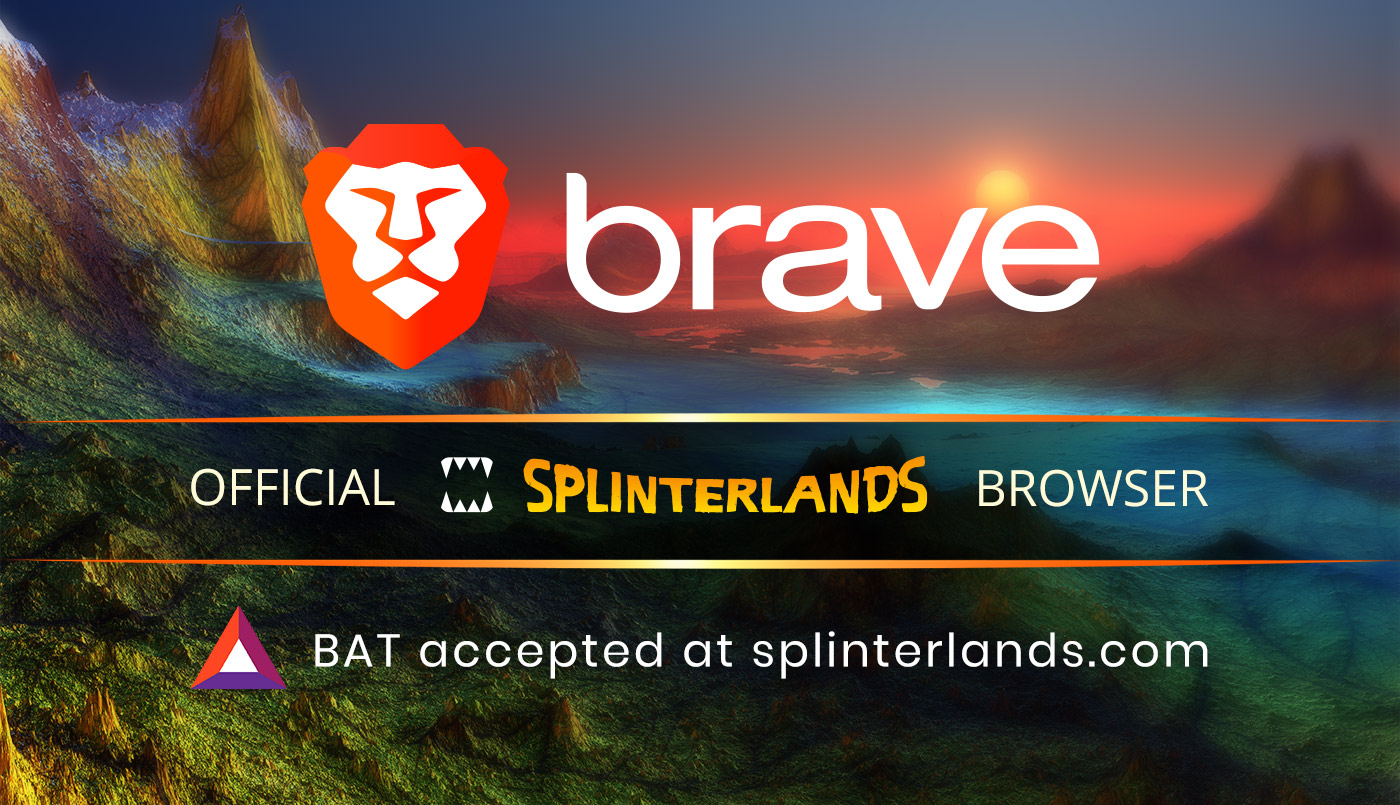 Splinterlands, the most played game on blockchain, and Brave, makers of the innovative Brave browser which combines privacy with the BAT (Basic Attention Token) blockchain-based digital advertising platform, are excited to announce a new partnership. Brave and Splinterlands both share a similar mission of rewarding users for their time and attention as well as increasing user privacy and freedom, and are looking forward to working together to spread those goals.
Going forward, the Brave browser will be the official browser of Splinterlands. The companies will educate players about the many benefits that the Brave browser provides and strongly encourage that all players use it not only to play Splinterlands, but for all of their Web browsing needs.
Additionally, Splinterlands will allow users to spend their BAT (Basic Attention Tokens) directly in the game to purchase Credits, which can be used to buy booster packs and other items in the shop or to buy cards from other players on the market. Players using the Brave browser can opt in to view privacy-preserving ads and in turn be rewarded in BAT via Brave Rewards, which they can then redeem in Splinterlands!
Brave will also begin promoting Splinterlands to their audience of over 19 million monthly active users through their various advertising and promotional channels. Splinterlands looks forward to welcoming the Brave community to a rich world of magic and mayhem and introducing them to the fun and rewarding experience of blockchain-based gaming!
Built-In Crypto Wallet
The Brave browser features a built-in Crypto Wallet for transacting directly with the Ethereum blockchain. You can import your existing Ethereum wallets, connect a Ledger or Trezor hardware wallet, or create a new wallet right in the browser to interact directly with Splinterlands.
Splinterlands players can use the Brave Crypto Wallet to log in to the game, make payments with ETH or other Ethereum-based tokens, and even manage their wrapped Dark Energy Crystal (DEC) token balances in order to participate in the recently launched ETH-DEC Uniswap pool which offers some amazing rewards to liquidity providers!
About Brave and BAT
Brave Software's fast, privacy-oriented browser, combined with its blockchain-based digital advertising platform, is reinventing the Web for users, publishers and advertisers. Users get a private, speedier Web experience with much longer battery life, publishers increase their revenue share, and advertisers achieve better conversion. Users can opt into privacy-respecting ads that reward them with BAT, an ERC20 token built on top of Ethereum, which they can redeem or use to tip or contribute to publishers and other content creators. The Brave solution is a win-win for everyone who has a stake in the open Web and who is weary of giving up privacy and revenue to the ad-tech intermediaries. Brave currently has over 19 million monthly active users and over 950,000 Verified Publishers. Brave Software was co-founded by Brendan Eich, creator of JavaScript and co-founder of Mozilla (Firefox), and Brian Bondy, formerly of Khan Academy and Mozilla. Learn more at / and https://basicattentiontoken.org/
About Splinterlands
Splinterlands is a trading card game built using blockchain technology that enables users to play anytime, trade anytime, and earn every win. Players compete for a limited reward pool of the Splinterlands in-game cryptocurrency token called Dark Energy Crystals (DEC) as well as provably scarce and valuable NFTs from daily quests and bi-weekly season rewards. Battle for glory and riches or passively rent out your cards. The greatness of the Splinterlands awaits.
Be sure to check it out at https://splinterlands.com and join the vibrant Splinterlands player community in Discord or Telegram.