NEAR Foundation and Brave announce partnership to integrate Aurora, an Ethereum Virtual Machine (EVM) on the NEAR protocol, into Brave Wallet
Partnership includes bridging BAT cross-chain for Aurora ecosystem utility
Announcing the news today in Austin at the Consensus conference, Brendan Eich, CEO and co-founder of Brave and BAT, and Alex Shevchenko, CEO of Aurora Labs, explained how the companies will collaborate to integrate Aurora, an Ethereum Virtual Machine (EVM) on the NEAR Protocol, into Brave Wallet. This means greater multi-chain functionality in Brave Wallet and expanded utility for the Basic Attention Token (BAT).
In the coming months, this integration will bring support for Aurora as one of the preloaded chains in Brave Wallet (in addition to Solana and Ethereum). Complementing the addition of the Aurora EVM into the multi-chain Brave Wallet for Brave's 60 million monthly active users, the partnership includes bridging BAT cross-chain for use in the growing Aurora dApp ecosystem. 
More multi-chain functionality in Brave Wallet
Aurora will become a preloaded blockchain available in the multi-chain Brave Wallet (in addition to Solana and Ethereum). The integration with NEAR's EVM comes on the heels of last month's announcement of a full integration with the Solana blockchain, and shows Brave's commitment to increasing the pace of development toward an open, multi-chain experience in Brave Wallet.
Addition of Aurora brings significant added value to Brave Wallet users. Aurora fees are up to 1,000x lower than Ethereum's. For example, the cost of transferring an ERC-20 token is below $0.01, while for Ethereum (at 50 Gwei and an ETH price of $3,000), it's around $5.40. Aurora is also able to host thousands of transactions per second, representing an increase of 50x compared to mainnet Ethereum.
In the coming months, this integration will mean Brave users can buy, sell, store, and swap Aurora tokens directly in Brave Wallet. It will also bring support for Aurora assets like NFTs, and DApp support on the Aurora chain.
"Integrating the Aurora chain with our Brave Wallet will enable more users and creators to participate in Web3 by taking advantage of low fees and fast transactions, right from the Brave browser," said Brendan Eich, CEO and co-founder of Brave and BAT. "Soon, access to Aurora tokens and assets will be just clicks away in the Brave Wallet, and the Aurora Bridge will enable BAT holders to easily use their assets on NEAR's Aurora chain."
"This is a very significant partnership for the future advancement of Web3 and mass adoption, offering a multi-chain integration bridging the Ethereum and NEAR communities via Aurora - and one of the first big integrations via Brave," said Marieke Flament, CEO of NEAR Foundation. "With the new Brave Wallet there will be a host of Web3 functionality supported such as NFT and Swap - all of which will provide the protection of a privacy-preserving, in-browser wallet that's secure and mass-market ready."
Expanded utility for BAT
The NEAR ecosystem partnership also brings expanded utility for the Basic Attention Token (BAT). It will allow BAT holders to use their assets on the Aurora chain, via Aurora Bridge. The Aurora Bridge (based on Rainbow Bridge) provides for the permissionless transfer of tokens and data between Ethereum and Aurora.
In the coming months, we will also expand access to the Aurora ecosystem by partnering with Aurora DeFi partners. For example, holders will be able to earn rewards by staking BAT in Aurora liquidity pools. In addition to DeFi, the Aurora DApp ecosystem has grown to include blockchain gaming and NFT marketplaces where BAT could be utilized through the Brave and NEAR partnership.
Brave Wallet: Secure, multi-chain access to Web3
From the start, we envisioned Brave Wallet as a secure onramp to Web3. The Brave Wallet enables multi-chain access right from the browser, and brings expanded utility for the Basic Attention Token. Today's announcement of the NEAR partnership brings us closer to realizing that vision.
Stay tuned for specific timing about Aurora access, and more announcements about the Brave / NEAR partnership.
Ready to get started with Brave and Brave Wallet? Just download Brave for desktop, Android, or iOS, and click the
in the address bar to get started.
About Brave
Brave Software's fast, privacy-oriented browser, combined with its blockchain-based digital advertising platform, is reinventing the Web for users, publishers, and advertisers. Users get a private, speedier Web experience with much longer battery life, publishers increase their revenue share, and advertisers achieve better conversion. Users can opt into privacy-respecting ads that reward them with the Basic Attention Token (BAT), a frequent flyer-like token they can redeem or use to tip or contribute to publishers and other content creators. The Brave solution is a win-win for everyone who has a stake in the open Web and who is weary of giving up privacy and revenue to the ad-tech intermediaries. Brave currently has over 60 million monthly active users and over 1.5 million Verified Publishers. Brave Software was co-founded by Brendan Eich, creator of JavaScript and co-founder of Mozilla (Firefox), and Brian Bondy, formerly of Khan Academy and Mozilla.
About Aurora
Aurora is an Ethereum Layer-2 built on top of NEAR Protocol. Aurora delivers 1000x lower transaction fees compared to Ethereum and sub-two-second transaction finalization. Aurora is fully interoperable with Ethereum, with ETH used as a base token and all existing Ethereum tools usable out of the box. Aurora includes the trustless Rainbow bridge, allowing for bidirectional transfers of any information from Ethereum, including ERC-20s. To learn more about Aurora, please visit aurora.dev.
Related articles
Private, independent search engine exits beta phase on its first anniversary, with innovative features that help users de-Google their search
Read this article →
Today's Brave browser release (v1.40) is expanding on the mission of making Brave Wallet a safe, easy-to-use onramp to Web3. It gives users easy access to new chains and decentralized apps (DApps), right in the browser, no extensions required.
Read this article →
Brave's native crypto wallet now features integrations from ApeSwap, Arken, Bogged, DODO, Open Ocean, and Skiff.
Read this article →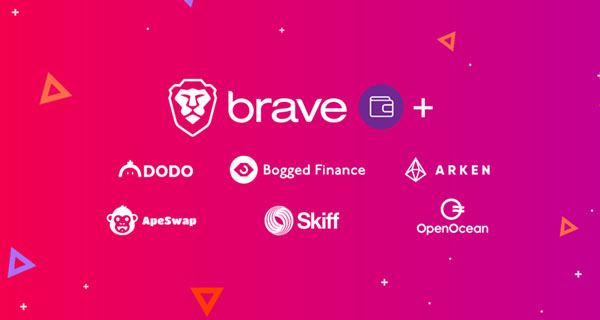 Ready to Brave the new internet?
Brave is built by a team of privacy focused, performance oriented pioneers of the web. Help us fix browsing together.
Download Brave