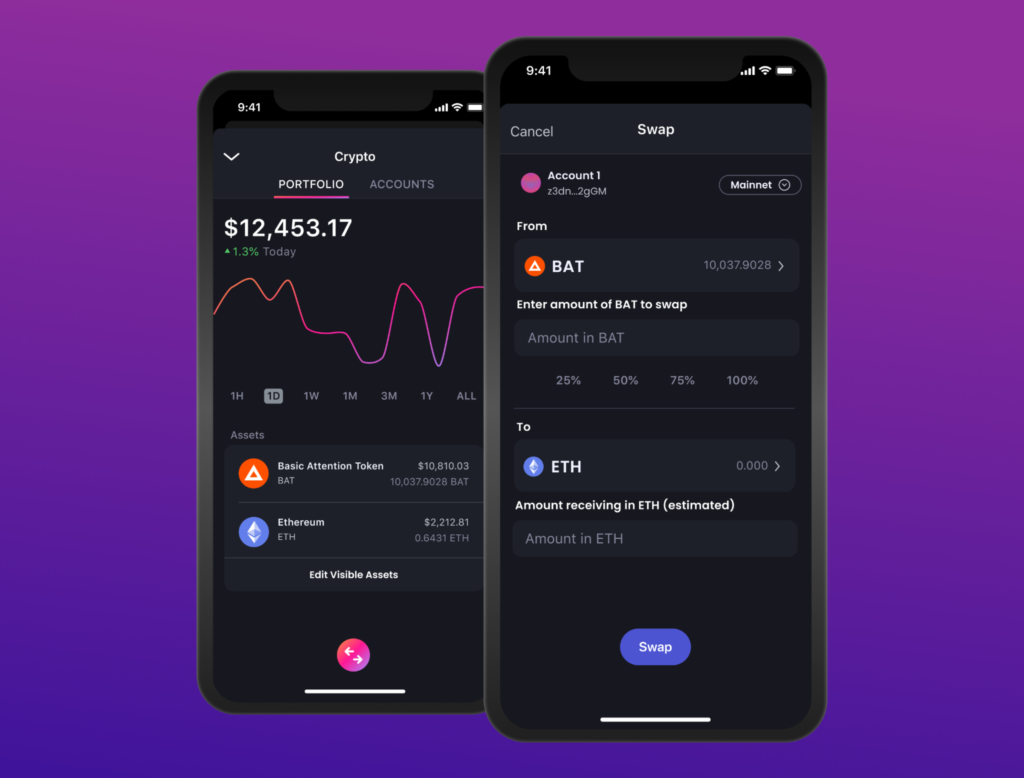 Launched last month for Brave's desktop browser, the Brave Wallet is now available in beta release for Brave mobile apps, enabling testers and early users to store, manage, grow, and swap their crypto portfolio from a crypto wallet built into the Brave mobile browser. An upcoming release will enable users to also connect with Web3 DApps and will feature EVM compatible network support.
The Brave Wallet is browser-native, reducing security risks and reliance on extra CPU and memory. The Brave Wallet allows users to transact with almost any crypto asset with superior safety and performance.
With the Brave Wallet beta release on mobile, users can :
See live and historical market graphs (price data powered by CoinGecko)

Find the best price match against a list of providers with built-in swap functionality

Send and receive assets

Easily import their wallet from MetaMask and self-custody wallets, Brave's legacy Crypto Wallets extension, or other wallets
The upcoming releases of the Brave Wallet on mobile devices will enable users to:
Manage their portfolio with non-fungible token (NFT) and multi-chain support

Add and manage EVM compatible networks

Interact with DApps for any EVM compatible network

Send and receive NFTs
"Brave recently passed 46 million monthly active users, and we're excited to offer all of our users, whether on desktop or mobile, a wallet built directly into the browser, ideal for today's crypto users," said Brian Bondy, CTO and co-founder of Brave. "Now Brave users can benefit from a high-performance and highly secure crypto wallet across all their devices, giving them a seamless crypto experience."
The Brave Wallet is free; users simply need to download the Brave browser on their mobile devices or upgrade their Brave mobile app to the 1.33 version on Android and on iOS. To get started with the Brave Wallet, users need to open the Brave app, click the browser menu ("…" or ":"), then click the wallet icon.
Note: the Brave Wallet is different from Brave Rewards, the opt-in feature that rewards Brave users with Basic Attention Tokens (BAT) for viewing privacy-protecting ads. Users can store redeemed BAT from Brave Rewards in the Brave Wallet after going through the custodial process, but the two features are otherwise not connected.
Note: This post was updated January 3, 2023 to remove the mention of Wyre, as they are no longer available to users.