If you are already using Brave as your browser, you can read this article that includes steps on uninstalling an extension from Brave.
You install a web extension in Chrome. Or maybe you've upgraded to a next-generation, Chromium-based browser like Brave. Then, days or weeks later, you realize that you rarely ever use that extension. Or worse, you see an article that details a whole list of security issues associated with it. What's the next step?
We'll walk you through how to uninstall Chrome extensions, how to double-check for extensions that might not appear at first, and some basic best practices.
How to Uninstall Extensions on Chrome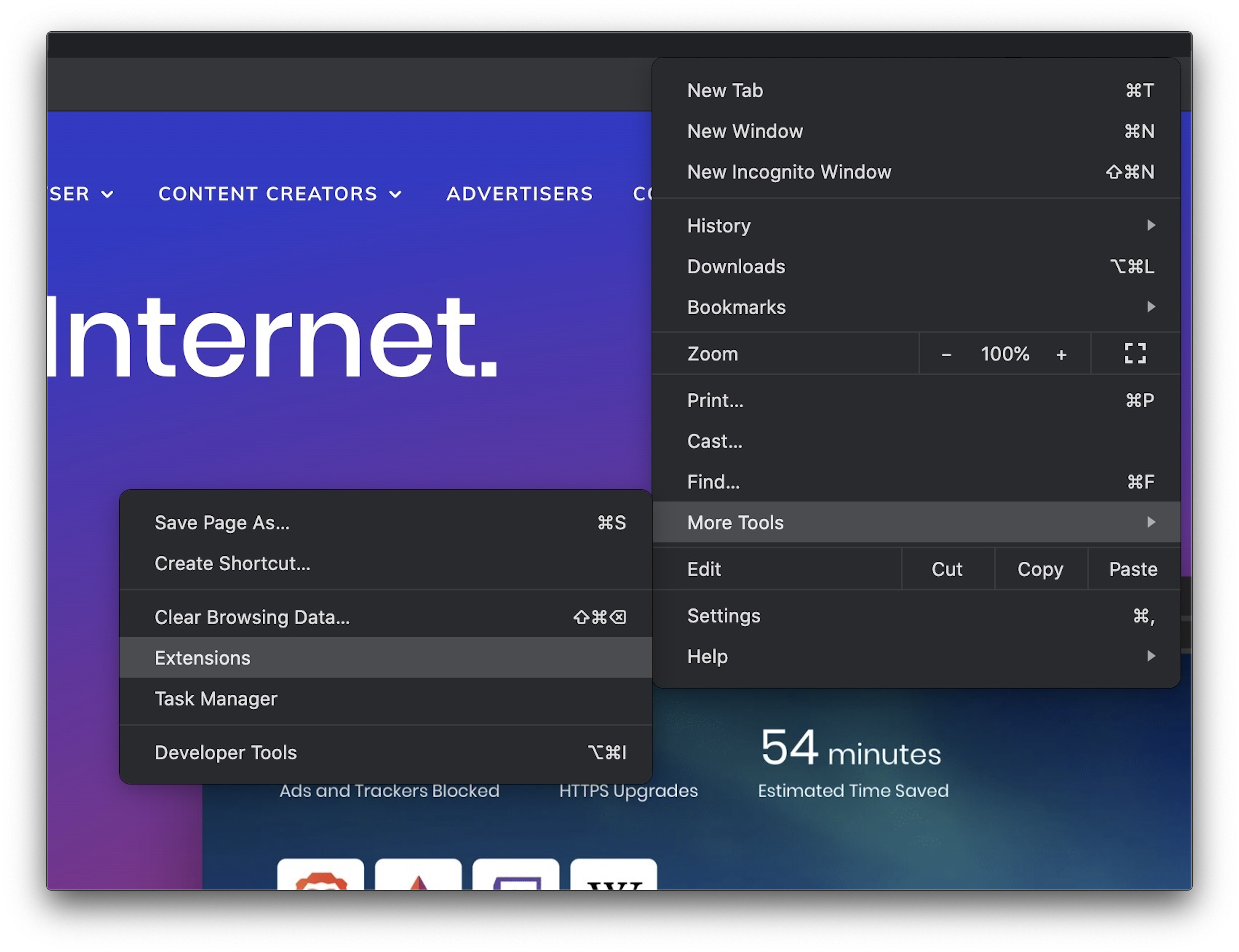 Looking for instructions to remove extensions from Brave? Check out this article for step-by-step instructions.
If you decide you want to remove your Chrome extensions, you can do so directly in Chrome relatively simply. You'll also want to ensure they're removed from your computer as well.
You have to determine where your extensions are. To do that, you need to access your browser preferences. On desktop, click on the menu button (3 dots) in the top right-hand corner and click on" More Tools" and then "Extensions" in the dropdown menu.
Now, you'll view a page of the downloaded extensions. From there, you can simply delete or disable the extension.
Once you've determined what you wish to keep, restart Chrome so any changes take effect. This is the simplest way to remove extensions directly in the browser.
Removing Malicious Extensions That Might Not Show
You may need to dig a little deeper to make sure that all the extensions are well and truly removed from your computer. Here's the process to remove extensions from Google Chrome manually:
From Windows
Close Chrome.

If you're using Windows 7 or later, navigate to the Chrome install location.

C:\\\\Users\\\\username\\\\AppData\\\\Local\\\\Google\\\\Chrome\\\\UserData\\\\Default

Select the extensions folder. Within the folder is each extension in a separate folder.

Find the extensions you wish to delete and simply delete them directly from the folder.

Once completed, open your Chrome and check your extensions list in the preferences. You will notice that the extensions have been deleted.
From a Mac:
Deleting your extensions manually on a Mac is a bit more complicated, but it's not impossible.
Your extensions should be in

~/Library/Application Support/Google/Chrome/Default/Extensions

If there are multiple Google accounts setup within your Mac user account they would be located here,

/Library/Application Support/Google/Chrome/[Google user ID]/Extensions

where [Google user ID] is the username of your Google account."

Once you find your list of extensions, they will be listed by lengthy, 32 character identifiers. You'll need to determine the extensions to delete, so on the Chrome extensions page toggle the "Developer" switch to "On" to find the corresponding identifiers. From there, you can drag to the trash and remove them.
Best Practices When Using Extensions
As Brave is based on the same Chromium code as Chrome, you're able to download all your favorite extensions to use with Brave. The Brave browser also will alert you if you're trying to download an extension that hasn't been checked out, so you can't accidentally download something malicious.
As a rule of thumb, research any extension before you download it - even ones on the web store. Reading reviews and ratings and doing a thorough Internet search should give you more insight into whether or not this is a legitimate and safe extension for Brave or Chrome.
Keeping an eye on all extensions after downloading them to ensure they're safe and uncompromised is also recommended. Extensions can be sold after they get into the Chrome store, opening them up to the possibility of compromise. It is recommended that you delete or disable any extensions that aren't being used consistently or aren't necessary to your overall internet experience.
As part of Brave's push for a privacy-based internet economy, our browser protects you from trackers automatically. There's no need to download an ad-blocker; Brave uses built-in "Shields" to protect you from invasive ads, trackers, and other creepy things while browsing the web. Of course, doing your own research on extensions helps you avoid any dangerous ones, so a bit of preparation, combined with the added security of Brave browser and our extensions audit makes for a safer, faster internet experience.
Conclusion
Chrome extensions are helpful, but it is also important that you know what each extension does and how to remove them. No matter what browser you use, removing extensions is an integral part of speeding up your browser and allowing it to work more efficiently.
If you're looking to maximize your browsing experience while retaining access to all your favorite extensions, consider switching to Brave. A next-generation, Chromium-based browser, Brave provides substantial improvements in speed, privacy, security, performance, and battery life.