In Partnership with The Giving Block, Brave Selects The Tor Project as the Latest Grant Recipient of Brave Ads
In the first two weeks, the campaign has resulted in 344,555 views and 30,995 clicks.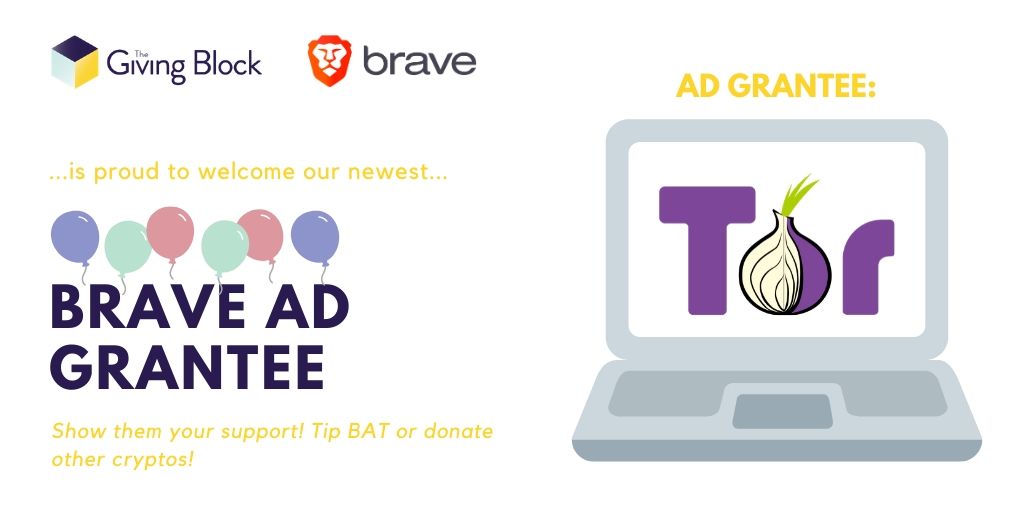 The Tor Project became a Brave Ads Grants recipient on October 17th. As part of the program, Tor is receiving approximately $10,000 in free advertisements per month to engage with Brave's user base, which has a confirmed interest in a rewarding ad experience. Brave Ads are opt-in and preserve the user's privacy. Tor has also verified its website to become a Verified Publisher with Brave so visitors can seamlessly tip Tor with Basic Attention Tokens (BAT) via Brave Rewards. Previous recipients of Brave Ads Grants include the Human Rights Foundation, Code to Inspire, and the Lupus Foundation of America.
In the first two weeks of the Brave Ads campaign, Tor has seen extraordinary traffic increases with a high click through rate.

"We're grateful to be joining forces with Brave and The Giving Block to raise awareness and funds for Tor's work creating and maintaining privacy and censorship circumvention tools."
– Sarah Stevenson, Tor's Fundraising Director 
Tor has been accepting cryptocurrency since 2013 and added the ability to donate directly to their wallets in March 2019. Tor has engaged with the cryptocurrency community by developing relationships with enthusiasts on social media and, in return, several groups like BTCPayServer have volunteered to run fundraisers for Tor. Tor has also engaged with many cryptocurrency publications and will be featured in an upcoming podcast series with Bitcoin Magazine. Tor accepting BAT brings additional blockchain-based utility token contribution options for users, in addition to traditional cryptocurrencies.
Why Brave?
The Giving Block and Brave developed this program as a way for nonprofits to gain more direct exposure to the blockchain community. Regular ads on social media or Google aren't able to target this community as directly. For the Brave ads campaign, we've seen click through rates of about 16%. That compares with an industry average of 2% for Google AdWords. Overall, the program has resulted in millions of views and hundreds of thousands of clicks. 
Code to Inspire Update
Code to Inspire (CTI) became a Brave Ad Grants recipient in August of 2019 and has verified their website. Since beginning the ads, they've seen seen significant traffic and engagement increase because of the ad grant. Below is a snapshot of their activity for the last month.
CTI has proudly been accepting and using Bitcoin donations since 2014. They have used Bitcoin to purchase equipment like laptops for their students or to pay their students for free-lance web development work they do remotely. Women in Afghanistan, particularly in conservative rural areas, are often unbanked & require permission just to use the local banking system. In those cases we can pay directly with Bitcoin in a permissionless context.
For a full list of Brave verified nonprofits, visit this site.
If you're interested in partnering with The Giving Block to accept Bitcoin donations (or other cryptocurrencies such as Ether, Litecoin, etc.) or partnering with a crypto-friendly nonprofit, reach out to us at info@thegivingblock.com.
The ICO has today announced that it will be taking no substantive action to fix "RTB", the largest data breach ever recorded in the UK. Regulatory ambivalence cannot continue. We are considering all options to put an end to the systemic breach, including direct challenges to the controllers and judicial oversight of the ICO. 
Today we'd like to introduce "Sponsored Images", the latest addition to Brave's private advertising platform. These branded images will appear in the form of large, beautiful background images within our new tab page. Sponsored Images will bring additional revenue to support Brave's mission, and give users a new reason to turn on Brave Rewards so they can get compensated for their attention. These images will begin to appear across our mobile and desktop browsers over the next few months. As always with Brave, Sponsored Images are private.
Brave warns US Senate & Congress: foreign state actors can use targeted ads to run code on US government computers, exploiting conventional browsers