Now available for download for Windows platform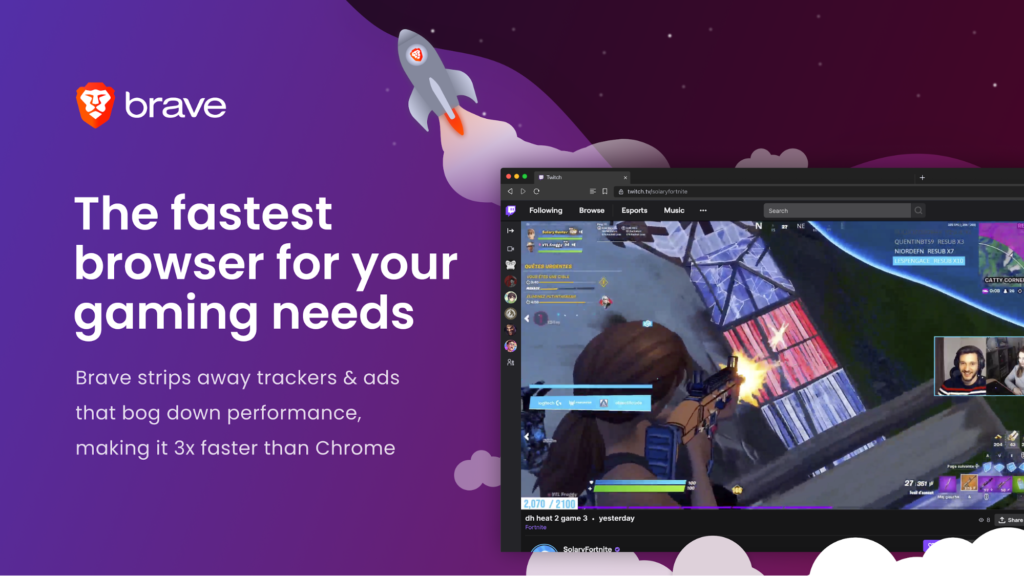 The Brave browser, which has over 29 million monthly active users, is now available for download on the Epic Games Store for Windows desktop users, making it seamless for gamers and streamers to use Brave and experience the Web like never before.
Brave is committed to enabling users to take control of their digital experience by making user privacy and user choice key principles. With the availability of Brave on the Epic Games Store, gamers can more easily and intentionally choose their preferred browser for their gaming experience, as well as for their everyday online browsing.
When compared to other browsers, including Chrome, Brave offers three times faster browsing and consumes up to 38% less battery, making Brave well-positioned for the fast-paced experience in gaming. In addition, Brave supports streamers and content creators with Brave Rewards. Brave users are rewarded for their attention when they opt in to view privacy-preserving ads, and they can seamlessly support their favorite gamers and content creators via the integrated wallet in the browser. There are currently over 1 million Brave Creators. Brave has also established strategic partnerships with Splinterlands and Gala Games to provide additional rewards and value to users through gameplay, tournaments, and collaborative NFTs (non-fungible tokens) with the Basic Attention Token.
"We are excited to build this relationship with Epic Games and continue to expand our user base of more than 29 million into the gaming community," said Jan Piotrowski, Vice President of Business Development at Brave. "Brave is on a mission to enhance online user experience, and through the Epic Games Store, we are able to offer our fast, privacy-oriented browser in a convenient and accessible way."
About Brave
Brave Software's fast, privacy-oriented browser, combined with its blockchain-based digital advertising platform, is reinventing the web for users, publishers, and advertisers. Users get a private, speedier Web experience with longer battery life, publishers increase their revenue share, and advertisers achieve better conversion. Users can opt into privacy-respecting ads that reward them with Basic Attention Tokens they can redeem or use to tip or contribute to publishers and other content creators. The Brave solution is a win-win for everyone who has a stake in the open Web and who is weary of giving up privacy and revenue to the ad-tech intermediaries. Brave currently has over 29 million monthly active users and over one million Verified Creators. Brave Software was co-founded by Brendan Eich, creator of JavaScript and co-founder of Mozilla, and Brian Bondy, formerly of Khan Academy and Mozilla.