Recipients include Khan Academy, No Kid Hungry, GetUsPPE, and HashtagLunchbag, in collaboration with TAP Network and The Giving Block
Today, Brave announced several initiatives that support non-profit organizations working to address the effects of the COVID-19 pandemic. The campaigns offer organizations like Khan Academy, No Kid Hungry, GetUsPPE and others free space to advertise and fundraise for their COVID-19 relief funds, in addition to the opportunity for Brave users to donate BAT in support of causes contributing to frontline relief.
Donated Space for Khan Academy to Appear in Sponsored Images
Through this initiative, Brave donates space in its Sponsored Images, a branded image appearing in large format on the browser's New Tab page, to several non-profits or charities. Brave's Sponsored Images are viewed by over 13.9 million monthly active users and are valued at $160,000 per day.
The first non-profit featured in this campaign is Khan Academy, the educational nonprofit with a mission to provide a free, world-class education for anyone, anywhere. Khan Academy's platform is free for students, teachers and parents, and includes thousands of interactive exercises, videos and articles that cover a range of subjects from preschool through early college. Starting May 7th, Brave has committed to running complimentary Sponsored Images campaigns for non-profits for two days a month over the next four months, highlighting one cause per day. The campaigns will link directly to the non-profit's donation page.
"We are delighted to be featured in the new Sponsored Images initiative," said Jordan Peavey, head of Supporter Community at Khan Academy. "With the school closures we have seen demand for Khan Academy spike and we are doing everything we can to help students, parents and teachers with additional resources. This is a great opportunity for Brave users to help support those efforts."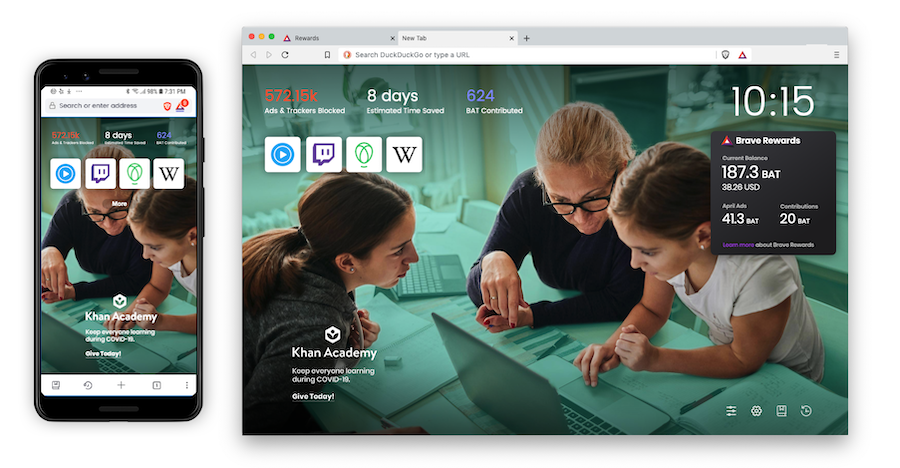 Ongoing Brave Ads Grants Provide Free Publicity and Increase Donations: No Kid Hungry and GetUsPPE Become the Latest Recipients
In an effort to bring additional awareness and support to causes directly working to support those impacted by the COVID-19 pandemic, Brave has named No Kid Hungry and GetUsPPE as the latest Brave Ads Grant recipients.
Recipients of the Brave Ads Grant Program receive the equivalent of $10,000 in free ads per month in the Brave browser and gain exposure to millions of Brave users. In just two weeks of running ads, No Kid Hungry has received over 100,000 views of their ads, over 10,000 clicks to their website, with almost 2,000 visitors staying on their site for 10 seconds or more.
Millions of children are losing the healthy meals they depend on as the coronavirus closes schools. No Kid Hungry works every day to remove obstacles to get kids the meals they need. No Kid Hungry was introduced to the program as a part of the ongoing partnership between Brave and The Giving Block.
"We're grateful to be among the recipients of the Brave Ads Grants," said Diane Clifford, Managing Director, Constituency Development of No Kid Hungry. "During a time when more people are looking for ways to support kids in need, we're able to reach audiences in new ways, while making the giving process simple for crypto users."
Founded by a coalition of physicians, GetUsPPE is building the nation's largest platform for grassroots PPE (Personal Protective Equipment) donations to address the PPE shortage and get healthcare heroes the protection they need.
No Kid Hungry and GetUsPPE have also verified their websites to receive BAT tips directly through the browser as a part of the Brave Ads Grants Program, making it possible for users to donate the BAT they earn from opting into Brave Ads directly through the browser. On average, nonprofits earn hundreds of dollars in BAT tips every month.
"We are humbled by the opportunity to use our browser to give back in a meaningful way to the critical workers and those most in need during this pandemic," said Brendan Eich, CEO and co-founder of Brave Software. "Brave Rewards compensate users for their online attention, and we're happy to see our users donate those rewards to charitable causes of their choice."
Brave and TAP Network Add New Charity Partners to Their Rewards Platform So Users Can Redeem BAT in Support of COVID-19 Relief
Brave and TAP Network, the Rewards-as-a-Service marketplace technology company, now feature new charity partners that are specifically supporting COVID-19 relief efforts in their Basic Attention Tokens (BAT) redemption program. This allows Brave users to use their rewards for good in a time when supporting each other is critical.
Brave and TAP Network recently announced Brave desktop users could redeem BAT for real-world rewards offered by over 250,000 top brands, merchants, and charities. The COVID-19 Relief initiative allows users to redeem BAT for charities working on the frontlines, including:
HashtagLunchbag, a service that provides meals to children impacted by COVID-19 school closures; for many of these kids, school lunches are the main source of nutrition and sustenance on which they depend for their entire day;
GetUsPPE, a grassroots movement founded by physicians on the frontlines of the COVID-19 pandemic aimed at providing necessary personal protection equipment for those on the frontlines.
The collaboration of Brave and TAP Network makes utility token redemption a reality for Brave users, and connects brands with an engaged consumer audience while respecting their privacy.
"We are all in this together. The global loyalty and rewards industry accounts for up to $1 trillion worth of points in circulation. By working together and creating the right technology solution, we can directly support critically needed areas on the frontline of the fight against COVID-19," said Lin Dai, co-founder and CEO of TAP Network.
---
About Brave Software
Brave Software's fast, privacy-oriented browser, combined with its blockchain-based digital advertising platform, is reinventing the Web for users, publishers and advertisers. Users get a private, speedier web experience with much longer battery life, publishers increase their revenue share, and advertisers achieve better conversion. Users can opt into privacy-respecting ads that reward them with a frequent flyer-like token they can redeem or use to tip or contribute to publishers and other content creators. The Brave solution is a win-win for everyone who has a stake in the open Web and who is weary of giving up privacy and revenue to the ad-tech intermediaries. Brave currently has over 13.9 million monthly active users and over 600,000 Verified Publishers. Brave Software was co-founded by Brendan Eich, creator of JavaScript and co-founder of Mozilla (Firefox), and Brian Bondy, formerly of Khan Academy and Mozilla.
About TAP Network
TAP Network is a Rewards-as-a-Service marketplace technology company, with a mission to bring more rewarding opportunities for the everyday consumer, while preserving their privacy and protecting their data. TAP Network brings together 250,000+ merchant and brand partners in travel, dining, entertainment and e-commerce and seamlessly rewards consumers across top brands that best fit their lifestyle. Co-founded by media and advertising veterans Lin Dai and Jared Christopherson, TAP Network rewards technology is licensed and white-labeled to top companies in media, entertainment, digital finance and beyond. To learn more about TAP Network and its technology, visit tapnetwork.io.
About Khan Academy
Khan Academy is a 501(c)(3) nonprofit organization with the mission of providing a free, world-class education for anyone, anywhere. Khan Academy's platform is free for students, teachers and parents, and includes thousands of interactive exercises, videos and articles that cover a range of K–12 subjects, as well as the early years of college. We also offer Khan Academy Kids, an award-winning free app for children ages two to seven. Our learning system is mastery based, which allows students to master key concepts at a pace that's right for them before moving on to more challenging content. More than 18 million learners use Khan Academy every month in 190 countries and more than 40 languages. As a nonprofit, Khan Academy relies on donations from foundations, corporations and individuals around the world, as well as earned revenue. For more information, visit khanacademy.org, or join us on Facebook, Twitter or Instagram.
About No Kid Hungry
No child should go hungry in America. But millions don't know where their next meal is coming from. No Kid Hungry is ending childhood hunger by helping launch and improve programs that give all kids the healthy food they need to thrive. This is a problem we know how to solve. No Kid Hungry is a campaign by Share Our Strength, an organization working to end hunger and poverty. Join us at nokidhungry.org.
About GetUsPPE
GetUsPPE (GetUsPPE.org) is a movement founded by emergency physicians on the frontlines of the COVID-19 pandemic. Today, it has become a leading national grassroots effort to equip front line health care workers with the protective equipment they need. GetUsPPE enables the donation, fabrication, and delivery of currently available PPE to healthcare providers and institutions. Visit getusppe.org to find out how you can take action today.
About The Giving Block
The Giving Block equips nonprofits with a cryptocurrency donation solution that accepts multiple cryptocurrencies (Bitcoin, Ethereum, Litecoin, Bitcoin Cash, Zcash and more), automatically converts crypto to cash, and generates tax receipts for donors.
We also run the world's largest platform of nonprofits accepting crypto, where many donors find our clients. We provide education, human support and marketing so that nonprofits can generate crypto donations without the headaches.