Today, we launched the Brave Wallet, a crypto wallet built into the Brave desktop browser, enabling Brave users to store, manage, grow, and swap their crypto portfolio from a single wallet. Unlike most crypto wallets, the Brave Wallet does not require extensions; it's browser-native, reducing security risks and reliance on extra CPU and memory. Users can transact with almost any crypto asset with superior safety and performance, as well as connect with other wallets and Web3 DApps. The Brave Wallet will soon be available on our mobile apps as well.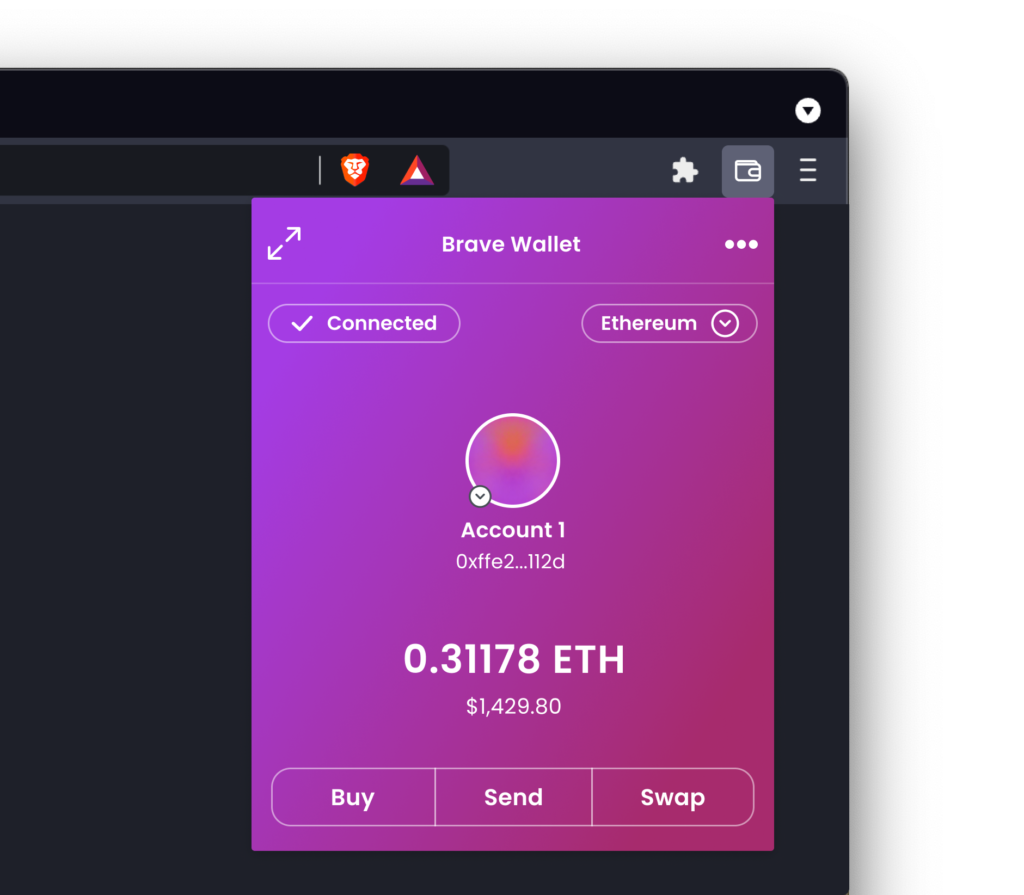 Crypto markets are booming, with various assets hitting multiple all-time highs in the past year. More businesses than ever now accept crypto, and there is significant adoption from institutional investors. Everyday investors too have noticed; research found that the number of global crypto users more than doubled in the first half of this year, from a little over 100 million at the start of 2021 to 221 million in June. It's estimated that currently 13% of Americans invest in crypto, with numbers on the rise. These users all require a wallet to store their crypto.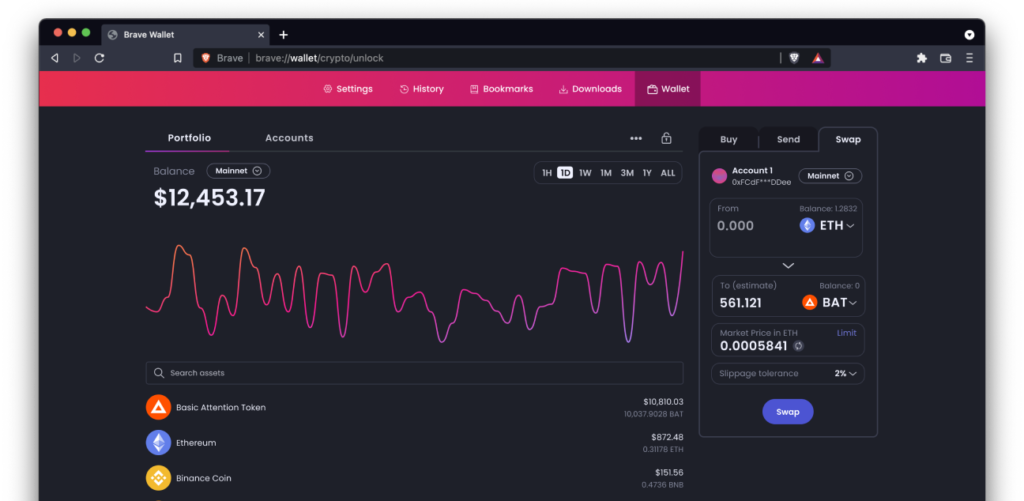 While countless crypto wallet options exist (hot ones and cold ones, hardware ones and software ones), most are browser extensions. These extensions have inherent security risks, are more susceptible to phishing and asset theft, and require extra background processes to run, creating performance issues on users' devices.
The Brave Wallet is a self-custody wallet that is built into the leading secure Web3 Brave browser. The Brave Wallet allows users to connect with hardware wallets like Trezor & Ledger. Users of Brave can continue to use other wallets if they prefer, such as MetaMask or Brave's legacy wallet named Crypto Wallets. For the first time, all Brave users will have access to Web3 decentralized applications (DApps) without installing browser extensions.
With the Brave Wallet, users can:
See live and historical market graphs (

price data powered by CoinGecko)

Find the best price match against a list of providers with built-in swap functionality

Send and receive assets

Interact with DApps for any EVM compatible network

Manage their portfolio — with non-fungible token (NFT) and multi-chain support

Easily import their wallet from MetaMask and self-custody wallets, or Brave's legacy Crypto Wallets extension, or

hardware wallets such as Trezor and Ledger (no Ledger Live required)

Send and receive NFTs
"The crypto boom has vaulted blockchain applications into the mainstream, but like any rapidly-growing innovation, this swift rise is not without challenges. One of the hurdles is the crypto wallet industry's reliance on extensions, which introduces friction for DApp adoption and often leads to users losing funds via fake extension phishing scams," said Brian Bondy, CTO and co-founder of Brave. "The Brave Wallet requires no extensions and is instead browser-native, removing key performance and security concerns while preserving the core features of popular crypto wallets. The Brave Wallet offers our over 42 million users, and anyone seeking a crypto wallet without extensions, a high-performance, highly secure, and full-featured wallet built for today's crypto user."
The Brave Wallet supports all EVM compatible chains (Polygon, xDai, Avalanche, etc.) and L2s, and unlike other wallet extensions, the Brave Wallet is built with an open MPL license, enabling developers to make contributions easily. Brave believes that the crypto ecosystem should not only be open source, but should also be enabled via tools and wallets with an open license.
The Brave Wallet is free; users simply need to download the Brave browser or upgrade their Brave desktop browser to today's 1.32 version. To get started with the Brave Wallet, users can open the Brave browser and simply click on the wallet icon in the address bar. Users can also visit brave://wallet, or click 'wallet' in the main browser menu, or visit the Settings page (brave://settings/) and click the Wallet tab.
In 2022, the Brave Wallet will integrate the Solana blockchain, making Solana the default for DApp support.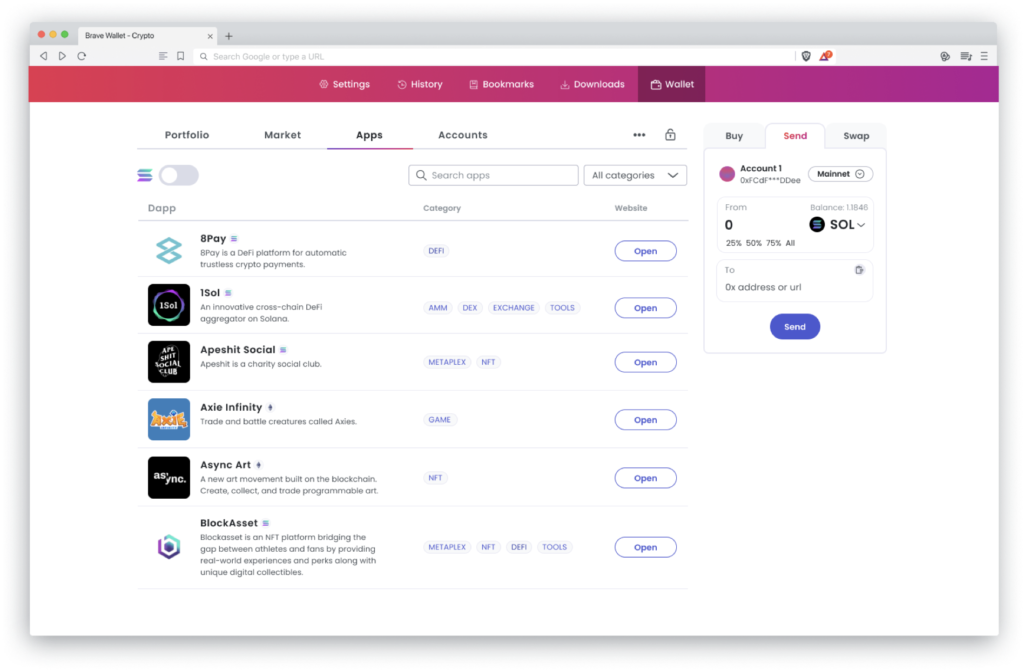 Note: the Brave Wallet is different from Brave Rewards, the opt-in feature that rewards Brave users with Basic Attention Tokens (BAT) for viewing privacy-protecting ads. Users can store redeemed BAT from Brave Rewards in the Brave Wallet after going through the custodial process, but the two features are otherwise not connected.
About Brave:
Brave Software's fast, privacy-oriented browser, combined with its blockchain-based digital advertising platform, is reinventing the Web for users, publishers, and advertisers. Users get a private, speedier web experience with much longer battery life, publishers increase their revenue share, and advertisers achieve better conversion. Users can opt into privacy-respecting ads that reward them with the Basic Attention Token (BAT), a frequent flyer-like token they can redeem or use to tip or contribute to publishers and other content creators. The Brave solution is a win-win for everyone who has a stake in the open Web and who is weary of giving up privacy and revenue to the ad-tech intermediaries. Brave currently has over 42 million monthly active users and 1.3 million Verified Publishers. Brave Software was co-founded by Brendan Eich, creator of JavaScript and co-founder of Mozilla (Firefox), and Brian Bondy, formerly of Khan Academy and Mozilla.
For more information, visit brave.com or follow the company on Twitter @brave.
Note: This post was updated January 3, 2023 to remove the mention of Wyre, as they are no longer available to users.