Brave Search also available for other browsers at search.brave.com for unmatched privacy-preserving search for all
Starting today, online users have a new independent option for search which gives them unmatched privacy. Whether they are already Brave browser users, looking to expand their online privacy protection with the all-in-one, integrated Brave Search in the Brave browser, or users of other browsers looking for the best-in-breed privacy-preserving search engine, they can all use the newly released Brave Search beta that puts users first, and fully in control of their online experience. Brave Search is built on top of a completely independent index, and doesn't track users, their searches, or their clicks.
Brave Search is available in beta release globally on all Brave browsers (desktop, Android, and iOS) as one of the search options alongside other search engines, and will become the default search in the Brave browser later this year. It is also available from any other browser at search.brave.com.
Brave Search was announced this past March when Brave acquired Tailcat, and since then there have been over 100,000 users who signed up for preview access and testing. Brave recently passed 32 million monthly active users (up from 25 million last March), and Brave Search is the latest product offered by the company in its suite of privacy-preserving tools as millions of users are turning to alternatives to big tech. Brave already offers privacy-preserving Brave Ads, Brave News, and a Firewall+VPN service.
Brave Search is different from other search engines because it uses its own index and follows different principles:
Privacy: no tracking or profiling of users.

User-first: the user comes first, not the advertising and data industries.

Independence: Brave has its own search index for answering common queries privately without reliance on other providers.

Choice: soon, options for ad-free paid search and ad-supported search.

Transparency: no secret methods or algorithms to bias results, and soon,

community-curated open ranking models

to ensure diversity and prevent algorithmic biases and outright censorship.

Seamlessness: best-in-class integration between the browser and search without compromising privacy, from personalization to instant results as the user types.

Openness: Brave Search will soon be available to power other search engines.
"Brave Search is the industry's most private search engine, as well as the only independent search engine, giving users the control and confidence they seek in alternatives to big tech," said Brendan Eich, CEO and co-founder of Brave. "Unlike older search engines that track and profile users, and newer search engines that are mostly a skin on older engines and don't have their own indexes, Brave Search offers a new way to get relevant results with a community-powered index, while guaranteeing privacy. Brave Search fills a clear void in the market today as millions of people have lost trust in the surveillance economy and actively seek solutions to be in control of their data."
Brave Search uses its own index, but also ensures fully anonymous search, is transparent in how search results are ranked, and integrates with a privacy-preserving browser on desktop and mobile – an across-the-board combination of independence and privacy which no other provider offers. For a detailed comparison of Brave Search versus other search engines, please see our side-by-side chart here.
Brave Search is also introducing the industry's first search independence metric, displaying the ratio of results coming exclusively from Brave's index. It is derived privately using the user's browser as we do not build user profiles. Users can check this aggregate metric to verify the independence of their results and see how results are powered by our own index, or if third-parties are being used for long tail results while we are still in the process of building our index. For instance, Brave Search will typically be answering most queries, reflected by a high independence metric. However for some features, like searching for images, Brave Search will fetch results from Microsoft Bing. While this will not result in any tracking of the users, it will be reducing the independence metric.
As mentioned above, transparency is a key principle at Brave, and there will also be a global independence metric for Brave Search across all searches, which we will make publicly available to show how we are progressing towards complete independence.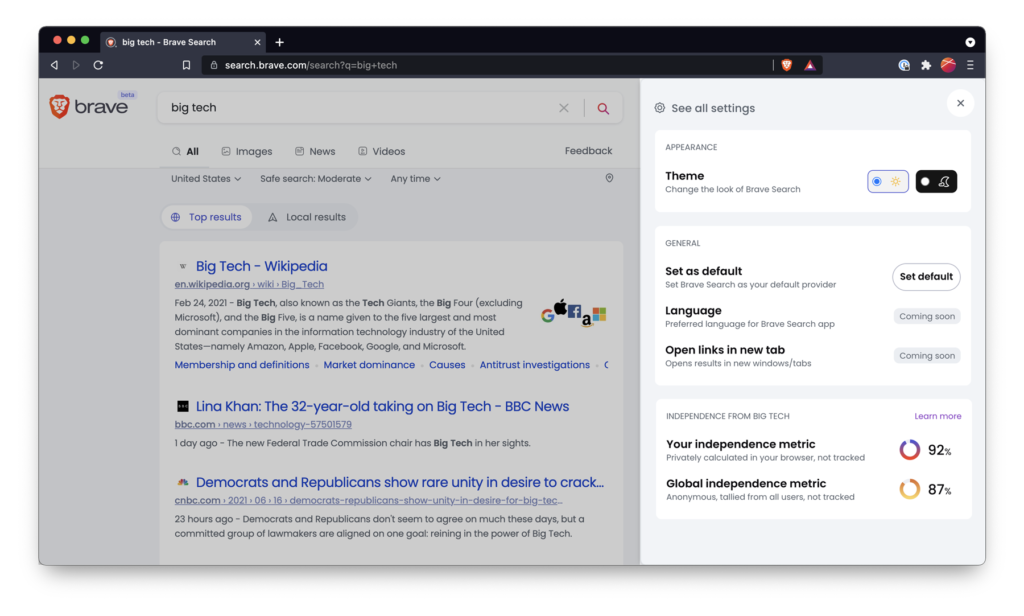 Brave Search Independence Metric
In order to present a true independent alternative to big tech, Brave decided to build its own index rather than rent it from Google or Microsoft, as other smaller search engines are currently doing. Brave Search includes anonymized contributions from the community to improve and refine results. However, there are types of queries, as well as certain areas such as image search, for which our results are not relevant enough yet, and in those cases we are using APIs until we are able to expand our index. The Brave Search independence metric is a progress bar, and our goal is to achieve greater independence and better quality without compromising the privacy of our users.
Brave Search is not displaying ads during this early part of the beta phase, but we will offer options for both ad-free paid search and ad-supported free search later. When we are ready, we will explore bringing private ads with BAT revenue share to search, as we've done for Brave user ads.
About Brave:
Brave Software's fast, privacy-oriented browser, combined with its blockchain-based digital advertising platform, is reinventing the Web for users, publishers, and advertisers. Users get a private, speedier web experience with much longer battery life, publishers increase their revenue share, and advertisers achieve better conversion. Users can opt into privacy-respecting ads that reward them with the Basic Attention Token (BAT), a frequent flyer-like token they can redeem or use to tip or contribute to publishers and other content creators. The Brave solution is a win-win for everyone who has a stake in the open Web and who is weary of giving up privacy and revenue to the ad-tech intermediaries. Brave currently has over 32 million monthly active users and over 1.2 million Verified Publishers. Brave Software was co-founded by Brendan Eich, creator of JavaScript and co-founder of Mozilla (Firefox), and Brian Bondy, formerly of Khan Academy and Mozilla.
For more information, visit brave.com or follow the company on Twitter @brave.