Brave Passes 10 Million Monthly Active Users, and Sees 19% Growth since 1.0 Launch
Brave 1.0 was released on November 13th and received very positive press reviews, and also saw a surge in user adoption. Brave went from 8.7 million monthly active users in October to 10.4 million MAU at the end of November, a 19% increase across all platforms. This represents a doubling of Brave's MAU in one year. Daily active users tripled in the last 12 months, to 3.3 million. The Brave browser combines privacy with a blockchain-based digital advertising platform, and offers 3-6x faster browsing than other browsers.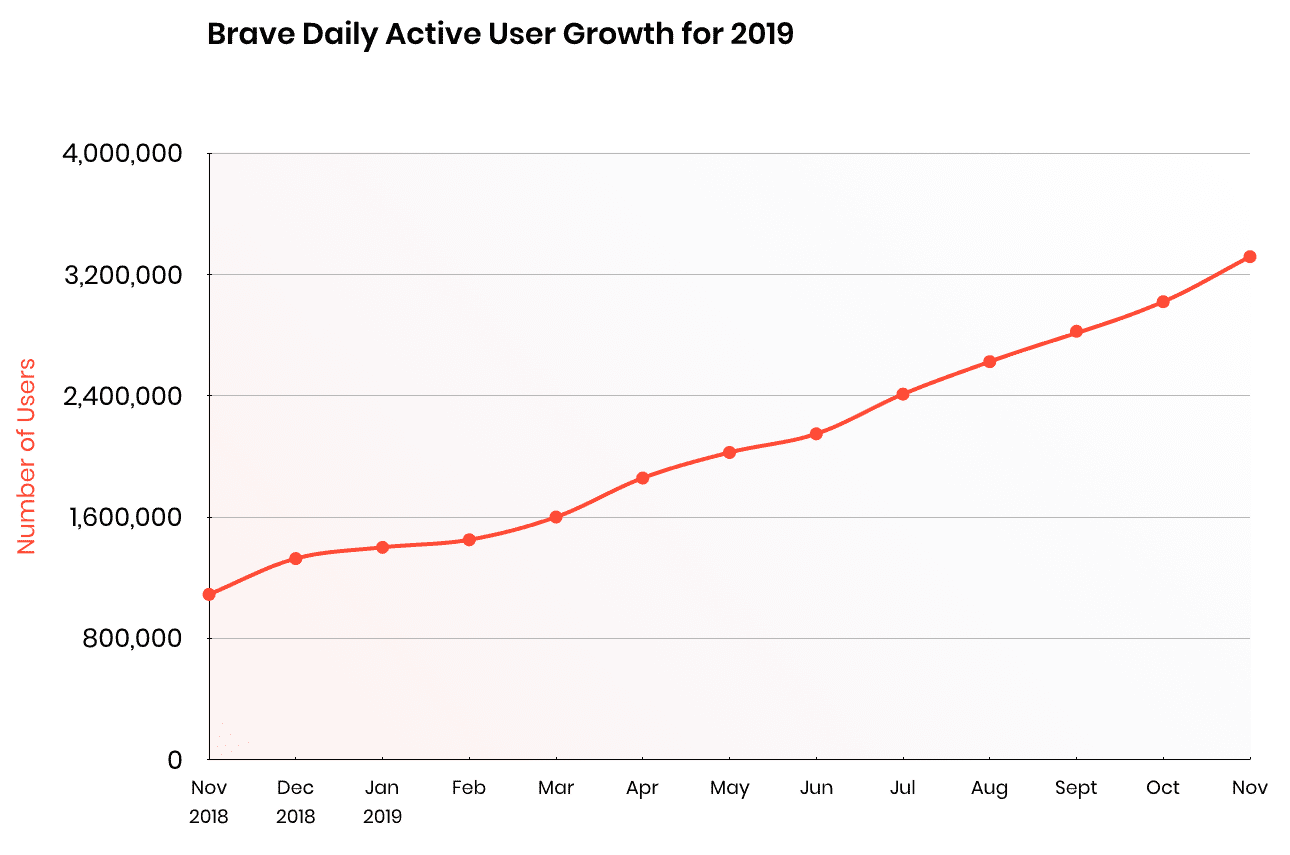 As part of the Brave 1.0 launch, Brave Rewards is now available on Brave for iOS, which contributed to the app's 27% growth in the past month. 
Brave Verified content creators have also grown significantly, with nearly 340,000 creators on platforms such as YouTube, Twitter, Twitch, Web sites, Vimeo, and GitHub. Verified creators have signed up to receive Brave's built-in token payments from their Brave-using audience. This is a 12x increase from the 28,000 who had verified at the beginning of 2019.
As we near the end of the year, with a strong MAU showing for the beginning of December as well, we'll be sharing more stats from 2019 in the coming weeks and unveiling more exciting features we have in the works.
Brave is available for download for Windows, macOS, Linux, Android, and iOS, in 52 different languages. To download for free, visit https://brave.com/download, Google Play or the App Store.
This note shares new data on publisher revenue impact from switching off 3rd party ad tracking.
Following a court decision on Friday, it is now highly likely that California will introduce legislation that curtails adtech tracking.
Procter & Gamble invited Dr Johnny Ryan of Brave to give a (remote) keynote about how advertisers should adapt to the privacy-first future.