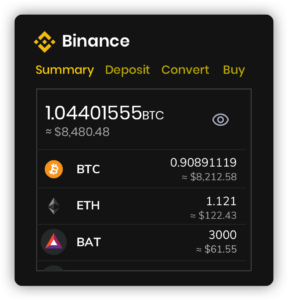 Today's Brave desktop browser update ( version 1.8) features the Binance widget, the first exchange-browser integration of its kind. Brave and Binance announced their integration on March 24, and until today a preview version of the widget was featured in Brave's Nightly and Beta versions for testing. Brave's browser currently has over 13.5 million monthly active users, and Binance is the world's largest cryptocurrency exchange by trading volume and users; this integration enables millions of users across the globe to seamlessly trade and manage cryptocurrency, all without leaving the browser.
The Binance widget is easily accessible from the New Tab page in the Brave desktop browser. The integration offers several functions for managing, buying, and trading cryptocurrency:
Summary

: Viewing Binance account asset balances

Deposit

: Listing supported assets in the account, searching for specific assets, and viewing fiat value (Selecting an asset from this list will also reveal the deposit address in text and QRCode form)

Convert

: Converting from one asset to another (A conversion quote is displayed for 30 seconds; the Binance widget reflects the new balance in the "summary" tab soon after the conversion has completed)

Buy

: Buying and selling crypto assets (Purchases are reflected in the Binance widget shortly after they have concluded)
In order to interact with their Binance account, a user must first connect the Binance widget to Binance, which is done by clicking the "Connect" button on the widget itself. Once this button has been clicked, a window appears, and the user is prompted to authenticate with Binance. Once successfully authenticated, the Binance widget is fully operable. Any assets held by Binance are enumerated at this time. Because the Binance widget is built into the Brave desktop browser and is not a loaded iframe (remotely embedded document), it is designed to preserve the user's privacy. API calls will only be made into Binance if the user authenticates via OAuth and interacts with the widget.
Users can access the Binance.com or Binance.US (for US-based users, which currently offers the disconnected buy view but will soon feature an API) sites, and can trade cryptocurrencies such as Bitcoin, Ethereum, BNB, Ripple, Litecoin, and many others supported by Binance.
Users can easily disconnect their Binance widget by clicking "disconnect" from the dropdown menu in the widget. Disconnecting the Binance widget does not impact the user's Binance account, and the Brave browser is not able to interact with a user's account again until the user reconnects the widget. The Binance widget is enabled by default on the New Tab page, but users can hide it by clicking the menu at the top right corner of the widget, and choosing "hide Binance" from that menu.
The Binance widget will be available on Brave's mobile platforms later this year.
###
About Brave Software
Brave Software's fast, privacy-oriented browser, combined with its blockchain-based digital advertising platform, is reinventing the web for users, publishers, and advertisers. Users get a private, speedier Web experience with much longer battery life, publishers increase their revenue share, and advertisers achieve better conversion. Users can opt into privacy-respecting ads that reward them with Basic Attention Tokens they can redeem or use to tip or contribute to publishers and other content creators. The Brave solution is a win-win for everyone who has a stake in the open Web and who is weary of giving up privacy and revenue to the ad-tech intermediaries. Brave currently has over 13.5 million monthly active users and over 600,000 Verified Publishers. Brave Software was co-founded by Brendan Eich, creator of JavaScript and co-founder of Mozilla, and Brian Bondy, formerly of Khan Academy and Mozilla.
About Binance
Binance is the global blockchain company behind the world's largest digital asset exchange by trading volume and users, serving a greater mission to accelerate cryptocurrency adoption with 25+ products, projects, and initiatives including:
Binance Exchange

(Binance.com):

Binance Futures

,

Spot & Margin

trading,

Binance Lending,

and

Binance Staking
Binance Academy:

non-profit blockchain and crypto educational portal

Binance Charity

: non-profit organization and first blockchain-powered donation platform dedicated to advancing transparent philanthropy

Binance DEX

: community-driven decentralized exchange developed on top of the Binance Chain blockchain for issuing and exchanging digital assets in a decentralized manner

Binance Fiat Gateways

: buy-and-sell crypto platform, covering 170+ countries and regions through local payments partners and P2P platforms.

Fiat-to-Crypto Platforms

: joint ventures with global partners to buy, sell and trade crypto:

Binance US

,

Binance Jersey

,

Binance Korea

,

Binance Singapore

,

Binance Uganda

,

Binance Lite Australia

Binance Labs

: venture arm and incubator, investing in and supporting early-stage blockchain startups and infrastructure projects

Binance Launchpad

: exclusive token launch platform for supporting transformative blockchain startups and entrepreneurs

Binance Research:

institutional-grade, data-driven insights and analysis for crypto investors

Binance X: a

developer-focused initiative to foster innovation of blockchain developers and cultivate industry growth and meaningful use cases

Other initiatives include:

Binance Cloud

(end-to-end enterprise solution for launching exchanges),

Binance Info

(market news and insights),

Trust Wallet

(mobile wallet and dApp browser)
For more information, visit: https://www.binance.com
Media Contacts
Brave: press@brave.com
Binance: pr@binance.com