Brave Introduces Brave Today, the Privacy-Preserving News Reader Integrated Into the Browser
The personalized and customizable content stream features hundreds of sources powered by Brave's new private CDN, as well as Brave Offers for e-commerce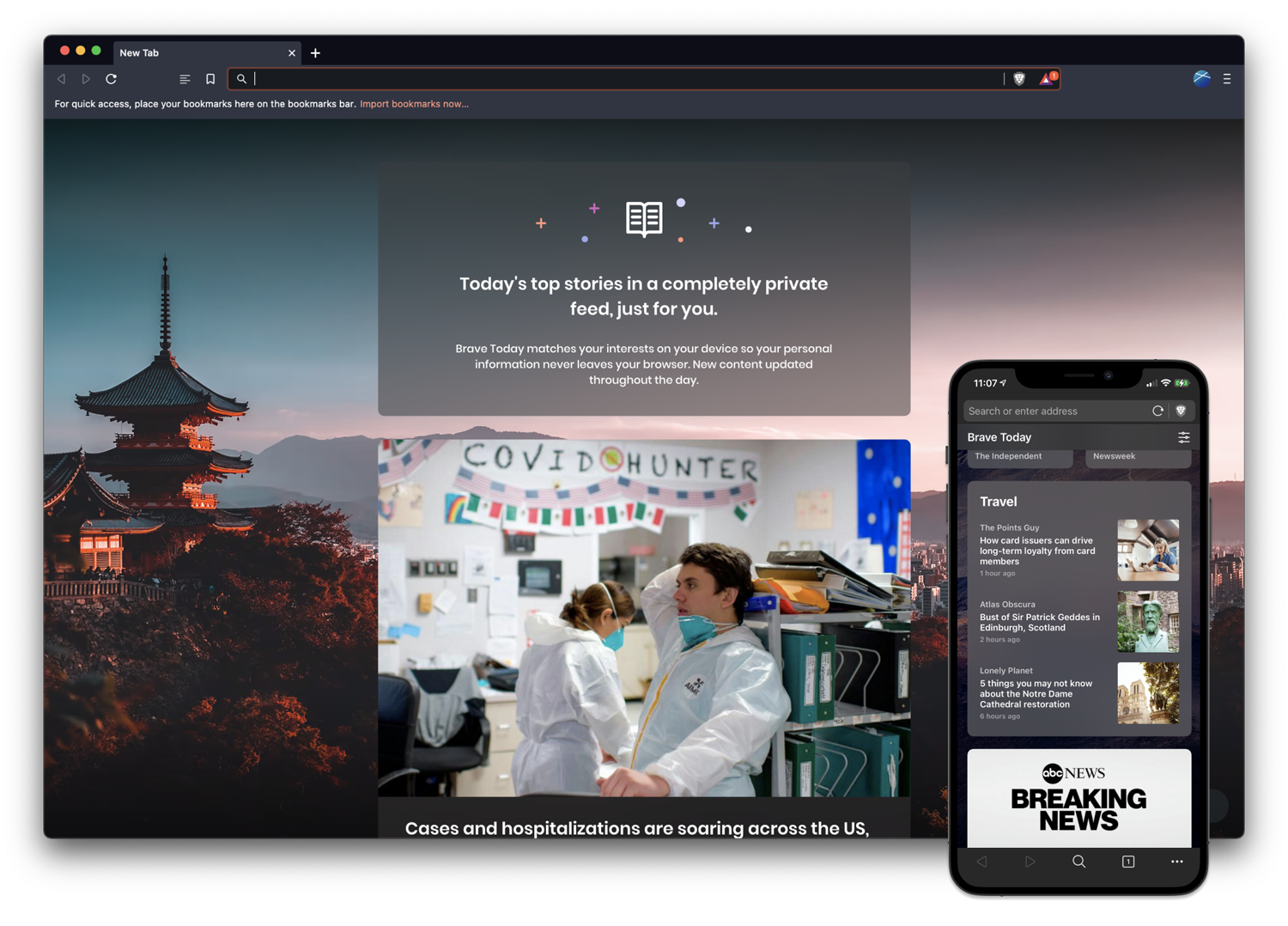 Brave Software announced a new privacy-preserving content stream seamlessly integrated into the browser called Brave Today. The Brave Today news reader is accessible below the new tab page and is delivered anonymously to the user's browser via Brave's new private content delivery network (CDN). When users scroll down to fetch the feed on a new tab page they will discover links to content published by major media outlets in 15 different categories, including global news, business and finance, sports, fashion, food, lifestyle, tech and crypto news, and they can easily customize their stream. Brave Today is available via the Brave browser on both iOS and desktop devices.
The Brave Today news reader ranks stories locally for the user from hundreds of popular RSS feeds using an algorithm that weighs several factors, including the user's browser history and article published date. This stream is designed to help people discover interesting new content throughout the day while respecting the user's privacy.
By using Brave's new private CDN to deliver RSS feeds to the browser anonymously, there is no data trail available for third parties to collect or track. This makes Brave Today a unique news reading experience when compared to other apps and platforms that track users' reading activities. Nobody can track the content that Brave users are reading, including Brave itself.
In addition, Brave Today builds on our company's commitment to publishers and creators by encouraging users to visit web sites directly on both desktop and mobile devices. When you click on a link in Brave Today, the Brave browser fetches directly from the source of the content, so publishers maintain their relationships with readers on their own sites, instead of being forced through a redirect (as news.google.com does), or compelled to publish through Google's AMP proxy (for mobile now, all devices soon) or another such proprietary proxy. These redirects and proxies track users and degrade publisher brand value and direct user-publisher relationships. Users of Brave Rewards already have options for directly supporting verified publishers both automatically and via tipping BAT.
The news reader renders content in a stream of cards, and users can customize it by simply adding or removing sources and categories of content. Users will also be able to manually add their favorite RSS feeds in an upcoming release, making Brave Today a fully extensible news reader. 
Brave Today is supported by two new commercial offerings: Brave Offers and Promoted Content. 
Brave Offers introduces a new e-commerce option for partners, and provides users with a new highly curated shopping experience with a variety of daily deals, technology, and lifestyle products from across the web. Daily deals, exclusive discounts, and offers from affiliate partners from our new Brave Offers store will be featured in the Brave Today feed. Current Brave Offers partners include Ledger, Amazon, Coinbase, Privacy.com, 1Password, Proton, Chess.com and TradingView.
Promoted Content is the latest addition to Brave Ads. It provides brands and media partners with a new unit to promote relevant content seamlessly to Brave Today readers. A premium ad-free version of Brave Today will be available soon. 
Delivery of all content from RSS feeds, Brave products, and Brave partners goes through Brave's private CDN in order to protect data about users' browsing activities from ever being recorded or exposed.
Brave Today's 15 categories of content are: Top News, Business, Cars, Crypto, Culture, Entertainment, Fashion, Food, Fun, Health, Home, Science, Sports, Technology, Travel, plus content from Brave and Brave Partners.
###
Brave Software's fast, privacy-oriented browser, combined with its blockchain-based digital advertising platform, is reinventing the web for users, publishers, and advertisers. Users get a private, speedier web experience with much longer battery life, publishers increase their revenue share, and advertisers achieve better conversion. Users can opt into privacy-respecting ads that reward them with a frequent flyer-like token they can redeem or use to tip or contribute to publishers and other content creators. The Brave solution is a win-win for everyone who has a stake in the open Web and who is weary of giving up privacy and revenue to the ad-tech intermediaries. Brave currently has over 22 million monthly active users and over 985,000 Verified Publishers. Brave Software was co-founded by Brendan Eich, creator of JavaScript and co-founder of Mozilla (Firefox), and Brian Bondy, formerly of Khan Academy and Mozilla.
For more information, visit https://brave.com/ or follow the company on Twitter @brave.
Related Articles
Continue reading for news on ad blocking, features, performance, privacy and Basic Attention Token related announcements.
Brave is pleased to announce SugarCoat, the result of a year-long research collaboration with University of California San Diego to create a new system to improve Web privacy without sacrificing compatibility at Web scale.
Brave will integrate the Solana blockchain, providing default Solana ecosystem support to Brave's 42 million MAUs and 1.3 million verified Creators.
This is the eleventh post in an ongoing, regular series describing new privacy features in Brave. This post describes work done by Senior Software Engineer Mark Pilgrim and Filter List Engineer Ryan Brown, and was written by Director of Privacy Peter Snyder.