The Economist's "Data protection-free zone" diagram of online ad auctions.
The main briefing in The Economist features the "data protection-free zone" at the heart of the online advertising auction system.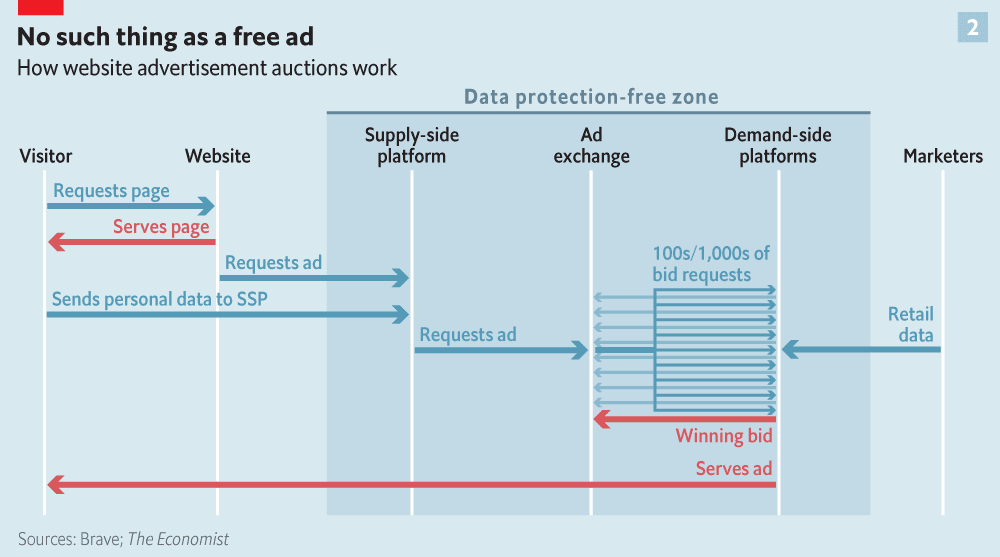 The ICO has today announced that it will be taking no substantive action to fix "RTB", the largest data breach ever recorded in the UK. Regulatory ambivalence cannot continue. We are considering all options to put an end to the systemic breach, including direct challenges to the controllers and judicial oversight of the ICO. 
Today we'd like to introduce "Sponsored Images", the latest addition to Brave's private advertising platform. These branded images will appear in the form of large, beautiful background images within our new tab page. Sponsored Images will bring additional revenue to support Brave's mission, and give users a new reason to turn on Brave Rewards so they can get compensated for their attention. These images will begin to appear across our mobile and desktop browsers over the next few months. As always with Brave, Sponsored Images are private.
Brave warns US Senate & Congress: foreign state actors can use targeted ads to run code on US government computers, exploiting conventional browsers