As users are increasingly adopting privacy-preserving tools to protect their Web usage, Brave now has 36.2 million monthly active users (MAU) and 12.5 million daily active users (DAU).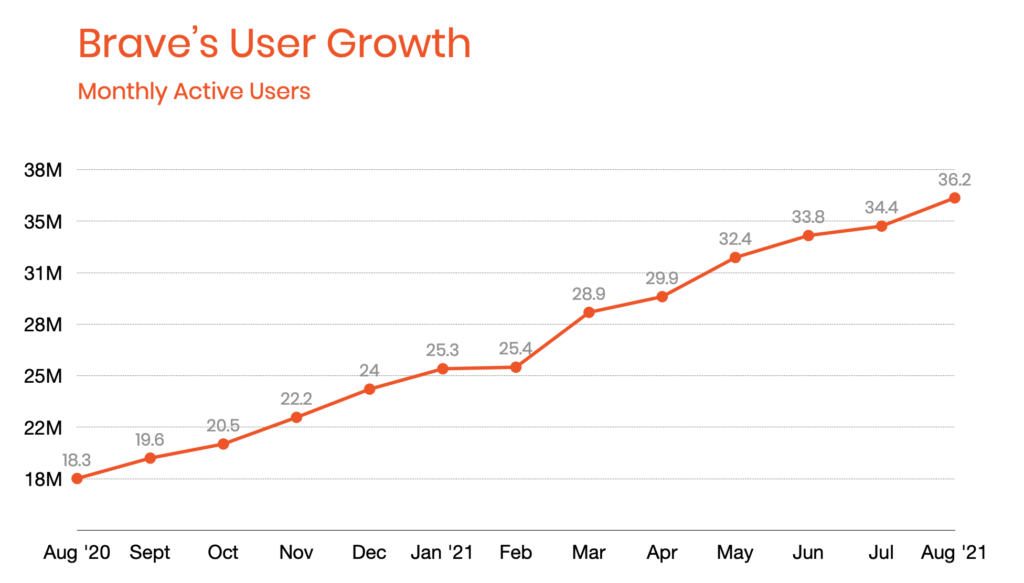 Brave has also passed
1.2 million Verified Creators
as the Brave ecosystem continues to grow for all its participants: users, creators, and advertisers. Brave users have contributed over 39 million
Basic Attention Tokens (BAT)
to reward their favorite publishers and creators. Brave users can support websites, or creators on YouTube, Twitch, Twitter, GitHub and more, by activating Brave Rewards and its integrated Brave wallet on both desktop and Android. BAT utility has also increased with 7.8 million monthly transacting BAT users.
Brave's ad platform, where users earn BAT by opting in to view privacy-preserving Brave Ads (70% of ad revenue share), has also greatly expanded as revenue has grown 14x over the past 18 months. Brave Ads campaigns are supported in nearly 200 countries with over 7.5 billion ad confirmation events to date. There have been over 4,540 campaigns from 795 advertisers, from mainstream brands such as PayPal, Toyota, Mastercard, Intel, Crocs, BMW, Keurig, American Express, Budweiser, Walmart, Amazon, and The Home Depot, as well as from the biggest crypto brands such as Binance, Coinbase, Crypto.com, eToro, Gemini, and Solana. The average click-through rate (CTR) for a Brave Ads campaign is 8%, well above the industry average of just 2%, with many brands observing even higher engagement.
Brave also launched a privacy-preserving news reader, Brave News, as well as privacy-preserving Brave Search, expanding its browser into a super app to give users a real alternative to Chrome and Google Search. For iOS devices, Brave also offers a Firewall+VPN service, as well as Brave Playlist to enable users to access their content in one list from the most popular platforms.
The Brave open source browser fundamentally shifts how users, publishers, and advertisers interact online by giving users a private, safer, and 3-6x faster browsing experience, while funding the Web through a new attention-based platform of privacy-preserving advertisements and rewards. Brave is available for download for Windows, macOS, Linux, Android, and iOS, in 80 languages. To download for free, visit brave.com/download, Google Play or the App Store.