Brave now has nearly 1 million Verified Creators,
and delivered over 2,000 ad campaigns in nearly 200 countries
November marks one year since we launched Brave 1.0, the most private, safest, and fastest (3-6x) browser. Over the past year, we've seen amazing growth on multiple fronts and we're happy to celebrate Brave 1.0's first anniversary by announcing that we officially passed 20 million monthly active users (20.5), up from 8.7 million this time last year. This represents a 2.3x increase in one year.
Brave also passed 7 million daily active users, up from 3 million this time last year, showing a 2.3x increase in DAU over the year. Over the past year, Brave received numerous positive reviews and is now the #1 rated browser in Google Play. Since our iOS browser became a default option on Apple devices with iOS 14 this past September, our iOS daily active users have grown by 34%.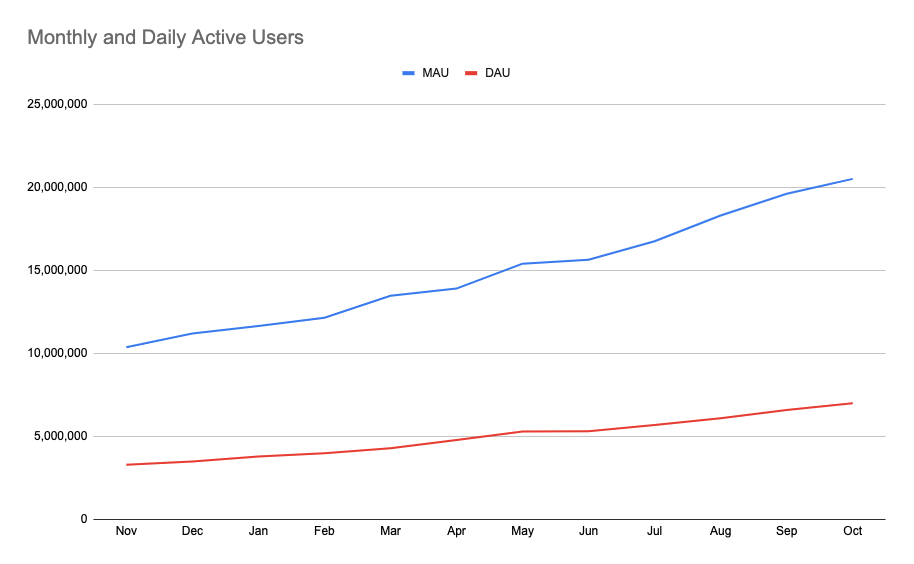 "Users are fed up with surveillance capitalism, and 20 million people have switched to Brave for an entirely new Web ecosystem with an opt-in ad economy that puts them back in control of their browsing experience," said Brendan Eich, CEO and co-founder of Brave. "The global privacy movement is gaining traction, and this milestone is just one more step in our journey to make privacy-by-default a standard for all Web users."
Brave's growth is also apparent throughout its ecosystem:
Verified creators

: There are now

nearly one million Verified creators and publishers

(

972,000

as of Nov. 2nd), up from 300,000 last year, showing a 3.2x increase in 12 months.

Advertisers and advertising campaigns: Brave Ads campaigns are now supported in nearly

200 countries

with over 2 billion ad confirmation events to date. There have been

2,215 campaigns from over 460 advertisers

, from brands such as Verizon, The Home Depot, The New York Times, Progressive Insurance, Newegg, Chipotle, Chess.com, Privacy.com, PayPal/Honey, Ledger, Amazon, Harry's Razors, CBS, KIND snacks, Logitech, Lenovo, Grubhub, Belkin, Quickbooks, and Evernote.

The average CTR (click-through rate) for a Brave Ads campaign is 9%

, well above the industry average of just 2%, but many brands are seeing even

higher engagement

.

Amount of BAT donated to publishers and creators: Brave users have rewarded their favorite publishers and creators by contributing 26 million BAT to them.

Brave users can support websites, or creators on YouTube, Twitch, Twitter, GitHub and more, by activating Brave Rewards and its integrated Brave wallet on both desktop and mobile. This feature allows users to send BAT as tips for great content, either directly as they browse or by defaulting to recurring monthly payments. Brave users earn BAT by opting in to view privacy-preserving Brave Ads (70% of ad revenue share).

Partnerships

: Over the past year, Brave has partnered with Binance, Gemini, Guardian VPN, bitFlyer, NYIAX, Splinterlands, TAP Network, Travala.com, and others to expand its product offerings and BAT utility. Brave also launched

Global Privacy Control

alongside The New York Times, The Washington Post, Financial Times, Automattic (WordPress.com & Tumblr), DuckDuckGo, Mozilla, Disconnect, Digital Content Next (DCN), Consumer Reports, the Electronic Frontier Foundation (EFF), and others.

Community: Over the past year, the Brave community saw Reddit membership across

r/BATProject

and

r/brave_browser

nearly double, from 43,000 members to over 82,000. The community

YouTube channel

, which features the Weekly BAT Podcast, guest interviews, and other media content, grew to 6.3K subscribers—a 300% increase.

Brave Community support forum

went from 890,000 views per month to over 2,000,000, with over 40,000 new accounts created.

Brave Help Center

went from 250,000 monthly views to over 700,000.



The Brave open source browser fundamentally shifts how users, publishers, and advertisers interact online by giving users a private, safer, and 3-6x faster browsing experience, while funding the Web through a new attention-based platform of privacy-preserving advertisements and rewards. Brave is available for download for Windows, macOS, Linux, Android, and iOS, in 80 languages. To download for free, visit brave.com/download, Google Play or the App Store.