Brave Browser now Integrates with Solana Blockchain to Expand Web3 Access
Further cross-chain utility for Brave Wallet and BAT includes new partnerships with Ramp and Magic Eden
Brave's goal is to make Web3 accessible to all. Our privacy-first browser—and browser-native crypto wallet—offer both an easy Web3 onramp for crypto novices, and a robust suite of Web3 tools for advanced users.
With Brave's 1.39 desktop release, we're announcing our first steps towards full integration with the Solana ecosystem. By partnering with Solana, Brave enables users to explore Web3 with significantly lower transaction fees and faster processing times than the Ethereum network. In the coming months, this partnership will also enable seamless access to a thriving and growing ecosystem of decentralized apps (DApps).
 With 1.39, Brave Wallet users can:
Buy, sell, and store both Solana (SOL) and fungible Solana tokens (SPL) in Brave Wallet
Buy SOL and other cryptocurrency with fiat via Ramp
And Basic Attention Token (BAT) holders can:
Use BAT on the Solana chain wrapped via Wormhole, and on chains compatible with Ethereum and Ethereum Virtual Machine (EVM)
We also wanted to share a preview of our upcoming plans:
BAT holders will be able to buy and sell NFTs on Magic Eden, the largest community-first NFT-based web3 ecosystem
Brave Wallet will support DApps on Solana on desktop
Brave Wallet and BAT integrated with Solana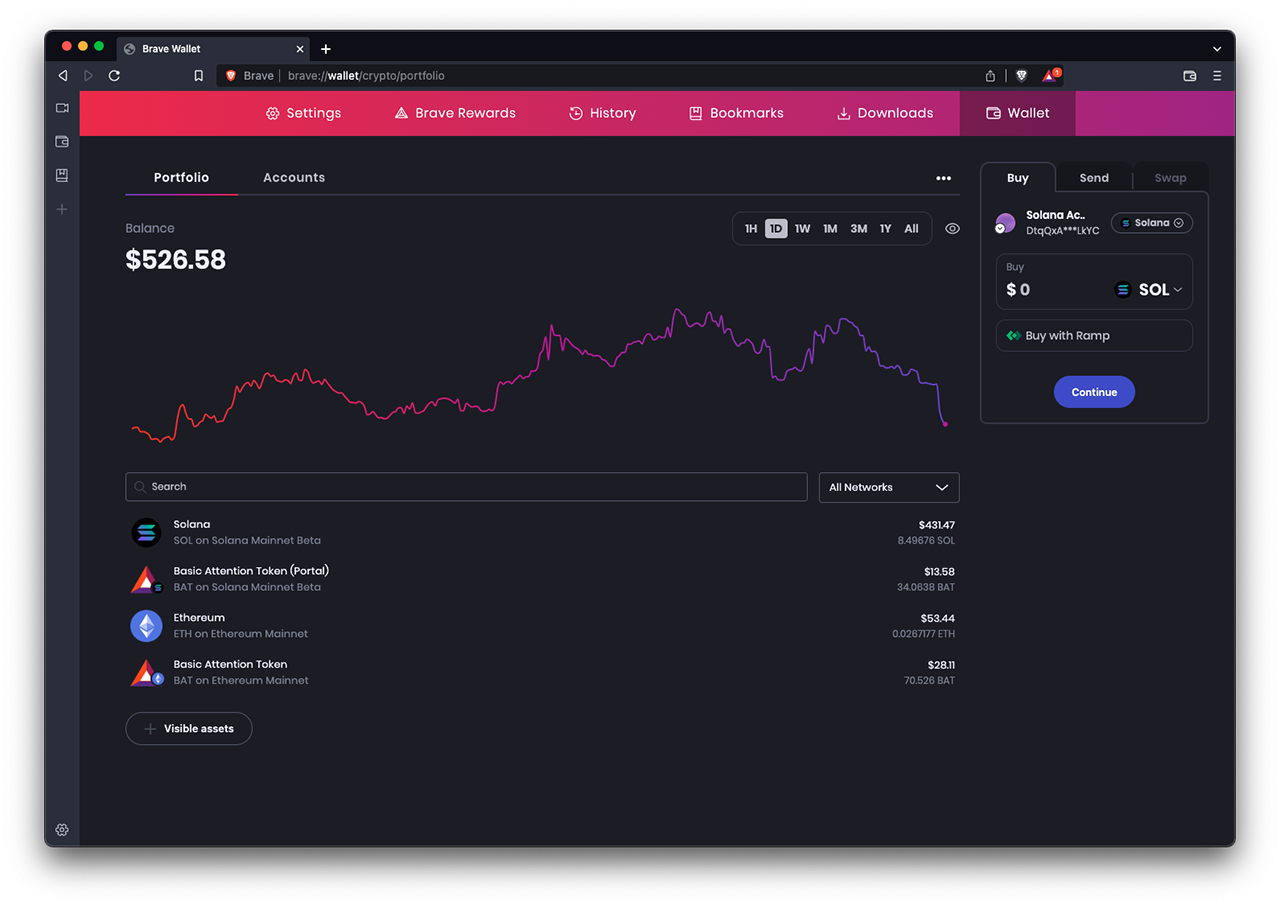 Brave's deep integration with the Solana blockchain, first announced in November of last year, will make it easier for those new to crypto to onboard to Web3, and increase utility for more seasoned users. Solana has some of the lowest gas fees and fastest performance of any blockchain. By integrating with Solana, Brave (and Brave Wallet) is expanding multi-chain support and possibilities for all users.
Release 1.39 brings our first set of features within this integration, allowing Brave users to send, receive, and store Solana and Solana Program Library (SPL) tokens directly in Brave Wallet. We've also bridged BAT onto the Solana network, making it an SPL token that users can leverage in the Solana ecosystem.
Brave will continue to deepen this integration in the near future, leveraging Solana as the default network for Brave Wallet and BAT, and further supporting the vibrant Solana community.
"Brave's inclusion of Solana in the wallet is an important step on the path to onboarding a billion users to Web3," said Anatoly Yakovenko, Co-Founder of Solana.
"As the leading Web3 browser, Brave is now providing integration with Solana's blockchain so that users and developers can seamlessly transact on their fast, low-fee network," said Brendan Eich, CEO and co-founder of Brave. "We're also looking forward to DApp support in an upcoming release to harness Solana's growing and thriving DApp ecosystem."
Buy SOL with Ramp in the Brave Wallet
Today, Brave is announcing its integration with Ramp, offering Brave Wallet users a new option to buy cryptocurrency with fiat. Ramp offers users a fast, secure way to get crypto funds into self-custody—it's also the first onramp partner in Brave Wallet that brings the ability to purchase crypto assets directly in the Solana network. This partnership introduces a streamlined process and affordable option for millions of Brave users to directly purchase assets from Brave Wallet for use in Solana's thriving ecosystem.
Most other wallets require users to take actions across multiple platforms to complete a purchase: users have to buy crypto on an exchange, find (and double check) their wallet address, and then send the purchased crypto back to their wallet. The Brave Wallet / Ramp integration offers a way to directly buy crypto within Brave Wallet.
In addition to Ethereum and Solana, Ramp currently supports fiat to crypto purchases for EVM-compatible chains like Avalanche, Celo, Polygon, and BNB Chain. The Ramp integration also supports the ability to purchase BAT on Solana and Polygon, in addition to mainnet Ethereum.
"Like Brave, our mission is to serve the world with fast, convenient, and secure access to Web3. With the Ramp integration, Brave users will be able to spend more time doing what they love and less time on what was a painful process of converting their fiat currencies to crypto," said Greg McEwan, Head of Marketing at Ramp.
Coming Soon: Use BAT to buy NFTs on Magic Eden
One of Brave's 2022 goals for BAT growth was to increase support for BAT / NFT utility within NFT marketplaces. Today, we're pleased to announce our partnership with Magic Eden, the largest community-first NFT-based Web3 ecosystem. One of the key milestones in the partnership will be to enable BAT purchase support and provide BAT holders with the ability to purchase NFTs on Magic Eden's marketplace in the coming weeks. In future releases, BAT holders will also be able to use BAT to purchase NFTs on Magic Eden through the Brave Wallet as well as other Solana DApp wallets like Phantom.
Magic Eden hosts the leading Solana NFT marketplace, which recently surpassed OpenSea in daily volume. With this coming integration, BAT—already the 11th most distributed token on Ethereum, with broad utility in other chains and in real-world applications—becomes even more powerful by integrating new cross-chain capabilities for BAT holders looking to purchase Solana-based NFTs on Magic Eden.
Sidney Zhang, Chief Technology Officer and Founder of Magic Eden, commented, "Magic Eden and Brave users are two of the most active and vibrant crypto communities in the world today. By enabling them to trade NFTs on Magic Eden with BAT, we are able to unlock new token utility for Brave's crypto-native audience in Solana NFTs. The integration of a Solana dApp-enabled like Brave Wallet in our marketplace will further drive the ecosystem forward."
Brave Wallet: Security and utility for all
From the start, we envisioned Brave Wallet as the secure, easy onramp to Web3, and a seamless browser wallet that removes the guesswork (and sometimes blind trust) behind installing risky crypto wallet extensions.
With our 1.39 release—and these deeper integrations with Solana, Ramp, and Magic Eden—we're bringing even better performance, asset security, and multi-chain utility to Brave Wallet, along with industry-leading privacy features that put users in charge of their Web experience. Many more milestones will come when Solana DApp support becomes available in the Brave Wallet later this summer.
Ready to get started with Brave and Brave Wallet? Just download Brave for desktop, Android, or iOS, and click the
in the address bar to get started.
Related articles
Private, independent search engine exits beta phase on its first anniversary, with innovative features that help users de-Google their search
Read this article →
Today's Brave browser release (v1.40) is expanding on the mission of making Brave Wallet a safe, easy-to-use onramp to Web3. It gives users easy access to new chains and decentralized apps (DApps), right in the browser, no extensions required.
Read this article →
Announced at the Consensus conference, Brendan Eich and Alex Shevchenko explained how Brave and Aurora Labs will collaborate to integrate Aurora (an EVM on the NEAR Protocol) into Brave Wallet.
Read this article →
Ready to Brave the new internet?
Brave is built by a team of privacy focused, performance oriented pioneers of the web. Help us fix browsing together.
Download Brave