Twitch Streamers Can Now Earn Revenue With The Brave Browser.
New million dollar referral program starts today to reward more creators
Today we're announcing that Twitch streamers can earn revenue in connection with the Brave browser. As part of our commitment to Twitch, we have added up to an additional $1 million to our referral program for creators.
For those new to Brave, it is a faster, more private browser that also includes Brave Payments, a built-in method of supporting content creators. The Brave browser is integrated with the Basic Attention Token (BAT) that audience members give to support their favorite publishers, YouTube creators, and Twitch streamers.
Brave has seen strong growth of new users and creators (including thousands of YouTube channels) after recent announcements that together represent up to $3 million in BAT incentives. First, we created up to a $1 million giveaway direct to users to fund their favorite publishers. Second, we established an up to $1 million referral program to reward creators for bringing their audience members to the platform. Finally, with this announcement, we are adding up to $1 million to that referral program with the addition of Twitch.tv support in Brave Payments.
There are several ways that creators — including those on Twitch — can earn revenue with Brave:
Referral Program

:

Brave will contribute promotional BAT to creators who get their fans to start using the Brave browser (either as a new user or on a different platform). Creators will earn BAT worth approximately 5 USD for each active user they bring to Brave who uses the browser across 30 days.

Twitch streamers can activate this promotion after registering to become a

Brave Publisher

, and they can invite their fans to download Brave with links and badges provided in their Brave Payments account.

Donations:

Users browsing with the latest Brave

desktop

version can turn on the integrated Brave Payments system to automatically and anonymously donate BAT to their favorite Twitch streamers in two ways: (a) They can "pin" a certain amount of BAT per month to specific channels; and/or (b) they can set a monthly budget that is distributed to Twitch channels based on view count and time.
The Twitch program comes just three months after we announced the ability of YouTubers to earn revenue with Brave. Since adding support for YouTube channels, we've seen incredible adoption by YouTube creators who are tired of arbitrary compensation rules and recurrent demonetization decisions. There are now over 7,500 verified YouTube channels that have joined Brave Publishers, with a combined total of nearly 150 million subscribers.
We anticipate that the ease of use of Brave Payments will also appeal to thousands of Twitch streamers looking for more revenue to support their content. The Brave browser lists the viewed Twitch channels in the Payments list, so that fans can donate tokens every month. Twitch streamers simply register as Brave Publishers to start receiving BAT contributions from Brave users. Twitch streamers can register their channel alongside other properties they may have (Web site, YouTube channel) as part of Brave's multi-property support. Brave uses the Twitch.tv API to authenticate Twitch channels, after the streamer's email is confirmed by our system. Once the verification process is complete and the streamer opens an account with Uphold, they can start receiving BAT contributions every 30 days.
We're excited about fostering a new ecosystem of content creators that can be reconnected with their audiences and rewarded with BAT. The Basic Attention Token will soon be extended to several more user-generated content platforms. As more creators and users realize they can rely on BAT to reward content, BAT's utility increases in our new digital services platform.
Note:
The tokens for this promotion are released from the BAT User Growth Pool (UGP), which was created during the sale of the utility tokens in May 2017. The UGP consists of approximately 300 million tokens set aside to incentivize users to join the Brave platform. We anticipate distributing promotional BAT to verified Twitch.tv streamers in 30 days, but may end the promotion at any time. The approximate 5 USD worth of promotional BAT is set at the time of this announcement. We will try to maintain the grants as close to 5 USD as possible, but they may vary. Fans who wish to support their favorite Twitch streamers or other creators via this BAT program need to download the Brave browser using the creator's referral link. Desktop users will be taken to a direct download of Brave, and mobile users will be taken to the iOS and Android stores. This campaign applies only to users who are not yet Brave users, or users who may be using Brave on one platform but could download Brave on a different platform. New York participants are not eligible for this promotion. See Publishers
Terms of Service
for more referral program details and restrictions.
Adding a Twitch channel to Brave Publishers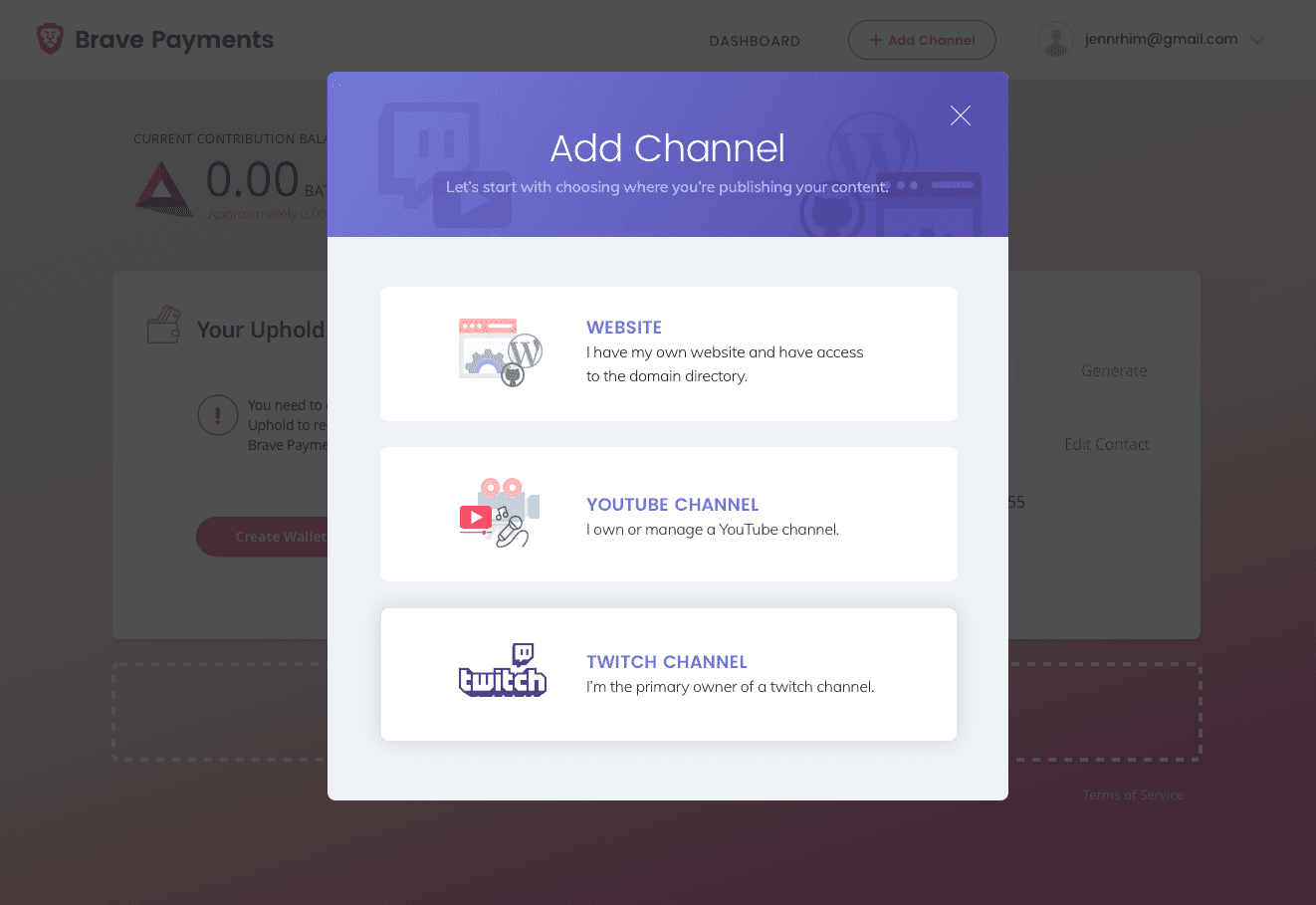 Brave Publisher Dashboard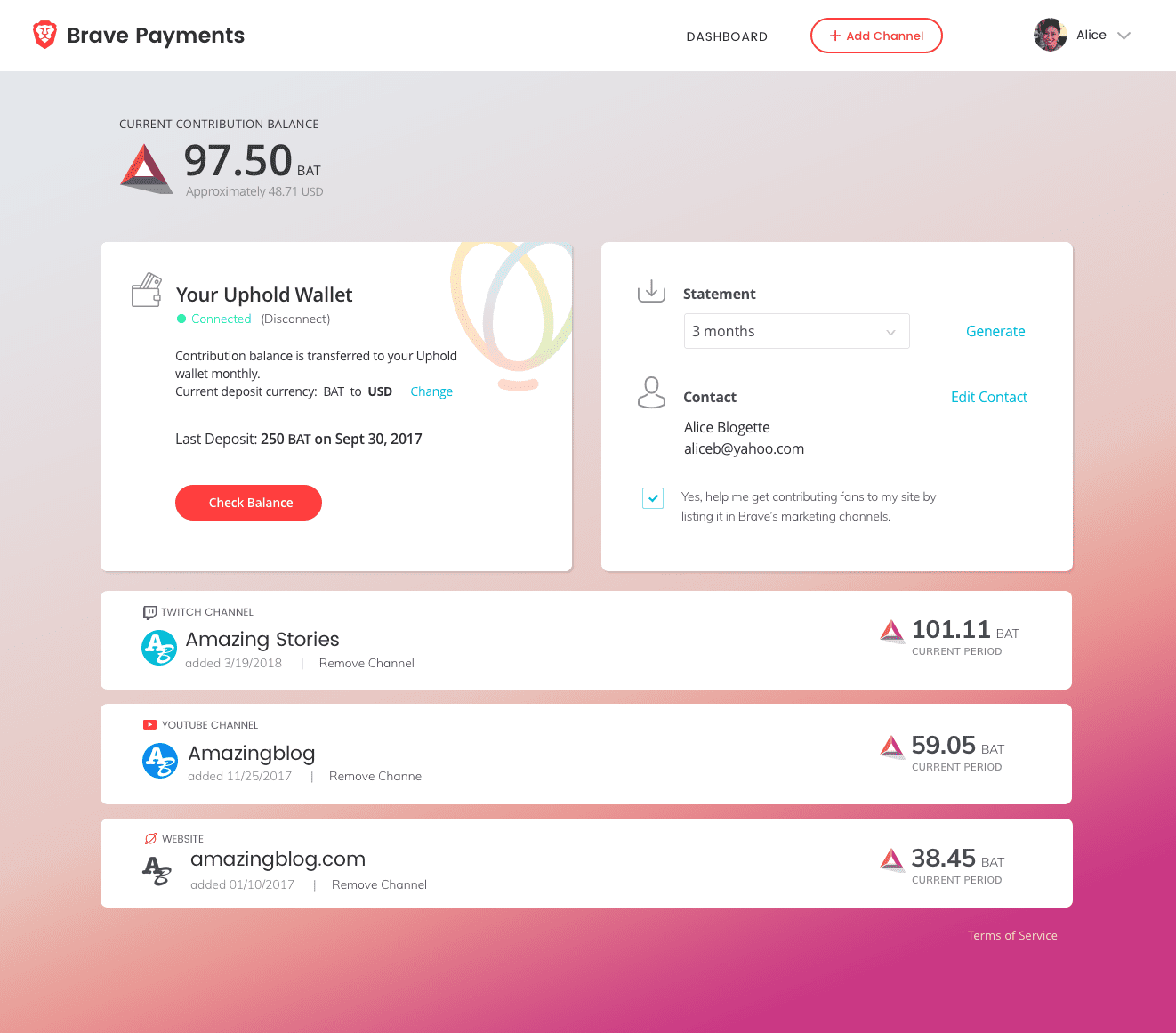 Brave Payments in the Brave Browser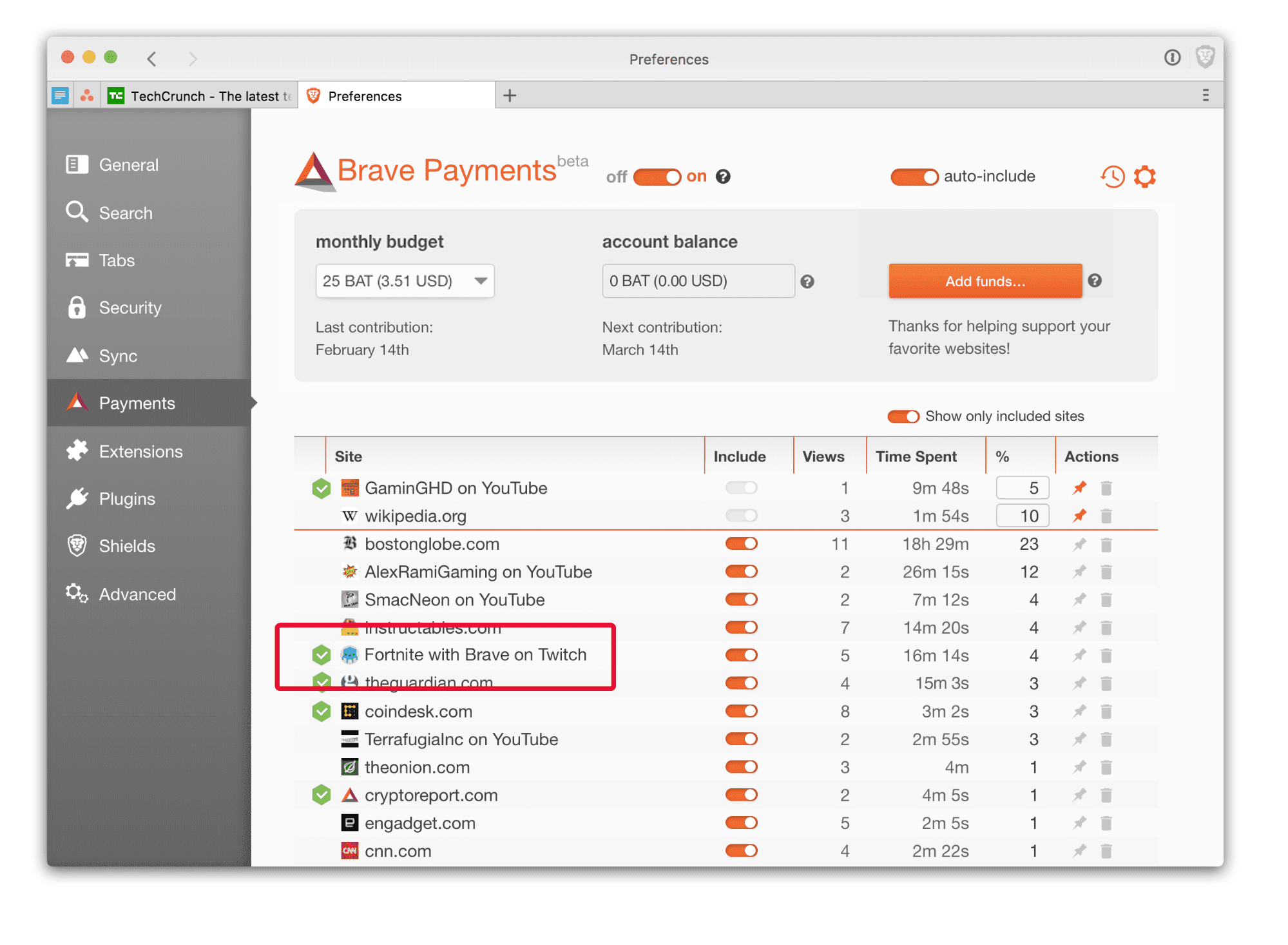 Twitch in Brave: allow 'fullscreen mode' for optimal viewing