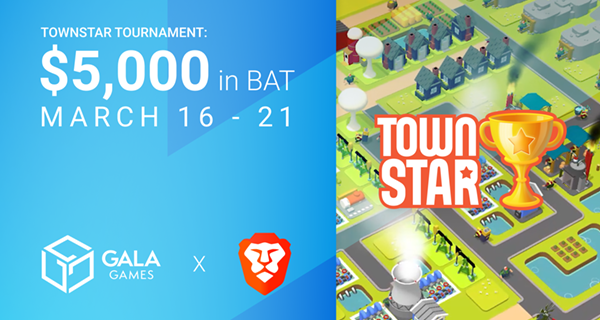 This post is a follow-up to our announcement, Brave and Gala Games Partner to Feature BAT Support in New Mirandus Game, from November 2020.
In November of 2020, Brave and Gala Games announced a partnership for Gala Games' upcoming epic fantasy game, Mirandus, support for Basic Attention Token (BAT) on the Gala Games platform, and the unveiling of a limited set of 100 Brave x Gala Games Minotaur King Crystal Physical NFTs, sold exclusively on the Brave Swag Store. The Minotaur King collectibles were a major hit with Brave and Mirandus fans, selling out within a few short weeks.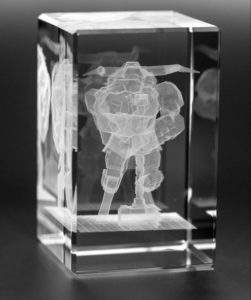 Brave x Gala Games Minotaur KIng Crystal Physical NFT
BAT Tournament in Town Star
Brave and Gala Games are teaming up again, this time to bring fans the first-ever BAT Tournament in Gala Games' Town Star, the blockchain-based agricultural simulation game from one of the founders of Zynga and some of the creative minds behind FarmVille and Words With Friends.
In Town Star, players become masters of urban planning and productivity as they create fully operational towns from scratch and compete against players from around the world to earn NFTs and Gala Coins.
The BAT Tournament, set to begin on Tuesday, March 16th, will give participants exactly 7 days to create a productive town in Town Star. Brave will sponsor the tournament with approximately $5,000 worth of BAT for prizes, and players will be required to hold a minimum of 20 BAT in their Gala Games account in order to participate.
At the end of the tournament, the BAT prize pool will be divided according to the tournament payout structure among the top 20 players with the best Town Star builds. Prizes will be paid directly to the winners' Gala Games accounts.
$5000 Prize Pool
1st Place – $1000 in BAT
2nd Place – $800 in BAT
3rd Place – $500 in BAT
4th Place – $400 in BAT
5th Place – $300 in BAT
6th-10th Places – $200 in BAT
11th-20th Places – $100 in BAT
Brave users can use their Basic Attention Token (BAT) rewards from viewing privacy-preserving Brave Ads to make in-game purchases directly in Splinterlands. Users with Uphold-verified wallets can transfer BAT directly from Uphold to their Gala Games account, and users who wish to use BAT held at their Ethereum address can transfer it to their Gala Games account from there with their favorite crypto wallet.
Watch the video tutorial on How to Fund Your Gala Games Account With BAT (Using Crypto Wallets or Uphold).
Brave x Gala Games Town Star Physical NFTs
In a forthcoming announcement, Brave and Gala Games will unveil their second upcoming Brave x Gala Games Physical NFT (Non-Fungible Token) collaboration. The limited Brave and Town Star-themed physical NFTs will later become available for players and fans to purchase exclusively from the Brave Swag Store.
Brave and Gala Games Livestream AMA
On March 17th, Luke Mulks (VP of Business Operations) from Brave and Jason Brink (Chief Marketing Officer) from Gala Games will get together for a livestream AMA on Theta.TV to discuss Brave and Gala Games' ongoing partnership and the Town Star BAT Tournament, as well as make another exciting announcement! Fans can tune in here for the AMA.
About Brave
Brave Software's fast, privacy-oriented browser, combined with its blockchain-based digital advertising platform, is reinventing the Web for users, publishers, and advertisers. Users get a private, speedier web experience with much longer battery life, publishers increase their revenue share, and advertisers achieve better conversion. Users can opt into privacy-respecting ads that reward them with BAT (Basic Attention Token), a frequent flyer-like token they can redeem or use to tip or contribute to publishers and other content creators. The Brave solution is a win-win for everyone who has a stake in the open Web and who is weary of giving up privacy and revenue to the ad-tech intermediaries. Brave currently has over 25.4 million monthly active users and over 1 million Verified Publishers. Brave Software was co-founded by Brendan Eich, creator of JavaScript and co-founder of Mozilla (Firefox), and Brian Bondy, formerly of Khan Academy and Mozilla.
For more information, visit or follow the company on Twitter @brave.
About Gala Games
Founded by greats from the gaming and blockchain industry, Gala Games is redefining the world of gaming by giving power and ownership back to the players. Using advanced web 3.0 technology to create a decentralized network to power the games of tomorrow, Gala's mission is about refamiliarizing the world with a lost sense of play and allowing anyone and everyone to become more free in the process. Eric Schiermeyer, the CEO of Gala Games was a co-founder of Zynga and has been one of the most innovative minds in digital gaming of the 21st century. With Gala Games, he is backed by an all-star team of the most brilliant minds and skill sets in both digital gaming and blockchain. The team at Gala Games looks forward to bringing the world a new sense of play (and countless games) as the future of gaming unfolds.