As of November 2022, Brave has ended the Swap Rewards program (and we've thus changed the title of this post to refer to "Rebates" rather than "Rewards"). Since launching Swap Rewards, we have shifted focus to prioritize improvements to overall swap functionality in Brave Wallet; we're also exploring and testing additional utility for BAT held within Brave Wallet, including the ability to purchase NFTs. For up-to date features and benefits of using Brave wallet, please follow Brave on Twitter or visit brave.com/wallet.
With the upcoming release of the new Brave Wallet, we will be launching the Brave Swap Rewards Program, a new program that will allow swap users to recoup 20% of their swap fees. This post will describe this program, and the current plans for how we intend to implement it.
We recently announced the introduction of Brave Swap in the current Brave Crypto Wallet, an important milestone from the BAT Roadmap 2.0. The upcoming release of the new unified Brave Wallet for desktop and mobile will provide millions of people with an introduction and access to Web3, emerging financial protocols, and new Brave Rewards.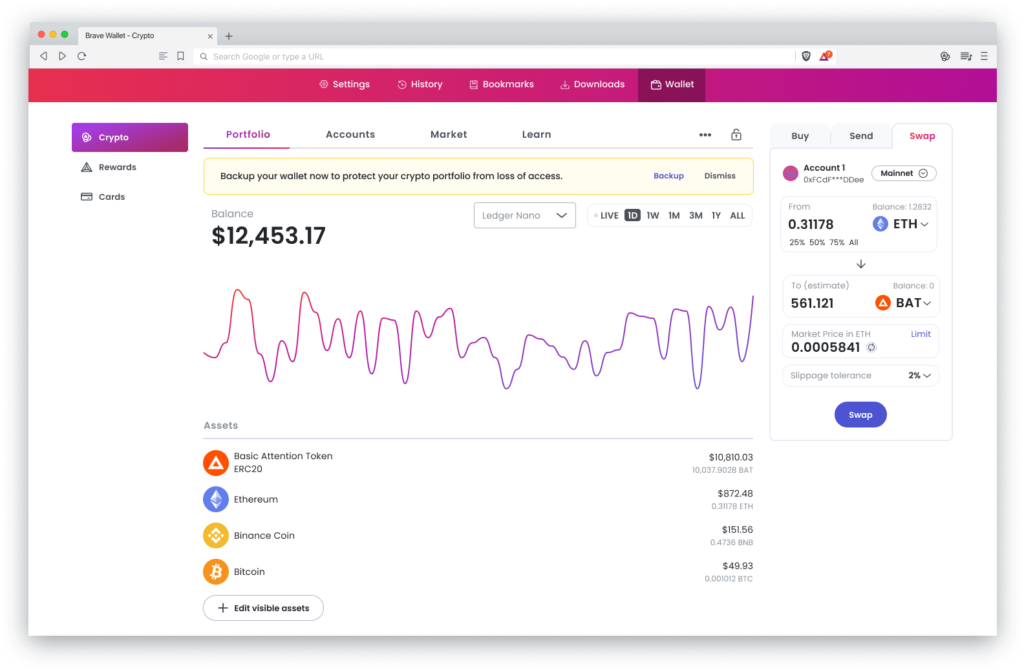 Brave Wallet
Brave Rewards will be integrated into the Brave Wallet, providing users with options to modify their Rewards experience, new views into their earned and contributed BAT for the current month, and access to statements from previous months.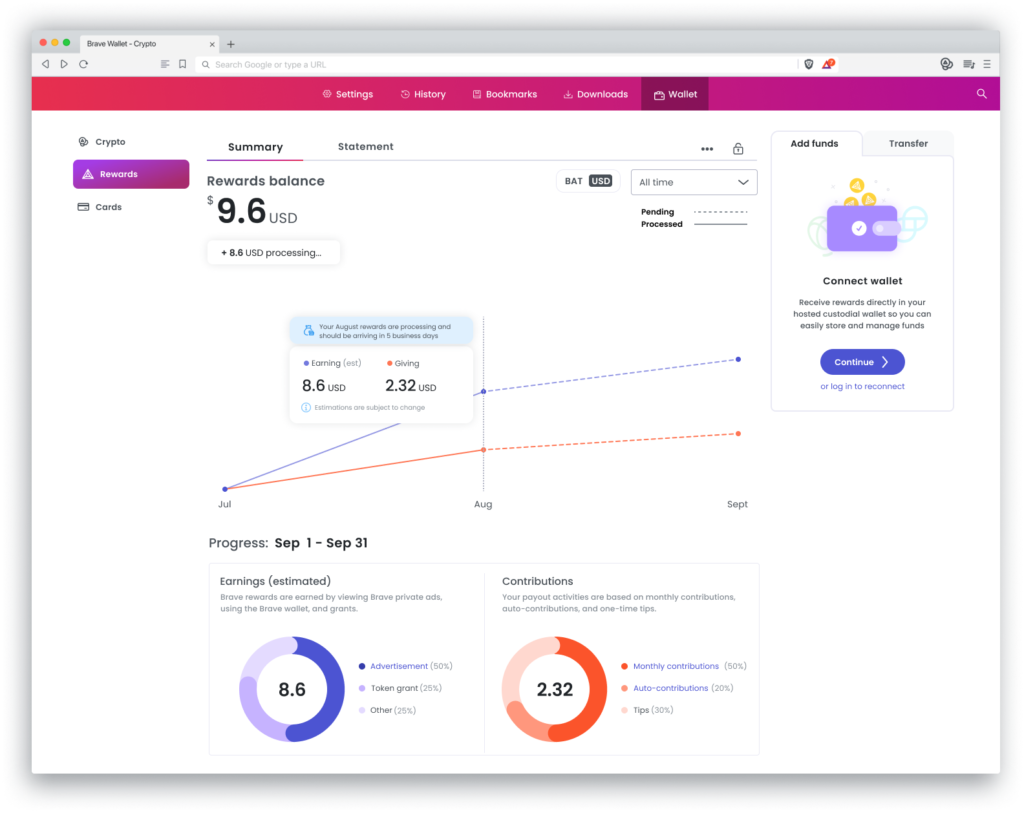 Rewards Summary view in Wallet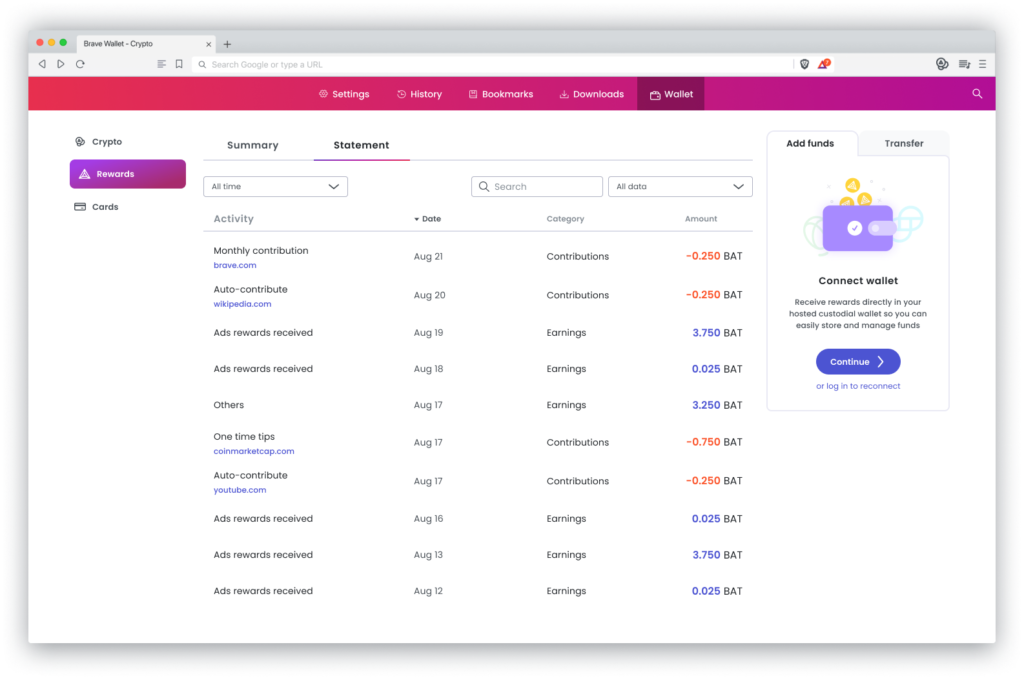 Rewards Statement in Wallet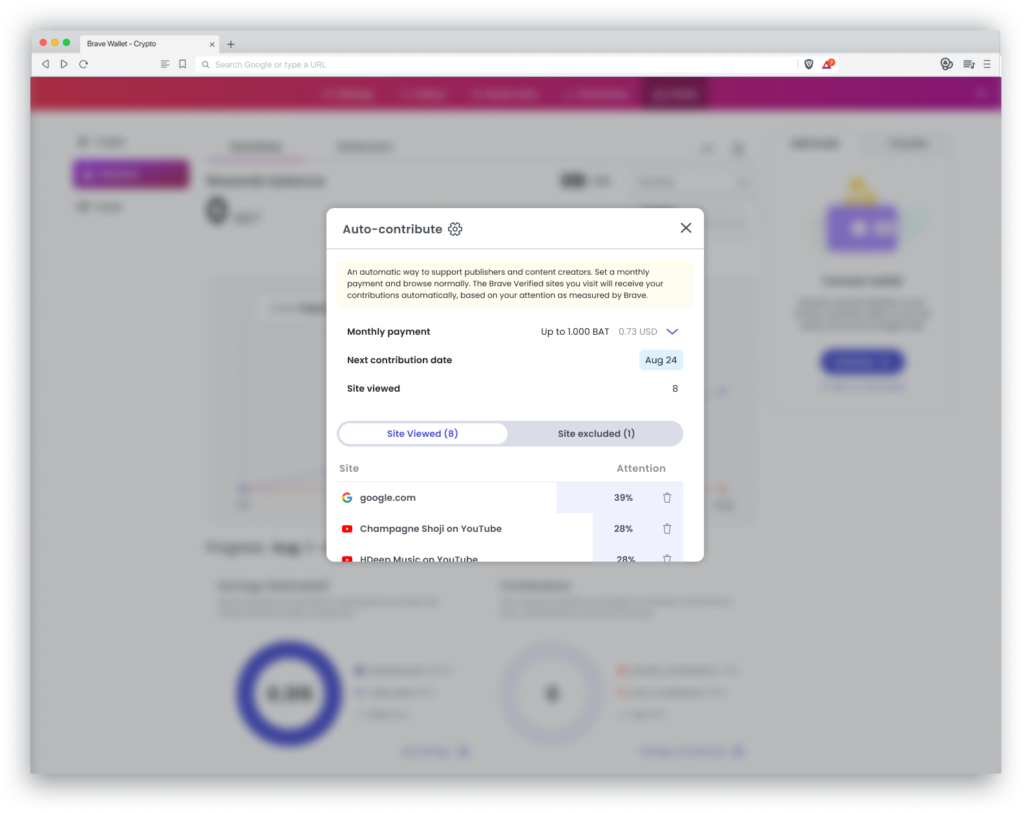 Rewards Settings in Wallet
Program overview
Similar to MetaMask and other DEX swap service providers, Brave receives a small percentage of each Brave Swap as a fee for providing the service. We will allocate up to 20% of each month's total Brave Swap fees to the Swap Rewards Program.
Brave Swap users who are opted into Brave Rewards will receive a monthly rebate for 20% of their Swap transaction fees, in the form of BAT.
Opting into Brave Rewards also enables Brave Ads by default, providing the ability to earn additional BAT while browsing the web.
Swap Rewards distribution
Brave will fund the Swap Rewards Program from up to 20% of the total monthly Brave Swap revenue. Brave will from time to time purchase BAT with USD equal to 20% of the swap fees from the many tokens and coins we receive each month for use in the program. The BAT purchases made by Brave will be added to a Swap Rewards section in the Brave Transparency Report.
Users participating in the Brave Swap Rewards program will receive a rebate equal to 20% of their fees collected from their Brave Swap transactions.
Swap Rewards users that have not verified their Rewards wallet with a partner wallet service (like Uphold, Gemini, etc.) will be eligible to claim virtual BAT for their monthly Swap Rewards to use within the Brave Rewards ecosystem.
Rebates for Swap Rewards users that have verified their Brave Rewards wallet will receive their BAT rebates as direct deposits into their verified Rewards wallet.
The Brave Swap Rewards Program will be subject to important terms and conditions that will be found in our terms of service on brave.com once the program launches.
Conclusion
Participants in the Swap Rewards Program earn BAT both from the Rewards private ads system and via the Swap Rewards rebate that effectively reduces swap fees.
We're excited to introduce additional opportunities to earn BAT through the Brave Swap Rewards Program. We plan on providing further updates about the Program start date as we prepare the new Brave Wallet release, and appreciate and look forward to engaging and receiving feedback from the Brave and BAT Community.