This post is a follow-up to our announcement, Brave Swag Store Customers Can Now Pay With BAT or ETH at Checkout, in Addition to Credit Cards, from September 2020.
Last year, Brave unveiled its fully revamped Brave Swag Store, the official source for Brave and Basic Attention Token-branded merchandise. The store is powered by Origin Protocol's decentralized e-commerce platform, Dshop, and is hosted entirely on IPFS, without any tracking cookies or scripts.
Brave's partnership with Origin for the Brave Swag Store represents a move away from old-world e-commerce solutions that track users and clash with Brave's core privacy values, and a step forward in Brave's progressive decentralization goals.
In the fall, we introduced a new token and cryptocurrency payment option for the store, allowing customers to purchase official merchandise with Basic Attention Tokens (BAT) or Ether (ETH), in addition to the standard credit card payment option.
Today, we are excited to introduce support for NFT purchases on the Brave Swag Store. The new implementation allows customers to purchase Non-Fungible Tokens (NFTs), such as limited-edition digital collectibles tokenized on the blockchain, straight from the Brave Swag Store. Our first-ever NFT sale will include a total of 30 collectible tokens + physical stickers based on the three winning submissions in our recent Brave and BAT Community Meme Competition. Our competition winners receive the lion's share of the revenue for NFT sales, and $100 worth of official BAT/Brave merchandise. They also get to see their artwork transformed into first-edition BAT & Brave collectibles that can be collected and traded with other fans!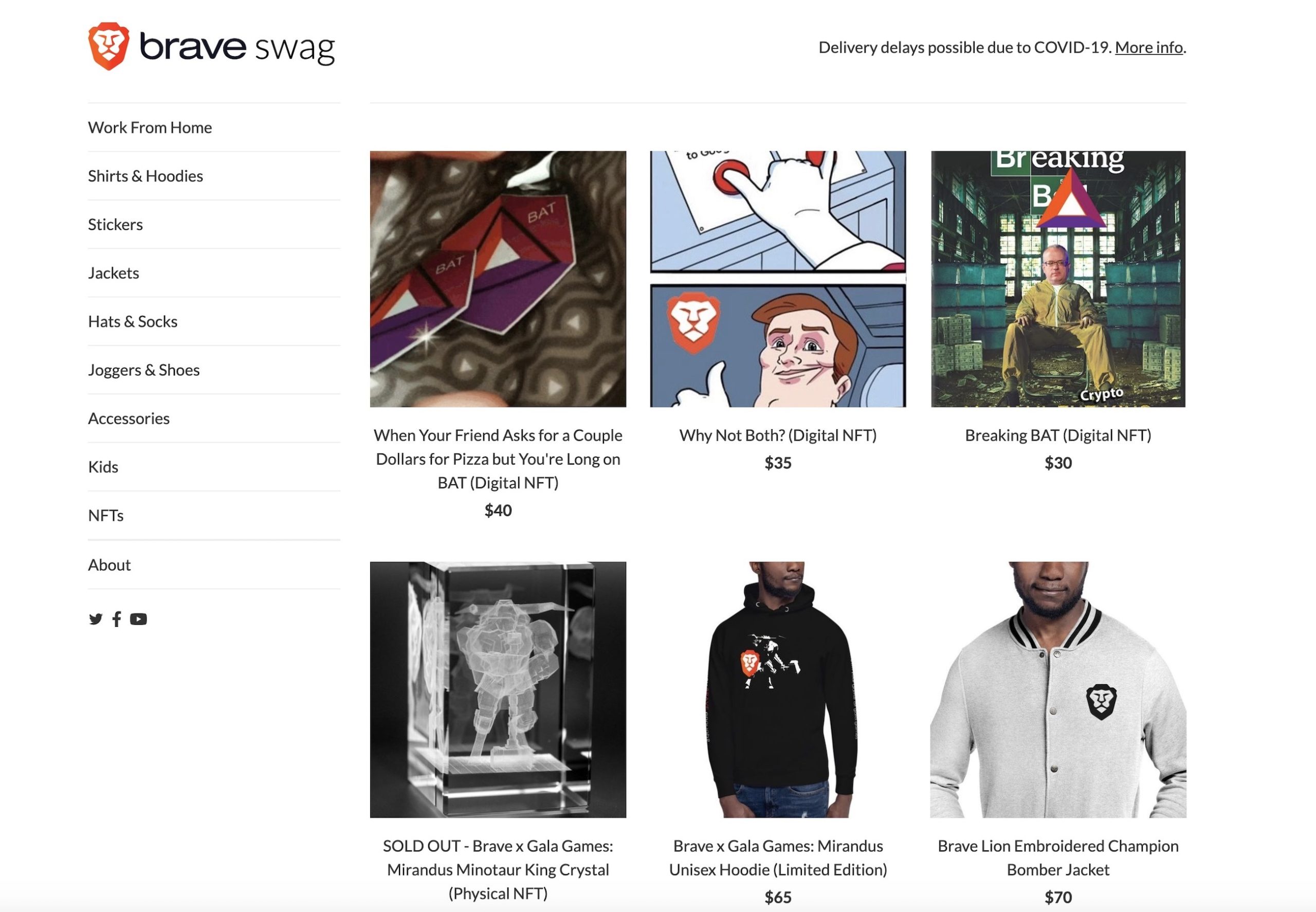 Origin continues to be a great partner to Brave. With Origin's help, Brave is building one of the first decentralized e-commerce stores to accept payments in crypto, and now, offering the ability to use tokens or cryptocurrency for NFT purchases. Since the announcement of our partnership with Origin in April 2020, NFTs have skyrocketed in popularity as everyone from artists, musicians, gamers, to celebrities have begun venturing into the innovative space. In the coming weeks, we will be releasing a very limited set of NFTs, created by the talented designers at Brave and Origin, to celebrate the launch of NFTs on Origin's Dshop platform.
When purchasing NFTs from the Brave Swag Store, buyers will see an extra field where they can enter a receiving Ethereum address at checkout. From there, they can pay with BAT or ETH via their Web3 provider (e.g., Brave's built-in Crypto Wallet, MetaMask, etc). Customers who choose to receive their NFT purchase to their Brave Crypto Wallet and who wish to transfer the NFT will need to load their wallet's private key into a separate wallet that currently supports NFT transfers. We aim to introduce the ability to transfer NFTs in Brave's Crypto Wallet in the near future.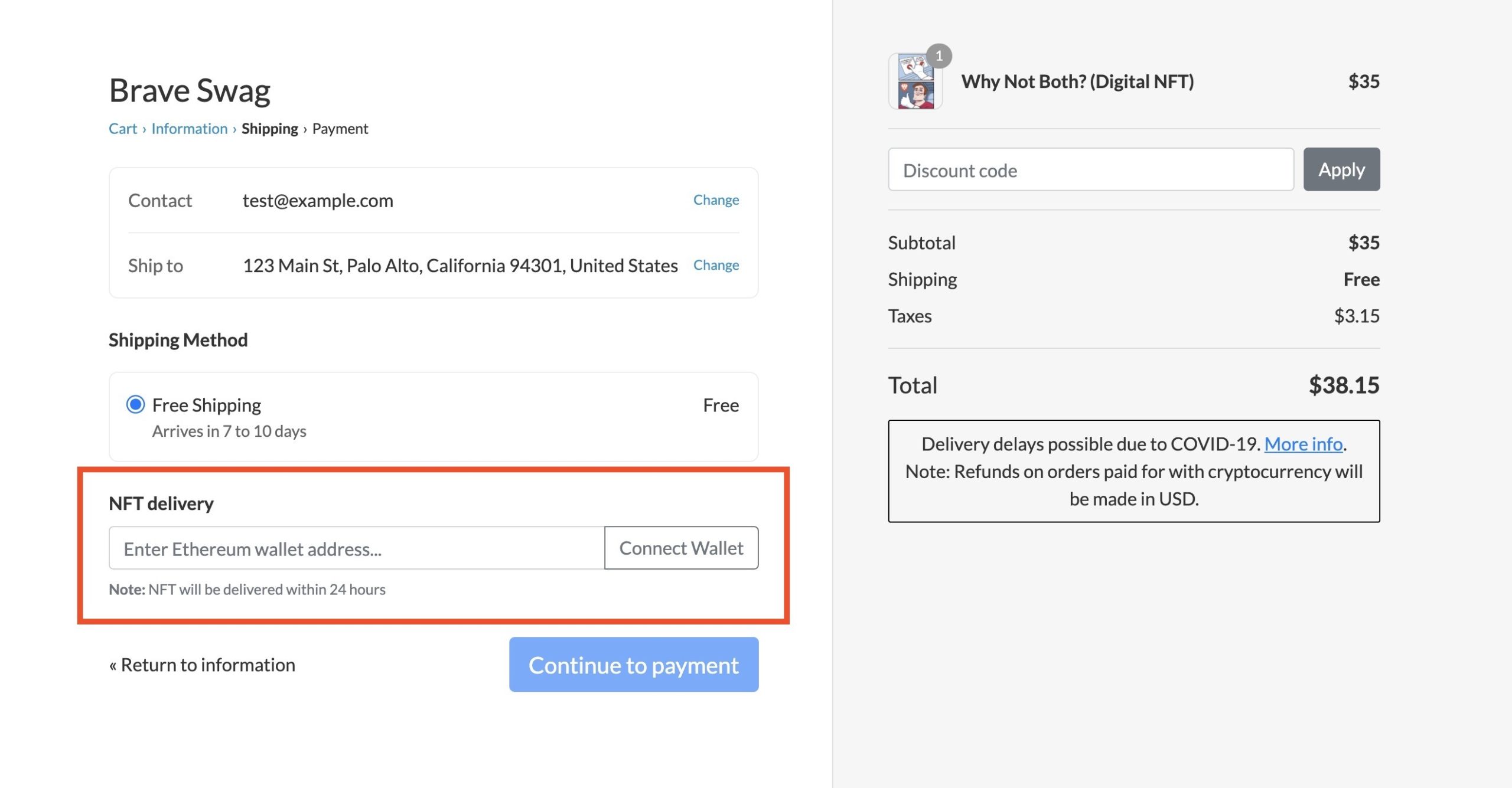 Support for NFT sales through the Brave Store follows the successful sale of a limited run of 100 Brave x Gala Games Minotaur King Crystal Physical NFTs in December. Within a few weeks, Brave and Gala completely sold out of the laser-engraved Minotaur King collectibles from the upcoming Gala Games fantasy RPG game, Mirandus. Building on the demand from the Community, the Brave Swag Store's new implementation allows for the sale and direct transfer of NFTs to Brave Store customers.
"We're very excited to be collaborating with Origin to introduce additional BAT utility with support for NFT purchases in the Brave Store. NFTs continue to be an emerging force in the crypto space, with more novel use cases surfacing in-market. Our recent success with the Gala Games NFT collaboration has shown a strong demand for NFTs from Brave users and the Community, and the work with Origin to add support for NFT purchases will help create new opportunities for Brave and our partners to bring more NFT and crypto collaborations to life in the months ahead." —Luke Mulks, VP of Business Operations at Brave
"We believe that NFTs have the potential to catapult crypto beyond a simple payment layer and fundamentally change commerce for Brave's partners. NFTs are more than digital art. They can serve not only as collectible, transferable assets but as digital representations of real-world goods and services. For example, NFTs representing limited edition premium goods can be bought, traded, and then redeemed. We've seen existing examples of NFTs for rare streetwear, artwork, and sneakers being sold in the market. In addition, NFTs can be used to gain access to exclusive content and replace paywalls or traditional subscriptions. Each of these use cases presents an opportunity for Origin to help unlock value for Brave and its network of consumers and merchants. We are incredibly excited to continue partnering with Brave on deeper future integrations to create innovative new crypto-centric commerce experiences for Brave's millions of loyal users." —Matthew Liu, Cofounder of Origin Protocol, from Brave Expands Partnership with Origin to Offer NFTs on the Brave Store
We are thrilled to now offer support for purchasing NFTs in the Brave Store through our partnership with Origin, and hope our fans enjoy the new shopping option.