Introduction
Brave launched the Basic Attention Token (BAT) in May 2017 with the aim of realizing the vision executing on the mission of the Basic Attention Token white paper.
In the years that followed, the team has delivered a private advertising and creator reward platform with BAT utility to the 24.1M monthly active users and over 7.8M daily active users in Brave. Within the ecosystem, BAT utility has grown with the support of over 12M wallets, 4.3M monthly transacting BAT users, 1M verified publishers.
Brave Ads growth within the ecosystem has skyrocketed following the April 2019 introduction to the Brave Release Channel. Brave Ads campaigns are now supported in nearly 200 countries with over 2 billion ad confirmation events to date. There have been 2677 campaigns from over 465 advertisers, from brands such as Verizon, The Home Depot, The New York Times, Progressive Insurance, Newegg, Chipotle, Chess.com, Privacy.com, PayPal/Honey, Ledger, Amazon, Harry's Razors, CBS, KIND snacks, Logitech, Lenovo, Grubhub, Belkin, Quickbooks, and Evernote. The average CTR (click-through rate) for a Brave Ads campaign is 9%, well above the industry average of just 2%, with many brands observing even higher engagement.
BAT utility has also grown beyond the Brave platform, into secondary utility channels and use cases.
BAT Utility in Brave
Brave Rewards: Private Hybrid Utility
The primary method for users to earn and utilize BAT is by viewing opt-in Brave Ads and earning virtual BAT (vBAT) through Brave Rewards. Brave Rewards provides a hybrid model; if users elect to verify their Rewards wallet through Brave's custodial partner, they are able to reify vBAT as BAT for custodial and on-chain transactions.
Decentralized On-Chain Utility
With BAT being an ERC-20 token, an array of on-chain utility cases have evolved over time, and with the growth of Brave and BAT.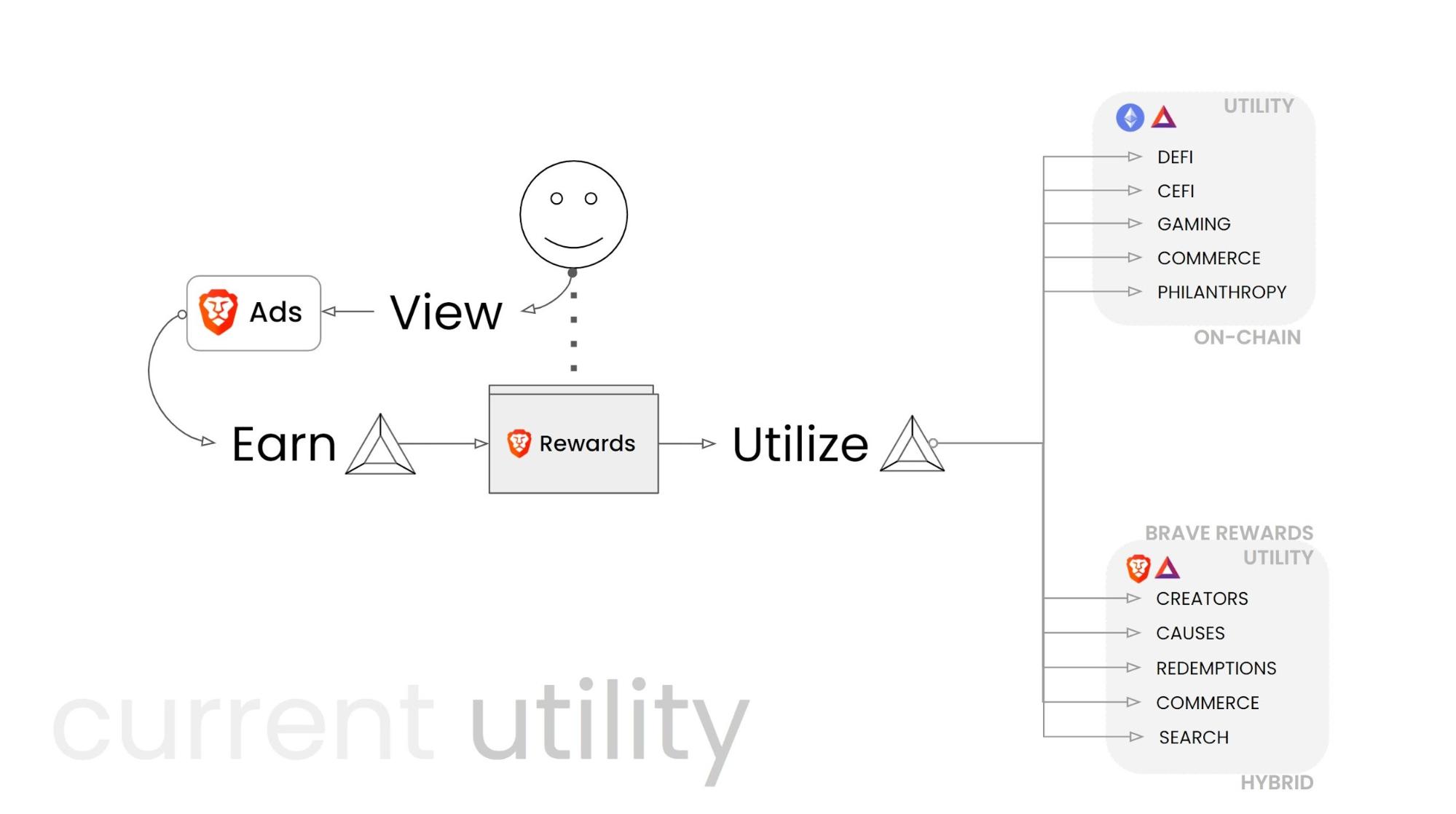 Current on-ramps
Brave Rewards: User opts-in to Brave Ads, earns BAT, utilizes within Brave Rewards.

On-Chain: User enables Crypto Wallets (or other Web3 wallet), purchases or withdraws real BAT after verifying their Rewards wallet, transacts to exchange a cryptocurrency or utility token for BAT, or exchanges p2p.
Brave Rewards Utility: Hybrid Model
Within Brave Rewards, there are three primary channels for BAT utility, two in release and one in active development:
Brave Creators & Causes
Publishers, content creators, and causes verify their channel through https://creators.brave.com and onboard with Uphold or Gemini to accept BAT from Brave users that choose to pay it forward to support the creators of the content they enjoy.

How much BAT has been contributed to support publishers and creators? Brave users have rewarded their favorite publishers and creators by contributing 26 million BAT to them. Brave users can support websites, or creators on YouTube, Twitch, Twitter, GitHub and more, by activating Brave Rewards and its integrated Brave wallet on both desktop and mobile. This feature allows users to send BAT as tips for great content, either directly as they browse or by defaulting to recurring monthly Auto-Contribute payments. Brave users earn BAT by opting in to view privacy-preserving Brave Ads (70% of ad revenue share).
Redemptions
Through the TAP Network partnership, Brave Rewards users with verified Uphold wallets can redeem BAT they earn through Brave Rewards on gift cards, sweeps entries and to support causes from within the Rewards Marketplace.
Commerce
The upcoming BAT SKU offering will bring additional BAT utility through the Pay with BAT feature. Brave Rewards users with anonymous and verified user wallets will be able to utilize their earned BAT toward content, offers and other goods and services.
BAT Utility On-Chain
Brave's integrated Crypto Wallet feature provides the ability for users to transact directly with the Ethereum blockchain, including on-chain BAT utility. Given the popularity of Brave and BAT, six distinct channels have emerged and evolved over time for utilizing BAT outside of Brave Rewards:
DeFi (Decentralized Finance)

CeFi (Centralized Finance)

Gaming

Commerce

Philanthropy
DeFi
Decentralized Finance (DeFi) has boomed in the second half of 2020, and BAT has been one of the early movers in the space. BAT is currently supported in major DeFi defi protocols, including Oasis, Compound, Aave and Coinlist. Brave Crypto Wallet users can take advantage of these new and experimental offerings with BAT through the browser.
Typically, Crypto Wallets users will either begin their DeFi journey through DeFi Management Apps like Zapper or InstaDapp, or will work directly with decentralized exchanges or defi lending and borrowing protocols.
The following are just a few of the many emerging offerings in DeFi that Crypto Wallets users can utilize their BAT with:

Token swaps

Derivatives

Liquidity pools

Lending

Saving
CeFi
Centralized Finance (CeFi) offerings have emerged in the wake of the DeFi wave to provide an array of offerings through centralized crypto exchanges and custodial services. These services differ from DeFi in that CeFi providers hold the user's tokens in their custody, and typically require a KYC process in order to transact or withdraw from their services.
A few CeFi offerings for Crypto Wallets users to utilize their BAT with:
Custodial Wallets
CeFi platforms provide custodial wallet services for users to store, send and utilize their BAT for exchange and other custodial offerings. Custodial wallets differ from self-custodial wallets in that the CeFi platform actually holds the tokens.
Lending/Borrowing
BlockFi, Nexo, Binance, Crypto.com, Gemini and other CeFi providers provide lending and borrowing services for users to lend their crypto assets for an annual return. These options tend to yield moderate returns compared to DeFi, but do not require the level of knowledge and expertise in order to utilize.
Trading
CeFi providers offer the ability to purchase BAT or trade BAT for other crypto assets. Uphold provides this service for verified Brave Rewards user wallets, and BAT is listed among the most popular exchanges, with over 251 trading pairs.
Gaming
Blockchain gaming is an emerging market with a potential addressable audience of 2.4 billion users. Blockchain gaming is unique in that it not only involves traditional gameplay that users can now own a piece of, but also leverages emerging NFT and DeFi technologies to create additional reward potential and benefits for players.
The following forms of BAT gaming utility are either currently available, or are being planned for early 2021:
Liquidity pools
Brave has formed partnerships with Splinterlands and Gala Games, both of which have existing liquidity pools with their native tokens established on Uniswap. The potential for pairing BAT with native gaming utility tokens in liquidity pools is a natural evolution in the long-term strategy of growing Brave and BAT within the blockchain gaming community.
Event Utility
Gaming partners can create tournaments and other events that require BAT for admission or participation. In addition, gaming partners can also create campaigns where they detect if a gamer in their ecosystem has BAT in their wallet, and if they do, they become eligible to receive a limited edition NFT.
Gameplay
Gaming partners create and expose BAT as an accepted token in their gaming ecosystems, and provide options for users to swap BAT for native gameplay tokens as desired. BAT is currently supported within Splinterlands and Gala Games.
NFTs
Gaming partners for in-game NFT auctions that require BAT for purchase, and for collaborative physical NFTs that include a collectible along with a digital NFT for use in gameplay.
Commerce
Brave Swag Store
The Brave Swag Store offers the option for Crypto Wallets users to pay with ETH or BAT through the Origin dShop ecommerce platform integration. Not only can users pay for Brave Swag, the store recently featured collaborative physical NFT collectibles for sale with Gala Games.
Crypto CC/Debit Cards
BAT is supported for utility with the following crypto credit/debit card providers, providing Crypto Wallets users with the option to send their BAT to be utilized for payments wherever Visa and MasterCard are supported.
Philanthropy
As a follow-on to our successful Brave Ad Grants program that allows Brave Rewards users to support verified Causes, The Giving Block added BAT as a crypto asset type for philanthropic donations on-chain to over +100 causes through their Giving Block widget.
Looking forward
Last week, we released a post announcing the Brave/BAT Ads and THEMIS Request For Comments and Code (RFC&C) Event, providing the community with the opportunity to participate in the design and development of the next generation of Brave Ads and Rewards. We plan to release additional posts in the weeks ahead with an updated BAT roadmap and additional plans for BAT utility initiatives for 2021.