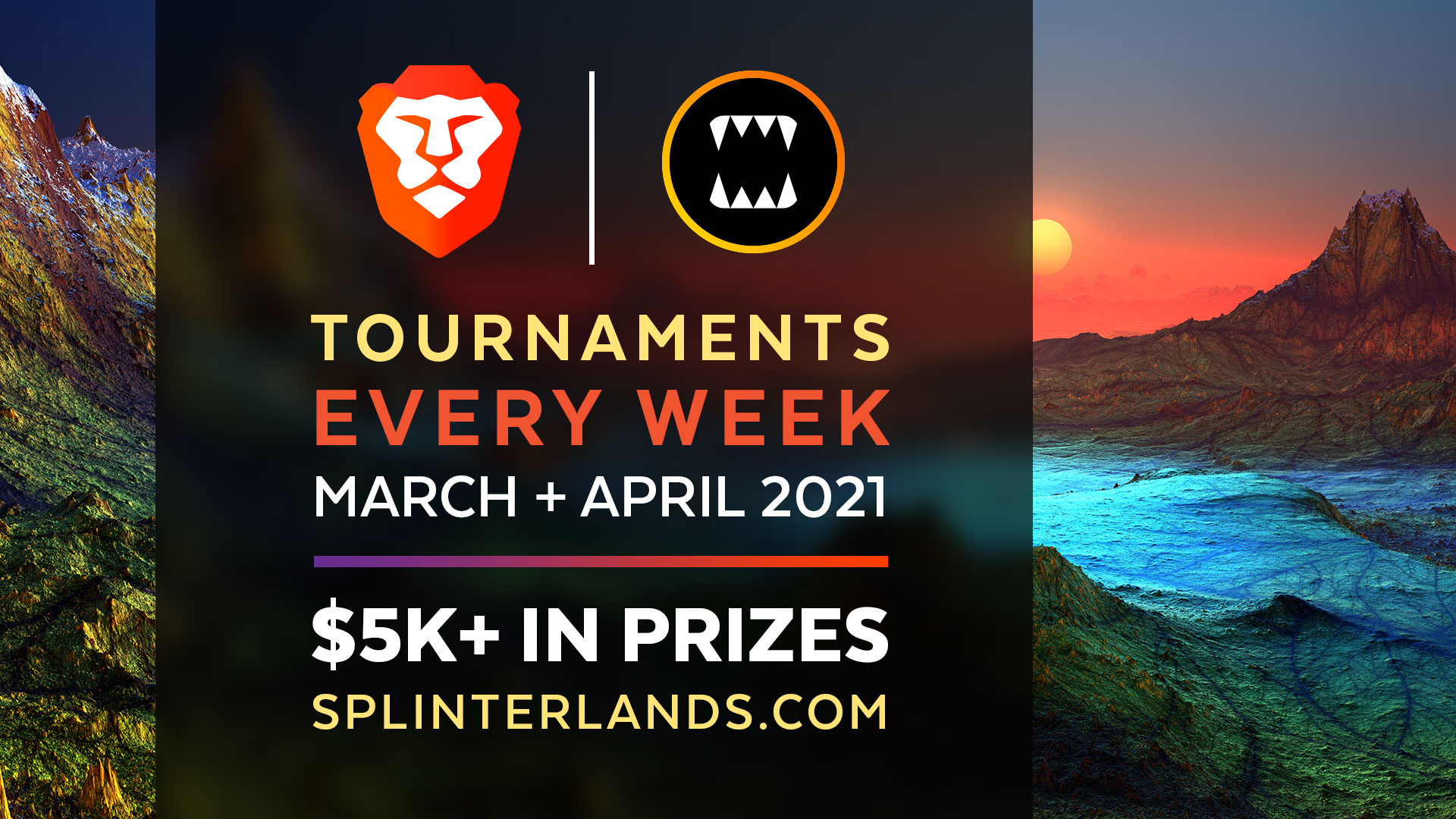 This post is a follow-up to our announcement, Splinterlands and Brave Announce Partnership, from October 2020.
In October of 2020, Brave announced a partnership with Splinterlands, the most popular blockchain game. Brave and Splinterlands both share a similar mission of rewarding users for their time and attention, as well as increasing their privacy on the Web.
Brave and Splinterlands have made it their objective to promote Brave as the official browser of Splinterlands. Together, they aim to educate Splinterlands players about the many privacy and security benefits Brave has to offer. In addition, Brave users can use their Basic Attention Token (BAT) rewards from viewing privacy-preserving Brave Ads to make in-game purchases directly in Splinterlands.
BAT Tournaments in Splinterlands
Today, Brave and Splinterlands are excited to announce a series of twelve upcoming BAT Tournaments in Splinterlands, where players of all experience levels can compete to win prizes!
The tournaments, which are set to begin next week and run through the month of March and first week of April, will have three different league levels—Bronze, Gold, and Champion—each with its own prize pool. Brave will sponsor the tournaments with approximately $5,000 worth of prizes, and players will be required to hold a certain amount of BAT tokens at their linked Ethereum wallet address in order to participate at each level. Winners will receive token prizes in Dark Energy Crystals (DEC), the in-game token of Splinterlands. The upcoming BAT tournaments will be added to the Splinterlands Events page the week of March 8th.
Land Purchase Discounts When Paying With BAT
Splinterlands will also offer a 20% discount on all land claim purchases from the Splinterlands Shop when players use BAT tokens to pay at checkout. Land claims are available in single plots, tracts containing 100 plots, or regions containing 1000 plots, and will be redeemable for land NFTs when the land expansion is released later this year. Land in the Splinterlands will be able to be used to construct buildings, harvest resources, and will be the only way to mint the new item and spell cards that will be added to the game. The promotion will run for 30 days beginning on April 1st, 2021.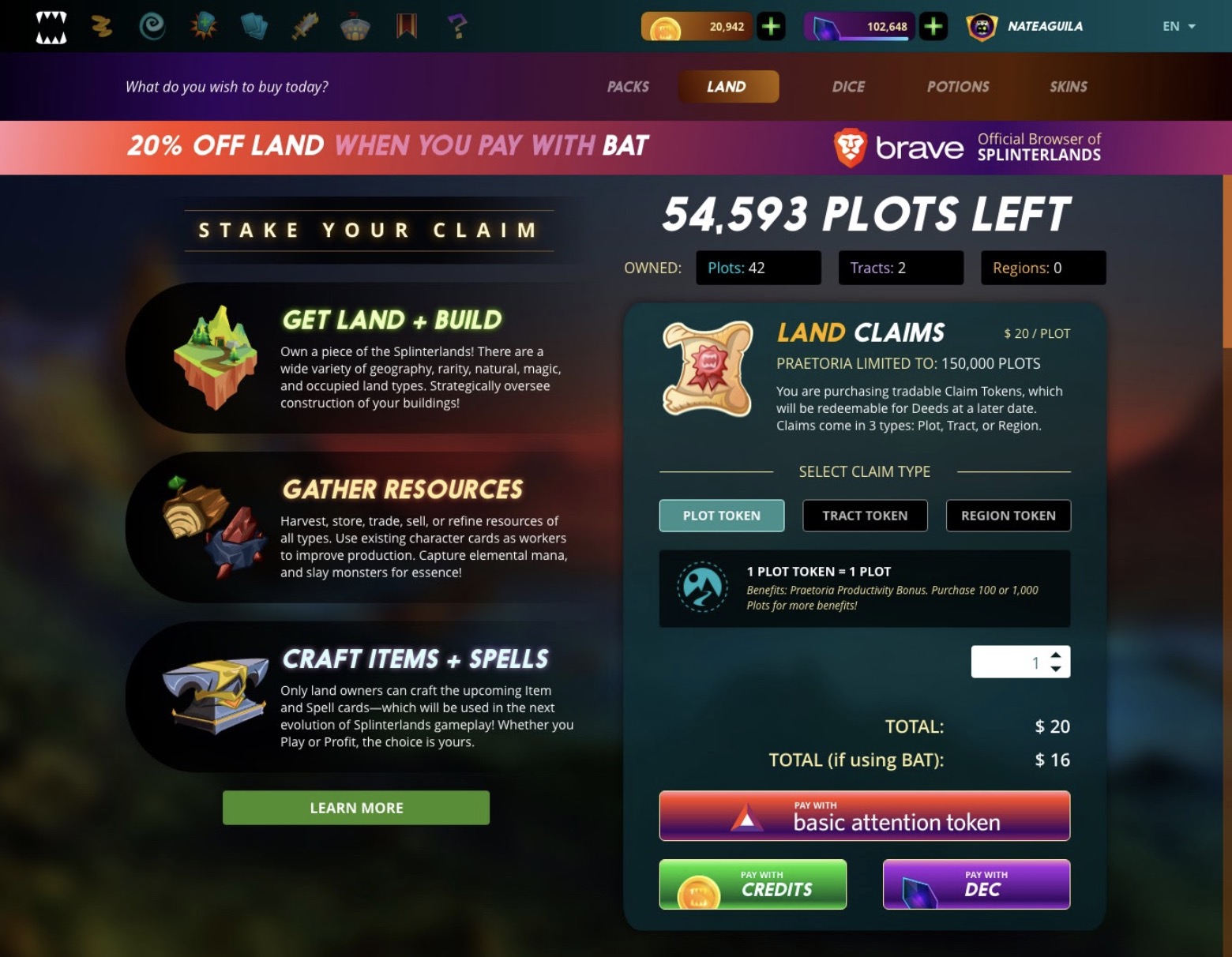 Brave x Splinterlands NFTs
In a forthcoming announcement, Brave and Splinterlands will unveil a set of digital and physical Brave x Splinterlands collectibles, or Non-Fungible Tokens (NFTs). The highly limited collection will subsequently become available for players and fans to purchase directly from the Brave Swag Store.
Brave and Splinterlands' NFT collaboration follows the successful sale of 100 limited Brave x Gala Games Minotaur King Crystal Physical NFTs (now sold out) which Brave released with its gaming partner, Gala Games, back in December. It also follows the introduction of support for NFT purchases with tokens (BAT) or cryptocurrency (ETH) on Brave's Swag Store, and the inaugural sale of 30 limited NFTs based on winning submissions in its recent Brave and BAT Community Meme Competition, which sold out in minutes.
About Splinterlands
Splinterlands is a trading card game built using blockchain technology that enables users to play anytime, trade anytime, and earn every win. Players compete for a limited reward pool of the Splinterlands in-game cryptocurrency token called Dark Energy Crystals (DEC) as well as provably scarce and valuable NFTs from daily quests and bi-weekly season rewards. Battle for glory and riches or passively rent out your cards. The greatness of the Splinterlands awaits.
Be sure to check it out at https://splinterlands.com and join the vibrant Splinterlands player community in Discord or Telegram
About Brave
Brave Software's fast, privacy-oriented browser, combined with its blockchain-based digital advertising platform, is reinventing the Web for users, publishers, and advertisers. Users get a private, speedier web experience with much longer battery life, publishers increase their revenue share, and advertisers achieve better conversion. Users can opt into privacy-respecting ads that reward them with BAT (Basic Attention Token), a frequent flyer-like token they can redeem or use to tip or contribute to publishers and other content creators. The Brave solution is a win-win for everyone who has a stake in the open Web and who is weary of giving up privacy and revenue to the ad-tech intermediaries. Brave currently has over 25.4 million monthly active users and over 1 million Verified Publishers. Brave Software was co-founded by Brendan Eich, creator of JavaScript and co-founder of Mozilla (Firefox), and Brian Bondy, formerly of Khan Academy and Mozilla.
For more information, visit brave.com or follow the company on Twitter @brave.
More Information
Learn How to Buy Items in Splinterlands With Basic Attention Tokens (BAT) here.
Listen to Aggroed Lighthacker's (Co-founder of Splinterlands) interview on the BAT Community Podcast here.