Brave Rewards is our anonymous donation system integrated directly into the Brave desktop browser. It is accessible to users from the URL bar via the BAT (Basic Attention Token) logo, and though off by default, can be easily switched on with the slider. Publishers and creators who wish to participate in Brave Rewards can join by signing up via our publisher portal.

Brave Rewards is a new way to fund content on the internet and to reconnect creators with their audiences. Brave Rewards currently has a community of over 23,000 publishers, YouTube creators, and Twitch streamers. It is still in beta and will feature several improvements in the coming months as the program is refined and integrates the valuable community input we receive.
We have heard important feedback and are currently fixing the user interface of the browser to clarify how Brave Rewards works, so that both users and creators can continue to use it with the clear purpose for which it is designed: rewarding content creators while preserving user privacy. We apologize for the errors showing unverified creators in the Brave Rewards tipping panel, and look forward to sharing an improved system with you.
Starting tomorrow, Brave Rewards will clearly indicate which publishers and creators have not yet joined Brave Rewards, so users can better control how they donate and tip. This new message will appear in the regular donation process and in the tipping box. Moreover, creators that have not verified with Brave will no longer have their YouTube or Twitch channel images appear within Brave Rewards.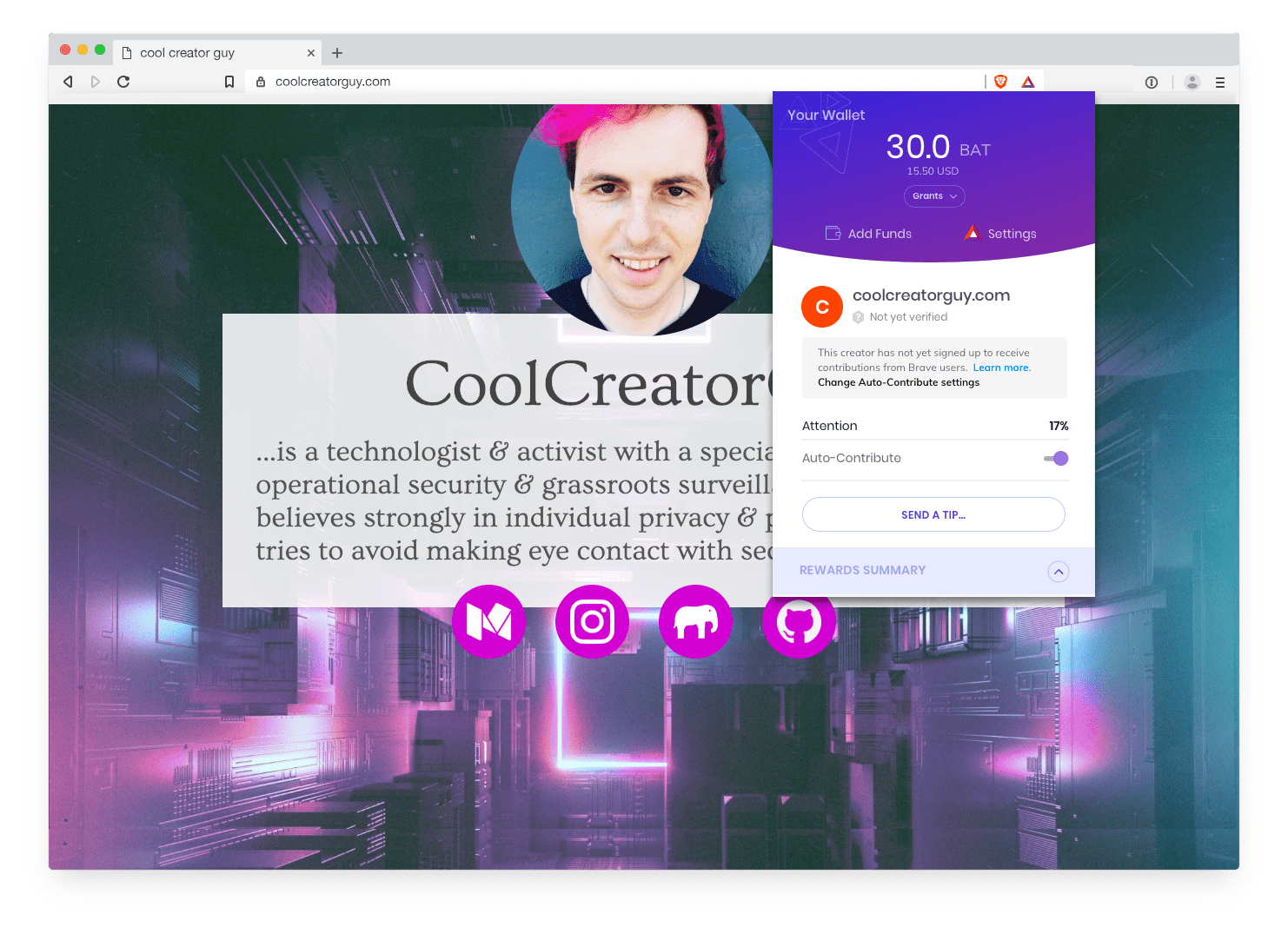 How Rewards Work
This is also a good time to repost the basics of how Brave Rewards works.
Brave has never kept for itself or reclaimed donations that are made to creators:
Brave Rewards allows users to anonymously donate to their favorite content providers, even if they have not yet registered as creators. As contributions build up, Brave will attempt to notify creators that they have tokens waiting for them.

Users can also

disable the "allow contributions to non-verified sites" option in their Brave Rewards Auto-Contribute settings (see image below). This ensures that contributions are made only to sites for publishers that have already verified with the platform.

All of the BAT donated to content creators through the Brave Rewards program are settled during the first half of the month.

When creators join the program, all donations earmarked for them are immediately transferred to their account, and they can keep earning BAT in the future.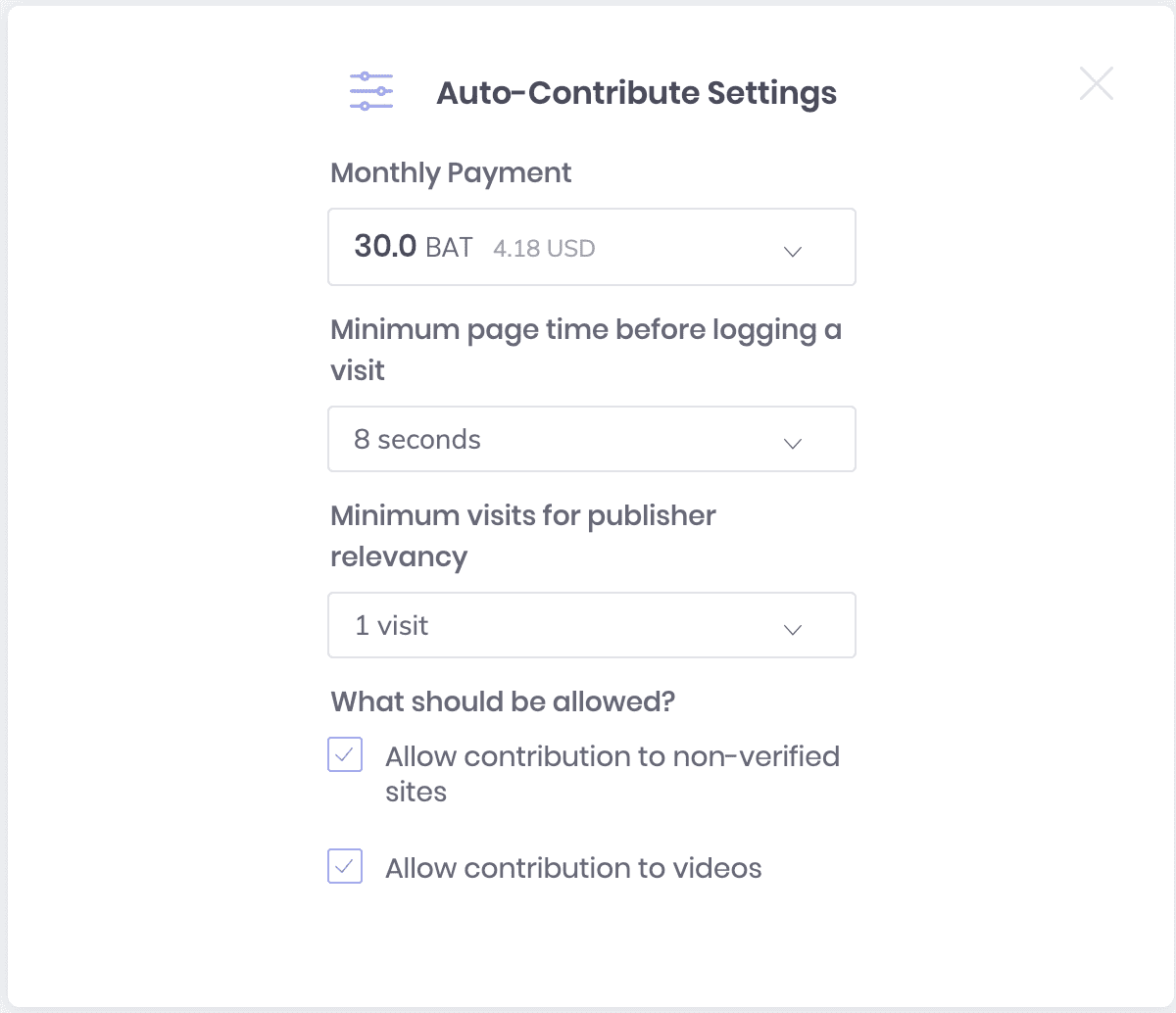 Most donations and tips currently come from promotional BAT grants given to Brave users by Brave, from our User Growth Pool (UGP). However, some tips and donations come from BAT purchased by users. Promotional tokens gifted by Brave that remain unclaimed may be returned to the UGP after a year. Tokens purchased by users that go unclaimed by publishers are held indefinitely for the publisher. (You can find more details in our Terms of Service and our FAQ.)
Future Changes
In the future, we plan to implement the following features to make Brave Rewards even more straightforward and appealing to its users:
In the near term, an opt-out option for creators who do not wish to receive donations.
We are also considering switching the default so users cannot tip or donate to unverified creators.
A change so that users may contribute only UGP-granted tokens to unverified creators, but can contribute self-funded and grant-funded tokens in any combination to verified creators.
Brave is an open-source project and we operate transparently, for third party audits and verification, as we decentralize the BAT platform in stages. We greatly value the feedback we receive from our users and the wider creator community, and will continue to make improvements to Brave Rewards based on this input. At Brave, our mission is to fix the Web and create a more sustainable funding ecosystem that reconnects users and creators, all the while protecting user privacy.
For more information about Brave Rewards, please visit our Terms of Service and our FAQ.