Twitch is a streaming service primarily marketing to video gamers. That's a big market: there are an estimated 2.7 billion people worldwide who play video games. It's not a surprise then that Twitch has grown rapidly since its start in 2011.
Twitch offers video gamers a chance to live-stream their games online. The concept is simple, but it caught on quickly. Today, Twitch has become one of the biggest sources of web traffic in the US, with 15 million daily users and 2.2 million streamers.
While Twitch showcases live streams from across genres - including "in real life" and music performances - gaming is still the dominant genre. On Twitch, you can find streamers playing nearly every game imaginable, from retro favorites to the most popular new releases.
For the top broadcasters on Twitch, the platform provides a path to making millions of dollars a year. It's not quite as lucrative as YouTube, even for the top broadcasters, but it's not terribly far behind. In this article, we'll look at the ways users monetize Twitch and how many of them are now using Brave as a key income source.
Making money on Twitch - Where to begin?
A Twitch account and equipment
Go to Twitch.tv and create an account. Make sure you have the right equipment - a good gaming PC or console, a webcam, and a high-quality microphone headset are the basics. As far as getting started, that's pretty much all you'll need. Twitch channels resemble TV channels; they're always "on," even if nothing's being broadcast. Of course, the more you play or upload content to your channel, the more opportunities you'll have to gain followers.
A Twitch career - more than a hobby?
Like YouTube content creators, for the majority of Twitch streamers, the platform is simply a hobby. While it can be monetized - as we'll discuss - it takes a bit of luck and a lot of work to become a Twitch millionaire.
Twitch follows the success of the video game industry more generally. Video games themselves aren't going anywhere, which bodes well for the continued growth of Twitch.tv.
Steps to start earning on Twitch
Maybe Twitch has been a hobby for a while now, but you'd like to take it to the next level. The good news is that Twitch offers a number of different methods to monetize your account, either directly or indirectly. How much do small Twitch streamers make? There's no set fee: it depends on how well they can monetize through non-Twitch methods, such as affiliate links or external merchandise.
1. Broadcasting
Everything you do on Twitch is based on your live streams or broadcast. So, your first step is to get playing! Find the game or games that you like and start playing.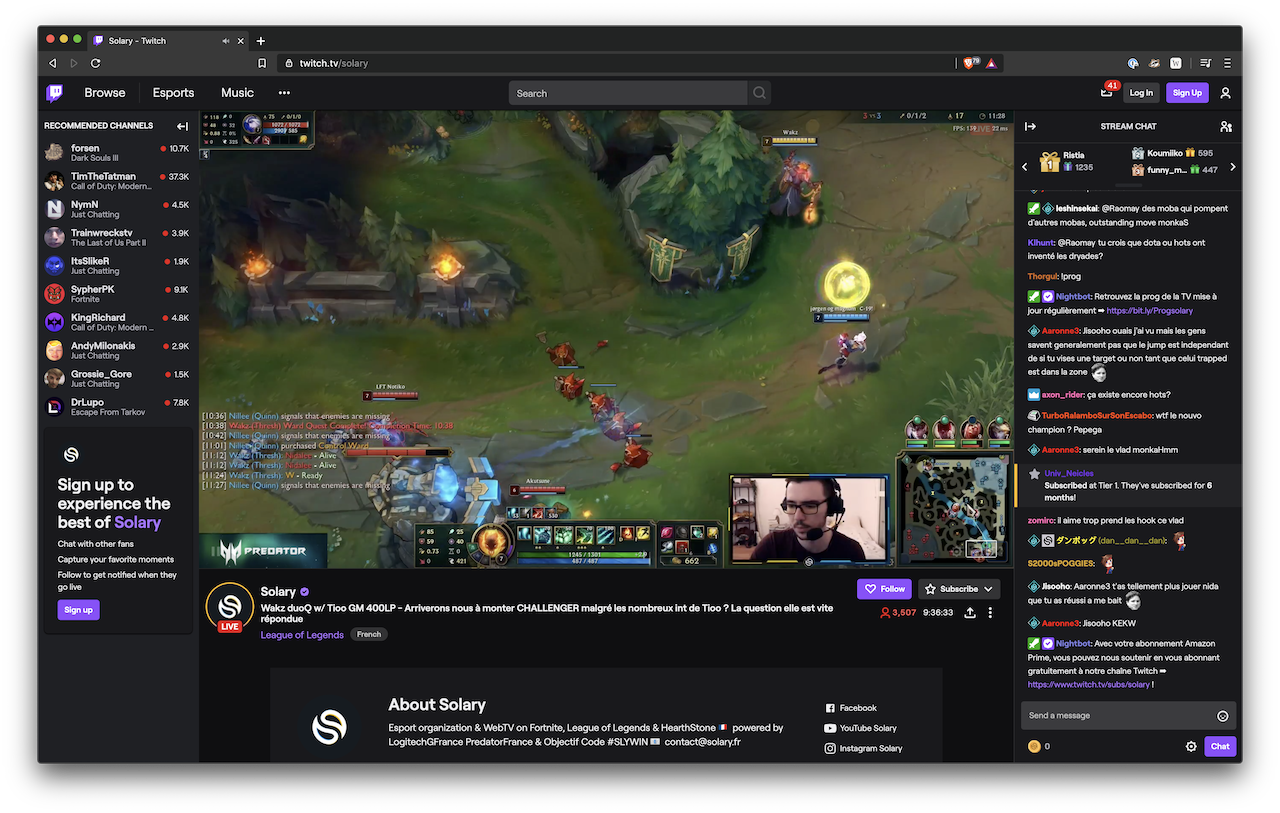 There are three interactive parts to any Twitch live stream. There's the video feed of the streamer, a live screenshare to show the game being played, and shared audio from the game itself, and from you the streamer. This is part of Twitch's appeal; you're not just watching a YouTube video of someone playing a game a couple of days ago, you're watching a gamer work through everything live. You can see the player's actions on the screen and their reactions visually.
Twitch also offers a live chat feature, allowing the audience to give real-time feedback to the Twitch broadcaster.
2. Building an audience
The "up close and personal" nature of Twitch streams means that a lot depends on the tone a Twitch streamer takes. Some broadcasts are in-depth "how-to" guides, unlocking strategies and techniques for beating a game. These Twitch streams tend to take a more knowledgeable tone.
Other streamers are more informal and tongue-in-cheek. Some streamers regularly pull crazy in-game stunts or try risky strategies just to see what happens. The goal is pure entertainment rather than instruction.
Building an audience is one of the biggest keys to Twitch's success, so it's always good to experiment with the kind of tone you want to use. Use something that feels natural but will keep your audience coming back for more.
3. Monetizing - Twitch Affiliates
The Twitch Affiliate program is the first step to monetizing your Twitch account. Like the YouTube Partner Program, there are a set of minimum requirements you'll need to meet.
These include:
50 followers
500 total minutes broadcast
7 unique broadcast days
Average of 3 or more concurrent viewers
Once you reach that threshold, you can apply to become a Twitch Affiliate. Being an affiliate provides its own list of benefits, including:
Twitch subscription
Many Twitch streamers find that subscriptions provide the majority of their income. Twitch offers three subscription levers, at $4.00, $9.99, and $24.99. Subscribe to a particular streamer, and Twitch splits the revenue from the recurring monthly fee 50/50 with the broadcaster.

Twitch Bits
These are Twitch's premium emoticons, purchased with real money but "tipped" to streamers in the online chat that accompanies each live stream. Each Bit tipped to a streamer pays $0.01, meaning that a hundred of them trickling through the chat pays $1.

Video ads
Unlike YouTube, ads on Twitch are a relatively minor source of income, paying roughly $2 per 1,000 views. Since ads are in-stream, and even the biggest streamers may have only a few hundred viewers at any one time, total ad revenue for any one streamer tends to be pretty low.

Donations
Donations are a simple, one-off sum paid to a streamer, often through PayPal. For step by step instructions read out Guide to Setting Up Donations on Twitch.
You can find out more information about the Twitch Affiliate program here.
4. Twitch and Brave
The key to Twitch monetization is to diversify, and a new and exciting way to increase your revenue from Twitch is to use the Brave browser.
Brave is built on privacy and security. It's the first browser to have a built-in rewards program. Brave blocks most advertisements, but when you opt-in to certain privacy-respecting ads you are rewarded with Basic Attention Tokens (BAT). Your BAT accrues in your in-browser wallet.
Brave's Basic Attention Tokens (BAT) can be tipped directly to Twitch streamers and content creators, just like Twitch Bits or the donation system. You can even set up a recurring tip, similar to a Twitch subscription. The Brave Rewards system doesn't replace Twitch's donations, but offers Twitch streamers a further supplemental form of income.
Brave reinvents the current Internet economy, empowering users to take control of their privacy and security. It also strengthens the economy of Internet creators, giving a means of supporting content creators on Twitch, YouTube, and more.
Other ways streamers make money through Twitch
Sponsorships
Similar to the Instagram model, many Twitch streamers accept sponsorships to promote products from niche-specific companies. These can be paid in different ways, from a one-time fee to a portion of the sales from that campaign.
Most sponsorships come from a company's marketing team, rather than a Twitch streamer soliciting a partnership. Some tech companies like Corsair, the computer component manufacturer, have entire programs dedicated to supporting and developing streamers and promoting the brand.
How do you attract sponsorships? Cultivate your niche and grow your viewership first. After that, network within the industry. Attend video game conferences and develop relationships with companies marketing to the video game industry. A few professional marketing practices will only help your chances of attracting a good sponsorship.

Affiliate links
Twitch is a natural fit for affiliate programs, particularly in the video game and tech worlds. Twitch offers a unique interactive opportunity to sell products via affiliate links: a streamer can actually solicit feedback, both good and bad, directly from his market as he streams. A lot of tech products like gaming headsets or computer components can be reviewed and promoted organically as part of the stream, and the link to the product dropped into the live chat.

Merchandise
For larger broadcasters, there's also the chance to sell merchandise directly. Merchandising isn't as big a source of income on Twitch as other platforms; affiliate links are a bit easier and potentially more profitable.
Other things to consider
Will Twitch last forever?
The underlying market for Twitch - video gamers - doesn't seem likely to go anywhere anytime soon. But there are a number of competitors for Twitch itself. YouTube offers a live feature for established channels, but newer competitors probably pose a bigger challenge for Twitch in the future.
The biggest challenger is Mixer. The platform, which bills itself as the "next generation" of live streaming, scored a huge coup when Ninja, the top earner on Twitch, made the jump to Mixer. However, Ninja's viewing numbers have fallen since the move, indicating that Twitch is still on top. For a more complete list of Twitch rivals, check out this list.
Living the Twitch Dream: the Twitch Partner Program
The Twitch Affiliate program has certain basic requirements, as covered above. The Twitch Partner Program is a step above that. The requirements are intentionally kept a bit vague: you can find out more here, but the program is for dedicated and established streamers only. What does the Partner Program offer? The same basic monetization features as the Affiliate program - but with increased technical support, better video storage features, and a host of incidental extras designed to reward dedicated Twitch streamers.
To give you an idea of how exclusive the Partner Program is, consider this: there are over 2.2 million Twitch streamers and only 12,000 Partners.
While the Twitch Partner Program might be out of reach for most streamers, Brave is open for all. Between its high performance, security, and Brave Rewards, Brave is the ideal browser for Twitch streamers and subscribers. Download the Brave browser today!