Brave Wallet adds four new DApps as Wallet partners in January, announces new changes to the program
Brave's native crypto wallet now features integrations from Blocksmith Labs, Planet IX, Trisolaris, and X2YX.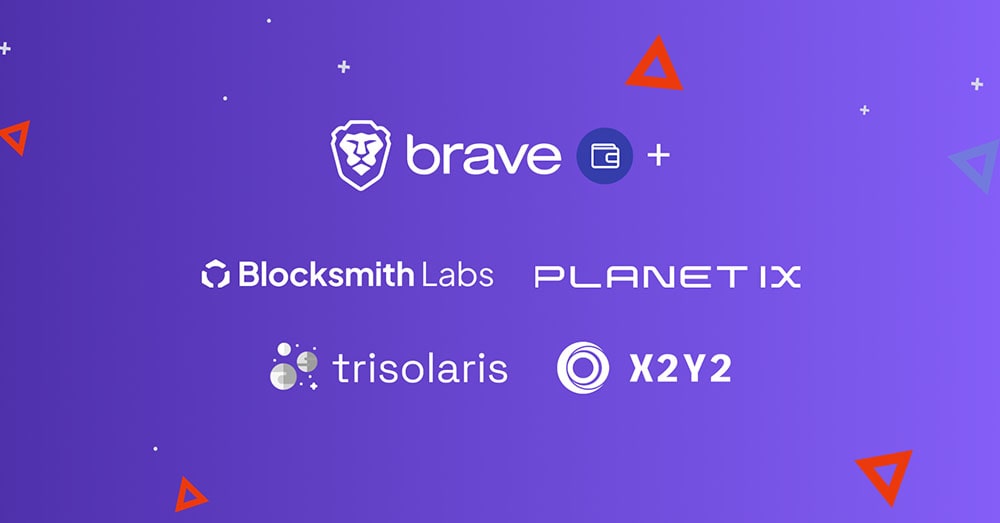 Today we announce four new DApps that joined our Wallet Partner program in January. Each partner has integrated support for Brave Wallet, allowing Brave users to more easily connect to Web3 using the built-in wallet available within the Brave browser—on desktop, iOS, and Android.
Here are the partners that joined in this month:
Blocksmith Labs
Blocksmith Labs is driven by a singular mission: to create the best Web3 products that will enable the next generation of companies, artists, individuals, and creators to achieve their full potential. From a whitelist management platform to dynamic art generation, the team has developed solutions to address a variety of real-world problems within Web3.
Planet IX
Planet IX is the largest NFT-based strategy game on Polygon. The goal of the game is to restore a fallen planet to its former green-blue glory while uncovering its mysteries. The story is continuously expanding into an immersive sci-fi metaverse with a rich narrative tailored towards bringing awareness of humanity's impact on today's world. The game consists of land parcels called PIX, which are NFTs that can be collected and traded to form territories, develop new technology, raid other players, and gain ownership of in-game corporations with different functions and perks.
"We're very happy to be adding the Brave Wallet to our game. Many of our players already use the Brave browser when playing Planet IX, and we are excited to see what this partnership can lead to in the future," said Felix Bengtsson, Co-Founder & Visionary at Planet IX.
Trisolaris
Trisolaris is a one-stop trading platform for the NEAR blockchain, running on NEAR's Aurora engine. It is the first DEX on Aurora, enabling a seamless trading experience similar to Ethereum for a fraction of the cost, taking advantage of the great underlying architecture provided by the Aurora engine.
"We are very excited to partner with the first and leading Web3 browser, Brave. We believe in their mission to provide a more secure browsing experience, especially for those participating in Web3," said Eviejugo, BD lead at Trisolaris.
X2Y2
X2Y2 is one of the top NFT marketplaces and NFT lending platforms on Ethereum. During 2022, $1.56B in NFT trading volume and more than $12M total lending amount accrued on X2Y2. Importantly, X2Y2 charges just 0.5% transaction fee from sellers, and 100% of the revenue is paid to $X2Y2 token stakers.
"We are an NFT marketplace, but our goal is to onboard the next billion Web 2.0 users to Web3. We believe we can achieve this goal faster by partnering with Brave and integrating deeper into Brave's ecosystem," said Ken, Head of Partnership at X2Y2.
Evolving the wallet partner program
Following the successful onboarding of over 80 leading DApps in  the first phase of the Brave Wallet Partner Program, we're shifting our focus to develop deeper business relationships with partners in the program involving the Brave Wallet, and to make a more public facing submission process for DApps supporting the Brave Wallet.
As a further next step in the Wallet Partner program, users of the browser and wallet can expect new ways to use BAT with Wallet Partner program applications, as we continue growing new use cases for BAT in Web3. Stay tuned for more updates to the Wallet Partner Program, and as always, we welcome and encourage feedback from the Brave and BAT communities.
If you aren't already using Brave Wallet, you can start by clicking
in the top left of your nav bar or by selecting "Wallet" from the menu.
If you're an application developer that would like to integrate the Brave Wallet, developer documentation is available here.
Related articles
Today we're announcing the release of Solana DApp support on iOS and Android versions of Brave.
Read this article →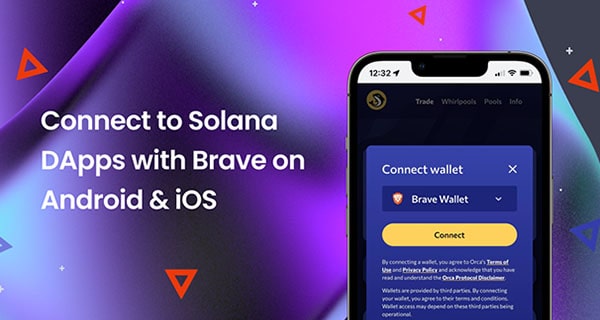 Brave's native crypto wallet now features integrations from Civic, DeFi Land, Degen Ape Academy, EDGE, Froggy Friends, Hubble, Kamino, and more.
Read this article →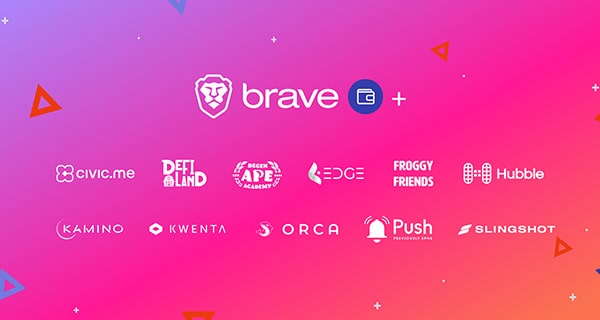 Brave expands its Wallet Partner program with 15 new DApps. Since June, over 75 projects have integrated Brave Wallet in their Web3-enabled applications.
Read this article →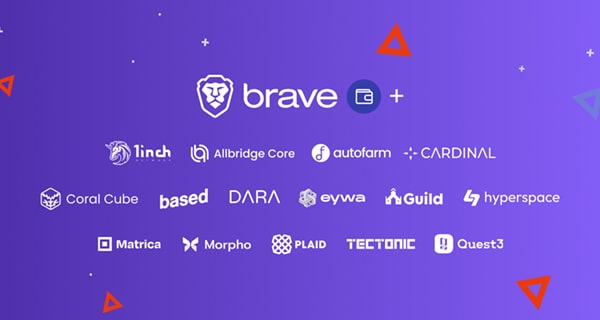 Ready to Brave the new internet?
Brave is built by a team of privacy focused, performance oriented pioneers of the web. Help us fix browsing together.
Download Brave