This post is a follow-up to our recent blog, Brave Sponsors Upcoming Tournament in Gala Games' Agricultural Simulation Game, Town Star, With $5000 in BAT, from earlier this month.
Earlier this month, Brave and Gala Games wrapped up their first-ever BAT Tournament in Town Star, the blockchain-based agricultural simulation game on the Gala Games platform. The wildly successful week-long tournament was sponsored by Brave, with approximately $5,000 worth of BAT in prizes, and joined by over 3500 participants.
During a recent livestream AMA broadcast for the Brave and Gala Games communities, Luke Mulks (VP of Business Operations) of Brave and Jason Brink (Chief Marketing Officer) of Gala Games revealed a second upcoming collectible NFT (Non-Fungible Token) collaboration: the Brave x Gala Games Farm Bot Pickaxe Physical NFT, coming exclusively to the Brave Swag Store on April 1st, 2021.
Like its predecessor, the Brave x Gala Games Mirandus Minotaur King Physical NFT (which sold out from the Brave Store in December), the Farm Bot Pickaxe Physical NFT will retail for $250 USD. The Farm Bot NFT is a polished, crystal sculpture that arrives nestled in a luxurious velvet-lined presentation case, featuring a laser-engraved Town Star Farm Bot holding its pickaxe, with a Brave logo symbolizing the Farm Bot's drill blade. Each custom crystal is individually engraved with a one-of-a-kind claim code which, when entered on the Gala Games website, unlocks a unique digital Pickaxe NFT in Town Star that the owner can trade, rent, sell, or use for themselves. The Pickaxe tool is an essential item, as it is required by the rare Farm Bot to mine in-game currency in Town Star.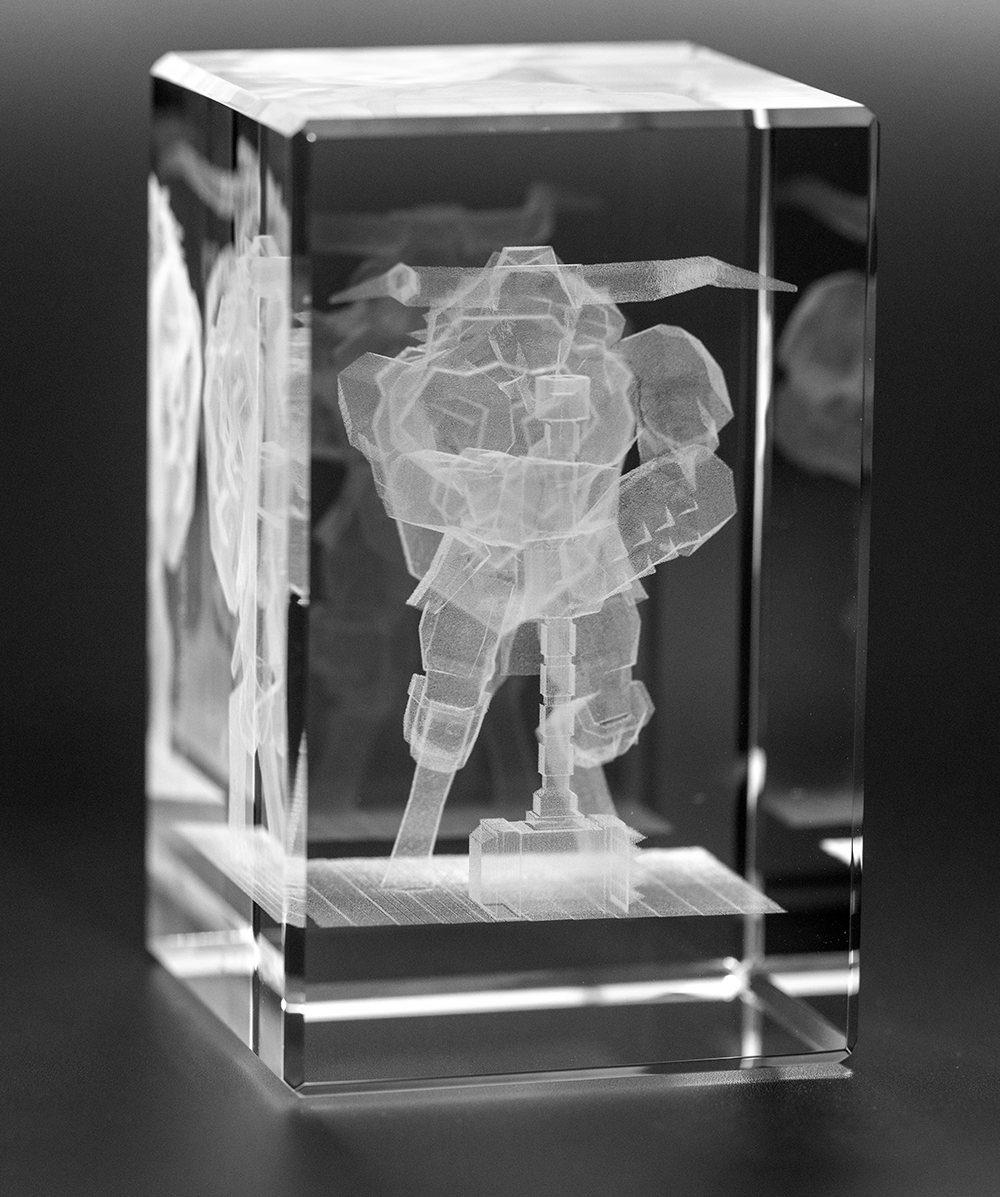 The Brave x Gala Games Farm Bot Pickaxe Physical NFTs will be available for fans to purchase exclusively from the Brave Swag Store on Thursday, April 1st, at 12:00PM (noon) Pacific. There are only 100 collectible Brave x Gala Games Farm Bot Pickaxe Physical NFTs in existence, and they will go fast. Fans should be ready with their BAT, ETH, or Credit Card as soon as the NFTs go live on April 1st.
Other exclusive merchandise from Brave & Gala Games on the Store includes the Mirandus Unisex Hoodie, for the upcoming epic fantasy RPG, Mirandus, on the Gala Games platform.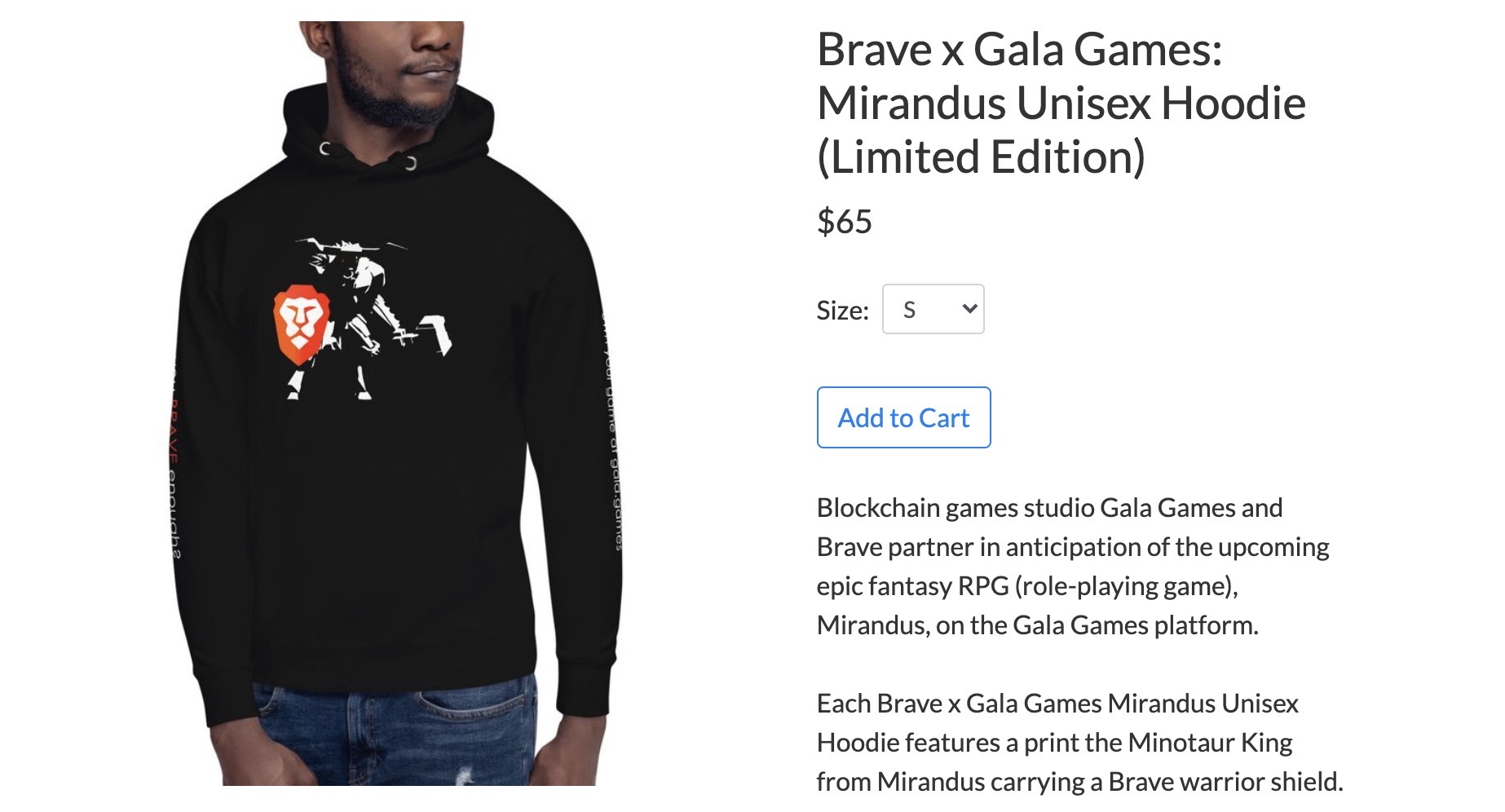 Brave and Gala Games continue to enrich the blockchain space by making blockchain games and NFTs more accessible to the mainstream, and by creating meaningful collectibles with utility in-game and out, which fans of Brave and Gala Games will cherish for years to come.
About Brave
Brave Software's fast, privacy-oriented browser, combined with its blockchain-based digital advertising platform, is reinventing the Web for users, publishers, and advertisers. Users get a private, speedier web experience with much longer battery life, publishers increase their revenue share, and advertisers achieve better conversion. Users can opt into privacy-respecting ads that reward them with BAT (Basic Attention Token), a frequent flyer-like token they can redeem or use to tip or contribute to publishers and other content creators. The Brave solution is a win-win for everyone who has a stake in the open Web and who is weary of giving up privacy and revenue to the ad-tech intermediaries. Brave currently has over 25.4 million monthly active users and over 1 million Verified Publishers. Brave Software was co-founded by Brendan Eich, creator of JavaScript and co-founder of Mozilla (Firefox), and Brian Bondy, formerly of Khan Academy and Mozilla.
For more information, visit or follow the company on Twitter @brave.
About Gala Games
Founded by greats from the gaming and blockchain industry, Gala Games is redefining the world of gaming by giving power and ownership back to the players. Using advanced web 3.0 technology to create a decentralized network to power the games of tomorrow, Gala's mission is about refamiliarizing the world with a lost sense of play and allowing anyone and everyone to become more free in the process. Eric Schiermeyer, the CEO of Gala Games was a co-founder of Zynga and has been one of the most innovative minds in digital gaming of the 21st century. With Gala Games, he is backed by an all-star team of the most brilliant minds and skill sets in both digital gaming and blockchain. The team at Gala Games looks forward to bringing the world a new sense of play (and countless games) as the future of gaming unfolds.