Back to episodes
Season 6 | Episode 2
Dentsu: What Holds Brands Back From Jumping Into Web3
Michael Liu, SVP, Head of Innovation at Dentsu Media and Kevin Villatoro, Partnerships at Dentsu, share how their agency clients are responding to Web3 marketing opportunities and taking their first (small) steps. They also explain why Web3 isn't the channel to fight for attention, but rather to engage consumers in meaningful ways, embracing innovation while providing real value.
Brave pick of the week
This week's Brave Pick of the Week is LIDO. Check out their website here.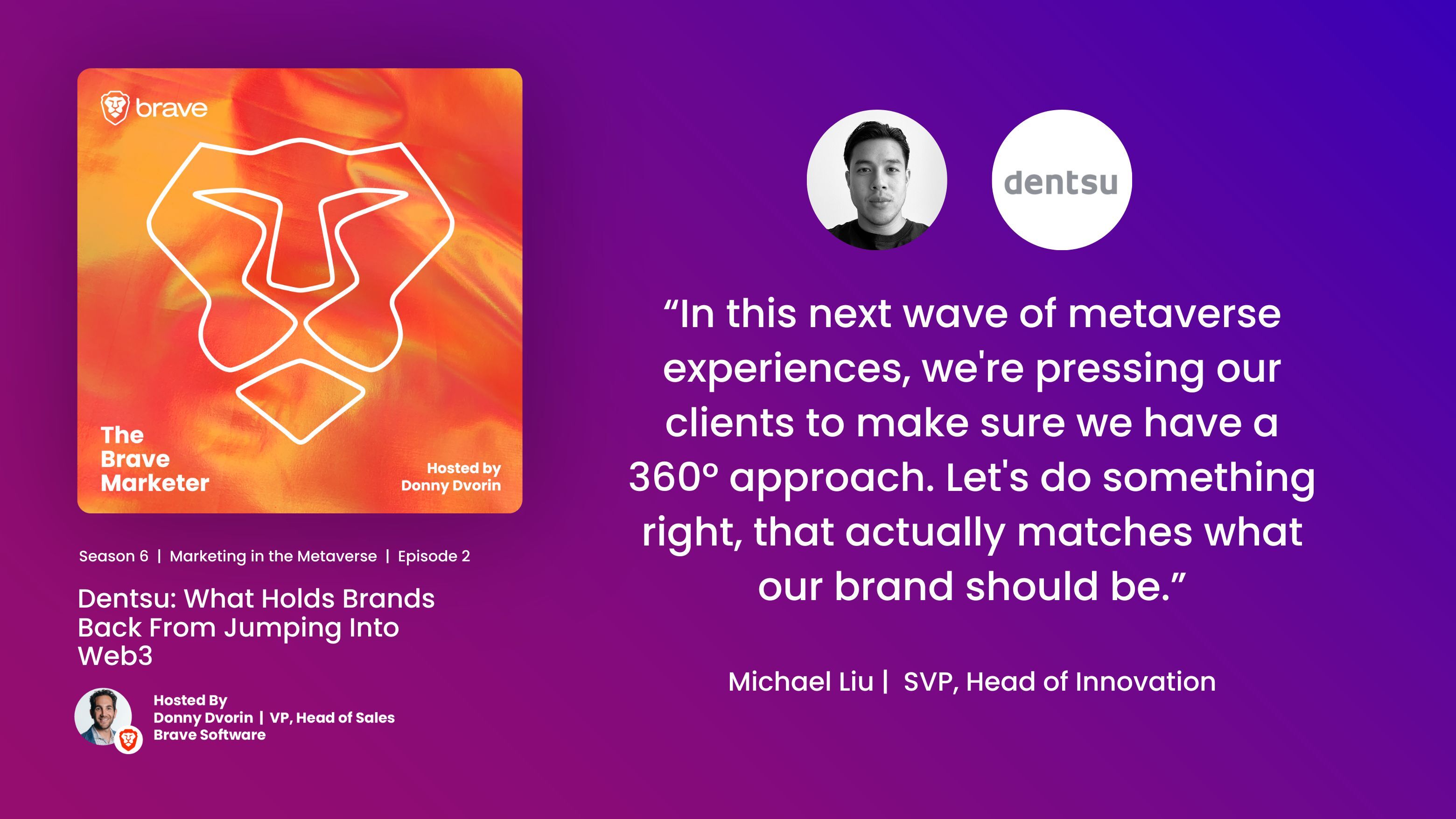 Listen on your favourite podcast player
Show Notes
In this episode of The Brave Technologist Podcast, we discuss:
Trade offs marketers are making when choosing to experiment in the Metaverse
Battling red tape and governance when getting your brand into Web3, and the value of getting finance and legal team on board from the get-go
How to onboard the masses to Web3 and what's being built now to increase mainstream adoption of blockchain technologies
Future predictions for the metaverse and how this will impact marketers
Guest List
The amazing cast and crew:
Michael Liu -

SVP, Head of Innovation at Dentsu Media

Recently Michael has been focused on exploring new forms of incentive structures, consumer connection points, and new business models for brands via Web3 concepts and applications.

Kevin Villatoro -

Partnerships at Dentsu

Kevin works closely with other agencies to drive awareness of gaming, web3, and other future looking media channels. In his spare time he co-founded Satoshi's Index and has sold hundreds of NFTs.
Subscribe and stream on all the platforms below
About the Show
Shedding light on the opportunities and challenges of emerging tech. To make it digestible, less scary, and more approachable for all!
Join us as we embark on a mission to demystify artificial intelligence, challenge the status quo, and empower everyday people to embrace the digital revolution. Whether you're a tech enthusiast, a curious mind, or an industry professional, this podcast invites you to join the conversation and explore the future of AI together.