Back to episodes
Season 6 | Episode 14
Leveraging the Virtual Real Estate Market with SuperWorld
Hrish Lotlikar, Co-founder and CEO at SuperWorld, discusses how they're blending the virtual and physical world to unlock diverse opportunities for brands to reach more customers, unlock new monetization opportunities and build community.
Brave pick of the week
This week's Brave Pick of the Week is EtherMail. Check out their website here.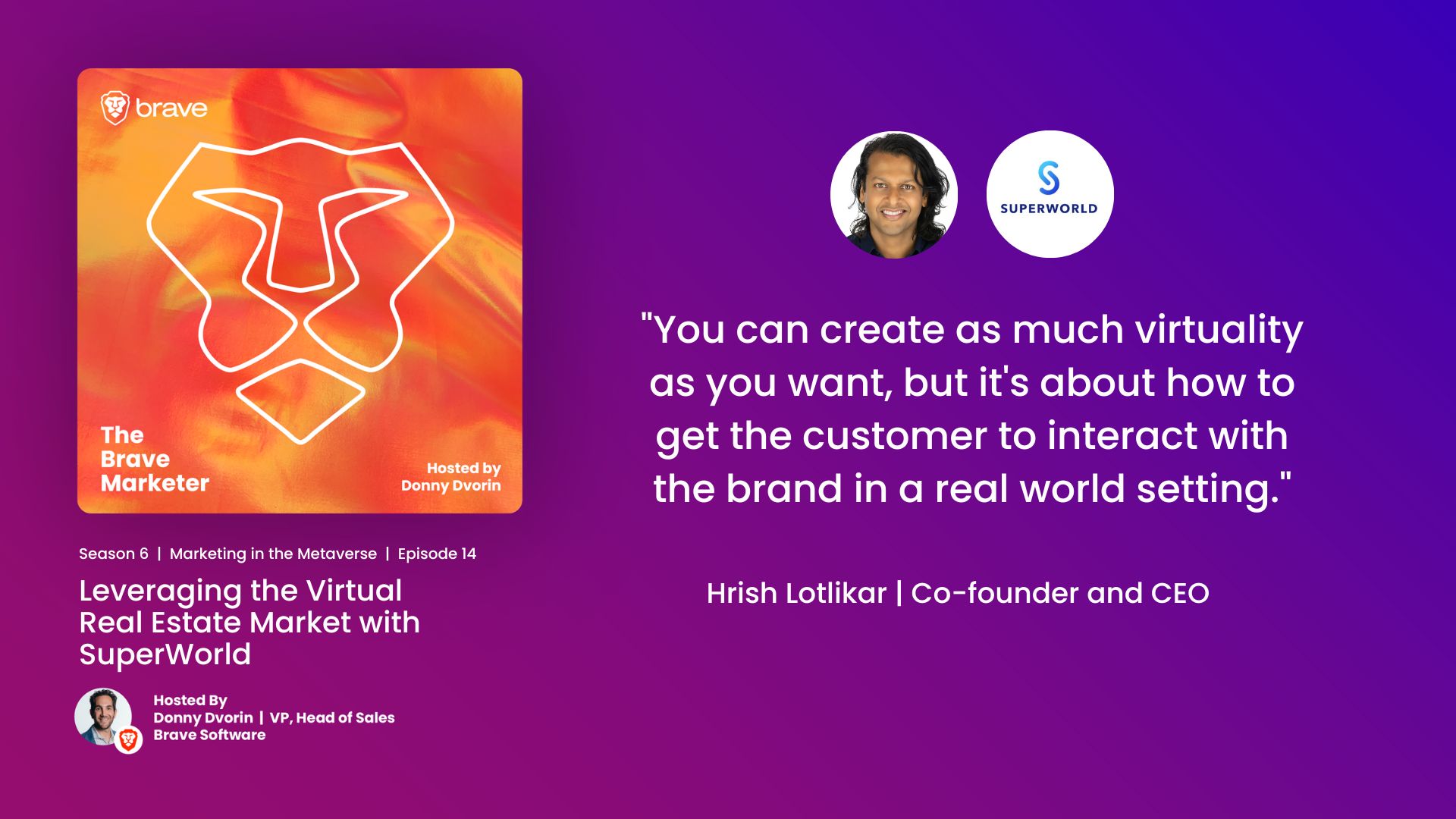 Listen on your favourite podcast player
Show Notes
In this episode of The Brave Marketer Podcast, we discuss:
How IRL event organizers can enhance their physical events by utilizing emerging technologies like AR and VR
The impact that the US real estate market downturn has had on the virtual real estate market
How to decide whether your brand should buy land in the virtual world
Guest List
The amazing cast and crew:
Hrish Lotlikar -

Co-founder and CEO at SuperWorld

Hrish Lotlikar is the Co-founder and CEO at SuperWorld - a virtual world mapped onto the real world, with plots of virtual real estate available to collect as NFTs. Users can buy or sell properties and create opportunities to monetize their land in the Metaverse.

Previously, Hrish co-founded Rogue Initiative Studios, a Hollywood film, TV, gaming, and immersive entertainment studio.
Subscribe and stream on all the platforms below
About the Show
Brave is at the forefront of a new online privacy frontier and has unique insight into the future of marketing and advertising in a cookieless world. If you're an agency, brand marketer or entrepreneur challenged by the changes in ethical advertising, consumer privacy and buyer expectations, this podcast will provide a backstage view of how influential marketers at top brands and agencies are responding to what's next.