Back to episodes
Season 6 | Episode 1
Vayner3: When to Expect Mainstream Adoption of Web3
Avery Akkineni, President of Vayner3, discusses the current state of Web3 adoption and her predictions for its future. She explains how brands are currently experimenting with Web 2.5 – a bridge offering the speed and ease of use from Web2 but with the ownership and self sovereignty of Web3.
Brave pick of the week
This week's Brave Pick of the Week is Koinly. Check out their website here.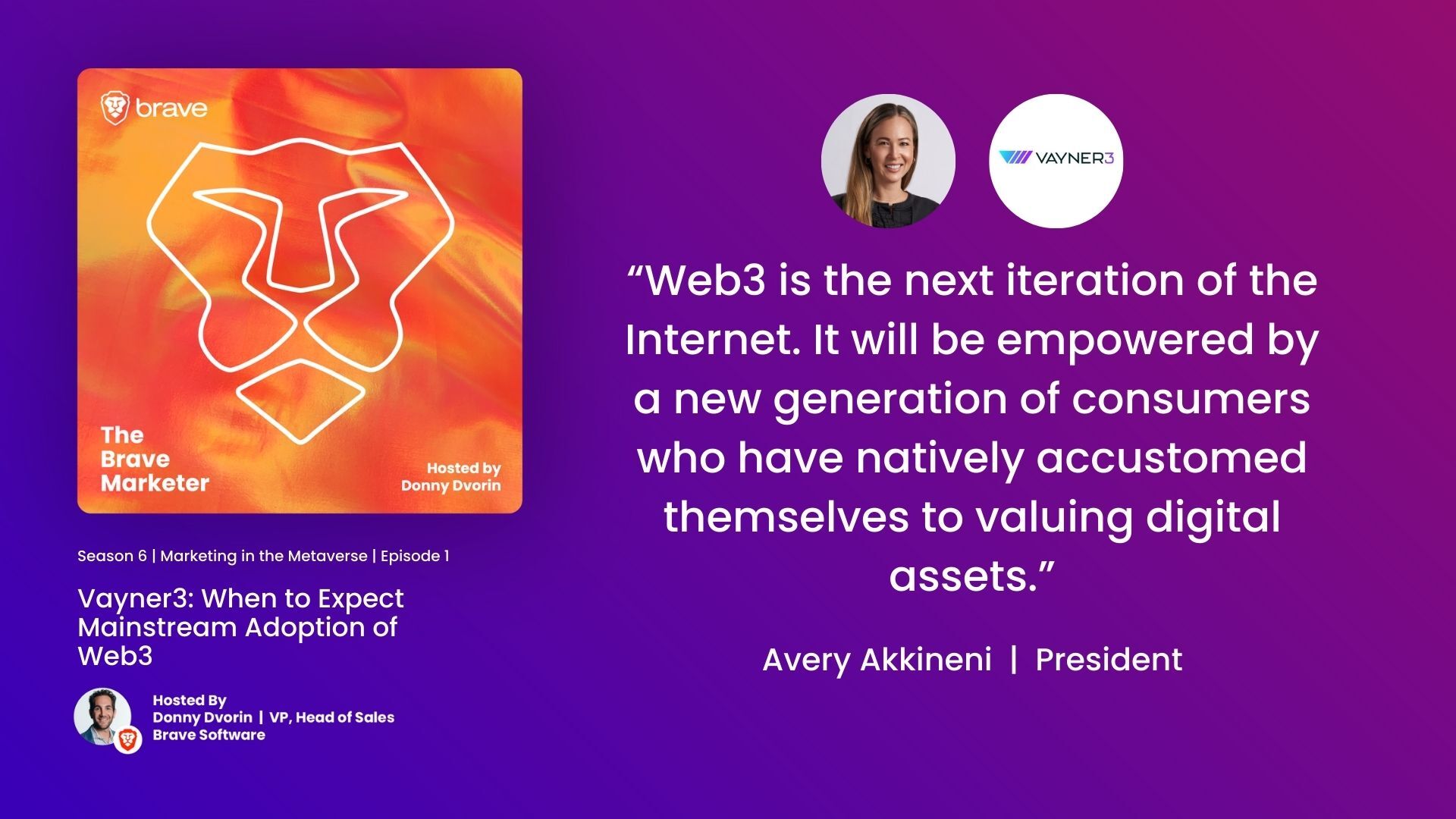 Listen on your favourite podcast player
Show Notes
In this episode of The Brave Marketer Podcast, we discuss:
The difference between stunt campaigns and always-on marketing when it comes to the metaverse, and what it will take to succeed in Web3 channels
Using Tokenproof to distribute NFTs for token ticketed events
Examples of the most meaningful partnerships and activations that have happened in Metaverse so far (e.g. Time, Budweiser, Adidas)
Guest List
The amazing cast and crew:
Avery Akkineni -

President of Vayner3

Avery Akkineni is the President of Vayner3 - a consultancy she launched alongside serial entrepreneur Gary Vaynerchuk. Partnering with dozens of Fortune 500 corporations across industries, Vayner3 has successfully advised organizations on strategic Web3 initiatives across cryptocurrency applications, NFT program development, and immersive digital experiences.
Subscribe and stream on all the platforms below
About the Show
Brave is at the forefront of a new online privacy frontier and has unique insight into the future of marketing and advertising in a cookieless world. If you're an agency, brand marketer or entrepreneur challenged by the changes in ethical advertising, consumer privacy and buyer expectations, this podcast will provide a backstage view of how influential marketers at top brands and agencies are responding to what's next.