Back to episodes
Season 5 | Episode 7
PepsiCo is Bridging the Physical and Digital World with Next Gen D2C Marketing
Kate Brady, Head of Next Gen D2C Consumer Experience & Direct Digital Marketing Capabilities at PepsiCo, shares how mainstream brands and marketers can utilize Web3 technologies. Kate's team is currently testing a number of next gen initiatives as part of PepsiCo's newly established Web3 & Metaverse Center of Enablement.
We also discuss the removal of third party trackers and moving towards a private internet while still owning the communication with your audience and prioritizing zero first party data.
Brave pick of the week
This week's Brave Pick of the Week is Chipotle. Check out their website here.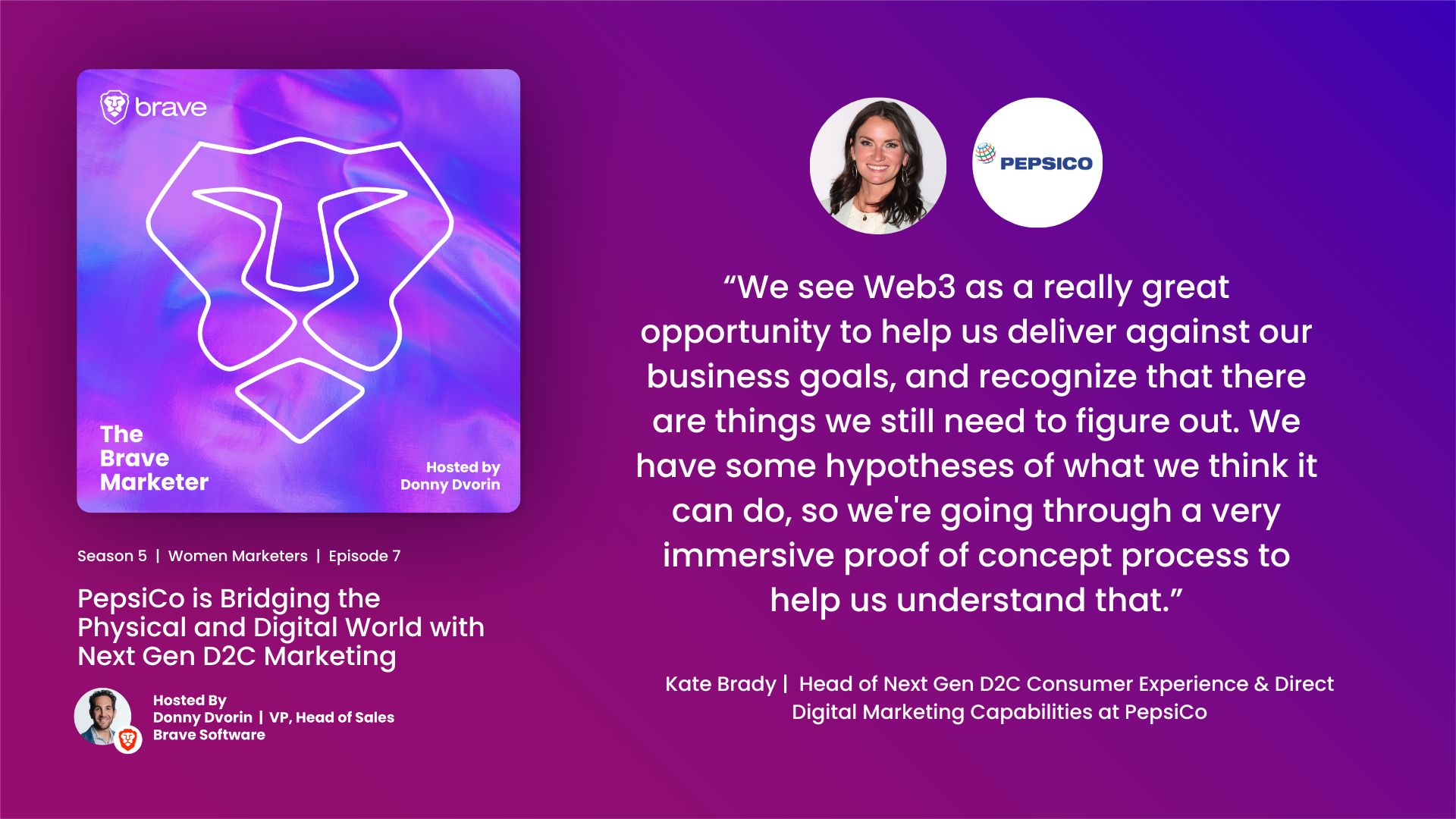 Listen on your favourite podcast player
Show Notes
In this episode of The Brave Technologist Podcast, we discuss:
Why marketers need to examine the value exchange they're offering their consumers – how to get smarter and more consumer centric.
Ways that mainstream brands like PepsiCo, Starbucks and Walmart are utilizing Web3 technologies like NFTs and the Metaverse to increase loyalty.
Resources for marketers wanting to experiment with Web3 and why this is the best time to get started in the space.
Kate's brave marketing moment: Combining The Walking Dead, Augmented Reality and the Mountain Dew to motivate consumers to tune into advertising commercials despite a cord cutting trend emerging at this time.
Guest List
The amazing cast and crew:
Kate Brady -

Head of Next Gen D2C Consumer Experience & Direct Digital Marketing Capabilities at PepsiCo

Kate Brady is a seasoned marketing veteran with over 20-years media and marketing experience, 12+ of those years within PepsiCo. Kate now leads Next Gen D2C Consumer Experience and Direct Digital Marketing Capabilities, a newly formed team within PepsiCo's global Strategy and Transformation organization driving growth for PepsiCo through the lens of consumer data and experiences.
Subscribe and stream on all the platforms below
About the Show
Shedding light on the opportunities and challenges of emerging tech. To make it digestible, less scary, and more approachable for all!
Join us as we embark on a mission to demystify artificial intelligence, challenge the status quo, and empower everyday people to embrace the digital revolution. Whether you're a tech enthusiast, a curious mind, or an industry professional, this podcast invites you to join the conversation and explore the future of AI together.