Back to episodes
Season 5 | Episode 5
Authentic Team Cultures Build Authentic Brands That Standout
Laura Mesa, Vice President of Community and Marketing at Product Hunt, shares how allowing your team to be vulnerable in the workplace, allows your brand to show up authentically too. She also discusses the importance of developing a customer first product strategy and putting in extra effort to personalize based on real needs of your users
Brave pick of the week
This week's Brave Pick of the Week is YouHodler. Check out their website here.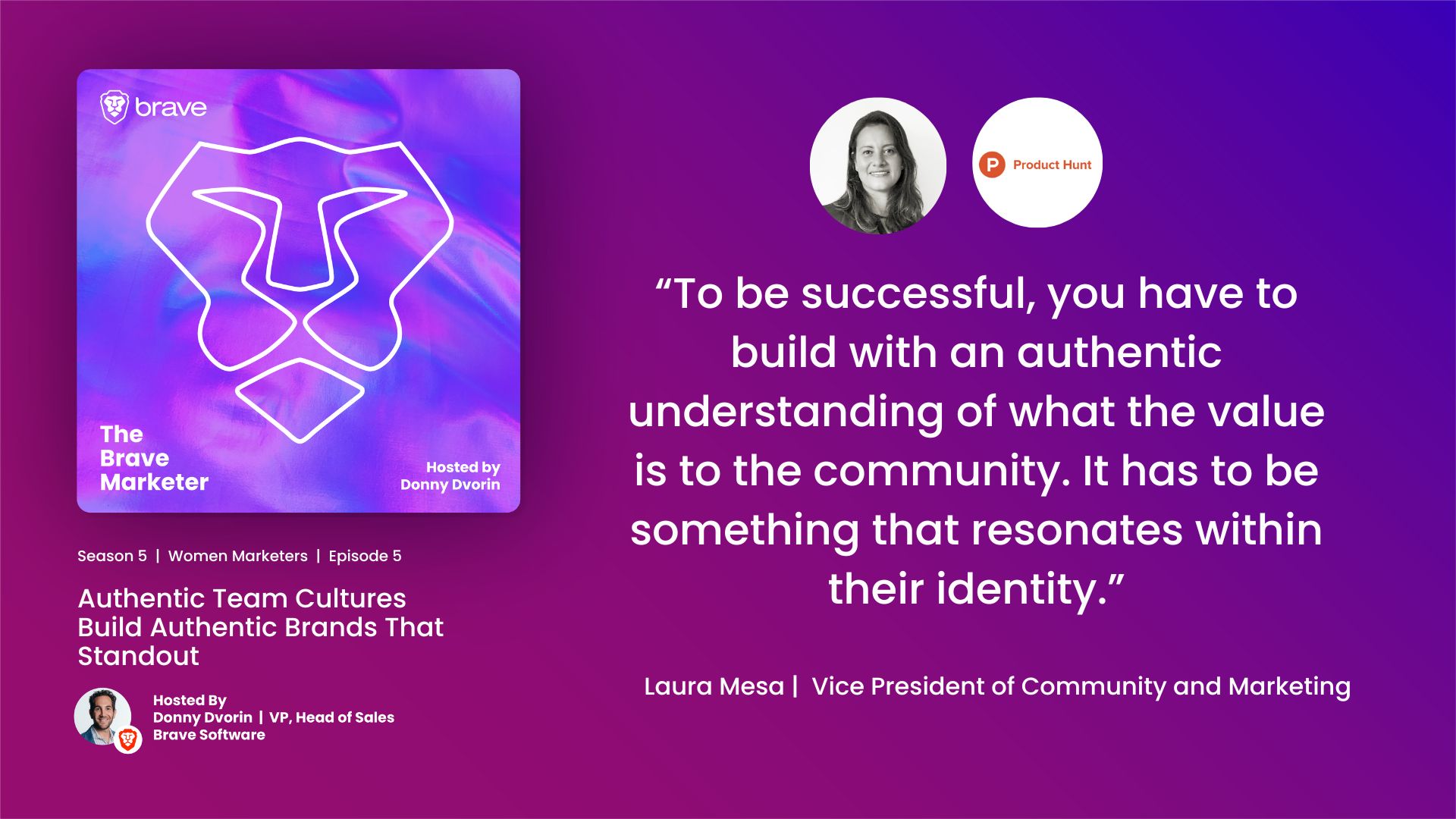 Listen on your favourite podcast player
Show Notes
In this episode of The Brave Marketer Podcast, we discuss:
How "Makers" like Notion and Figma got their start on Product Hunt – what made them successful on the platform and how it's great resource for discovering the next big idea
Dating and Job Hunting: how Laura combined both efforts to launch her marketing career, including getting the chance to meet Steve Jobs and launch the iPhone
Testing, learning and using sentiment validation when evaluating products and features
Why standing up for your customer is the bravest thing marketers can do
Guest List
The amazing cast and crew:
Laura Mesa -

Vice President of Community and Marketing at Product Hunt

Laura Mesa, Vice President of Community and Marketing at Product Hunt, is a mother, wife and a tech marketer with more than 15 years experience in consumer tech brands, including roles at Facebook, Apple, Mozilla, Yahoo, Sequoia Capital and currently, Product Hunt.
Subscribe and stream on all the platforms below
About the Show
Brave is at the forefront of a new online privacy frontier and has unique insight into the future of marketing and advertising in a cookieless world. If you're an agency, brand marketer or entrepreneur challenged by the changes in ethical advertising, consumer privacy and buyer expectations, this podcast will provide a backstage view of how influential marketers at top brands and agencies are responding to what's next.