Back to episodes
Season 5 | Episode 1
How Twitter is Promoting Safety and Gamifying Privacy
Maura Tuohy Di Muro, Global Head of Product Marketing at Twitter, discusses how Twitter is promoting safety on their platform and the unique ways they're adding gamification to privacy, including a recently released video game experience they made for their users. We also discuss how Web3 can deliver on its big promises of accessibility and inclusivity and how Twitter thinks about earning trust.
Brave pick of the week
This week's Brave Pick of the Week is Adweek. Check out their website here.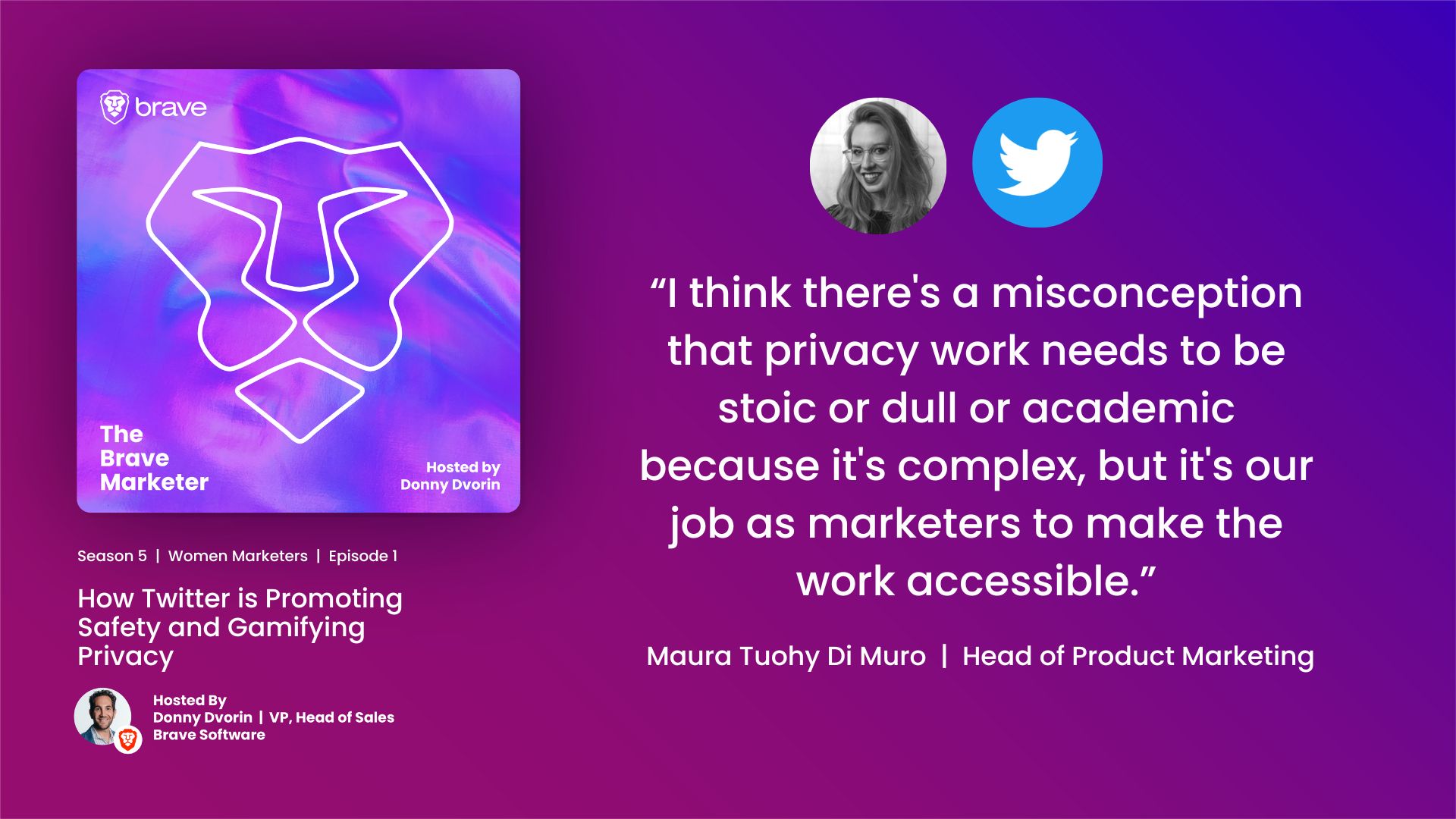 Listen on your favourite podcast player
Show Notes
In this episode of The Brave Marketer Podcast, we discuss:
Protecting democracy while elevating important voices
Responding to consumer distrust and increasing demands
Making platforms like Twitter safe, accessible and inclusive
Connecting human emotion to your products
How they conceptualized, built and distributed Twitter Data Dash to help their users understand their privacy policy
Guest List
The amazing cast and crew:
Maura Tuohy Di Muro -

Global Head of Product Marketing at Twitter

Maura Tuohy Di Muro is the Head of Product Marketing at Twitter, where her team scales GTM programs for safety, privacy, and information integrity. Prior to Twitter, Maura was a Global Marketing Director at Mozilla, the not-for-profit that makes the Firefox browser. Maura is passionate about the intersection of technology and humanity and lives in San Francisco with her husband and 2 sons.
Subscribe and stream on all the platforms below
About the Show
Brave is at the forefront of a new online privacy frontier and has unique insight into the future of marketing and advertising in a cookieless world. If you're an agency, brand marketer or entrepreneur challenged by the changes in ethical advertising, consumer privacy and buyer expectations, this podcast will provide a backstage view of how influential marketers at top brands and agencies are responding to what's next.