Back to episodes
Season 4 | Episode 9
How eToro is Making Crypto Trading More Social
Brad Michelson, Head of US Marketing team at eToro, discusses the unique social features their platform offers in an effort to reduce intimidation and attract new investors into crypto trading. He also shares his thoughts on the biggest challenges with crypto marketing and the effective strategies they've implemented to overcome them.
Brave pick of the week
This week's Brave Pick of the Week is Venmo. Check out their website here.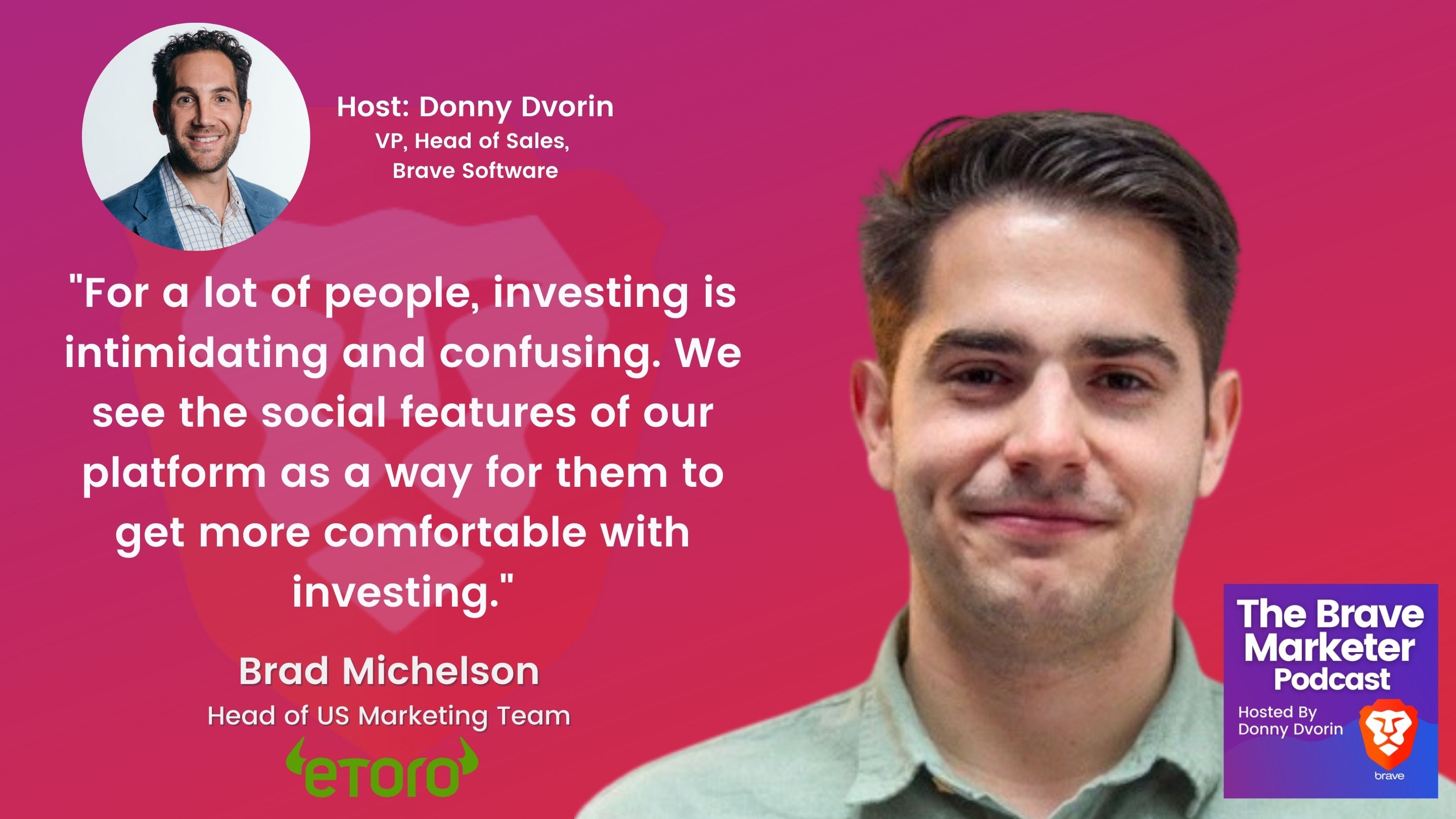 Listen on your favourite podcast player
Show Notes
In this episode of The Brave Marketer Podcast, we discuss:
What makes the eToro marketplace different from any other crypto trading platform on the market
CryptoBowl: how brands like eToro and Crypto.com took over the Superbowl this year
The clever way eToro used Twitter and its integration with Giphy to increase the performance of their ads
How to leverage online communities like Discord, Telegram and Signal for crypto marketing
Guest List
The amazing cast and crew:
Brad Michelson -

Head of US Marketing team at eToro

Brad Michelson is the Head of US Marketing team at eToro, a global social trading platform with over 27 million global users. He is a digital marketer with over ten years of experience taking finTech and e-commerce brands to market. Previously, Brad worked as the Director of Marketing at BlockFi.
Subscribe and stream on all the platforms below
About the Show
Brave is at the forefront of a new online privacy frontier and has unique insight into the future of marketing and advertising in a cookieless world. If you're an agency, brand marketer or entrepreneur challenged by the changes in ethical advertising, consumer privacy and buyer expectations, this podcast will provide a backstage view of how influential marketers at top brands and agencies are responding to what's next.