Back to episodes
Season 4 | Episode 4
Digital Asset Ownership and Gaming in the Metaverse with Splinterlands
Aggroed Lighthacker, CEO at Splinterlands, discusses why gaming was the winning solution to support the mass market to engage with crypto. He discusses how Splinterlands massively exploded its user base through word of mouth advertising among hardcore gamers, along with growth tactics that other crypto companies can replicate.
Brave pick of the week
This week's Brave Pick of the Week is Versus. Check out their website here.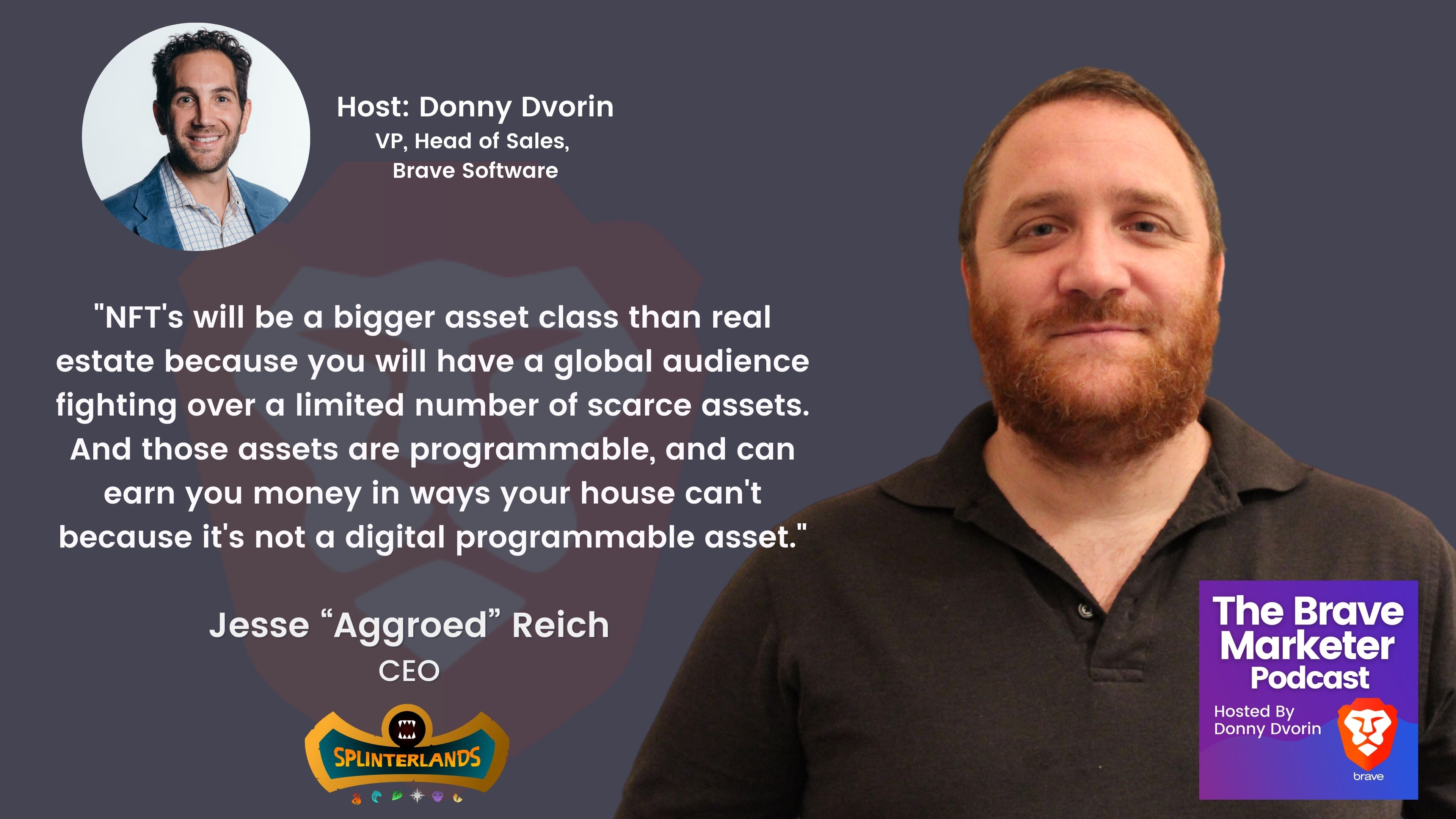 Listen on your favourite podcast player
Show Notes
In this episode of The Brave Technologist Podcast, we discuss:
Why mass adoption of cryptocurrency can lead to more peace, prosperity, and freedom in the world
Utilizing community building platforms like Discord to grow an audience
Creating demand with scarcity and how the economics of NFTs differs to the real estate market
Ways they marketed their game on a lean budget in the early days
His predictions for the future of blockchain, gaming, crypto, and NFTs
Guest List
The amazing cast and crew:
Dr. Jesse "Aggroed" Reich -

CEO at Splinterlands

Dr. Jesse "Aggroed" Reich, CEO at Splinterlands, was a chemistry professor before launching a successful career in the educational software industry. A lifelong gamer, Aggroed both played games and created them as a hobby. In 2016, he started using the blockchain-based blogging platform steemit.com to have an immutable place to free write on topics he wanted to investigate.

Together with Matt Rosen, they created and cofounded the Splinterlands game in 2018 which is now one of the largest Dapps in the world.
Subscribe and stream on all the platforms below
About the Show
Shedding light on the opportunities and challenges of emerging tech. To make it digestible, less scary, and more approachable for all!
Join us as we embark on a mission to demystify artificial intelligence, challenge the status quo, and empower everyday people to embrace the digital revolution. Whether you're a tech enthusiast, a curious mind, or an industry professional, this podcast invites you to join the conversation and explore the future of AI together.